Italy has given some famous sex symbols of yesteryears such as Sophia Loren, Gina Lollobrigida and Marcello Mastroianni. But in more recent times, Italian stars hardly get an international image except for a stray Roberto Benigni, who can hardly be called a sex symbol. Yet, sex symbols are very much alive and kicking here, even if their names remain limited in the national boundries.
The famous saying that sex is all in the head can be extended also to sex symbols. The persons that I find irristably sexy might leave you completely cold, so the choice of todays Italian sex symbols is very personal.
The female sex symbols
I have a hard time choosing between
Sabrina Ferrilli
and Alba Parietti for the first place but in the end Ferrilli wins. A curvacious and filled out body, she is no anorexic model. Her nicest features are her awesome smile and innocent and merry eyes, with ample help from her generous bosom and a very caressable didietro. She has been good in dramatic and serious roles in films and TV, has been a presenter and singer and still, every now and then, she appears as the sexy diva, immediately inflaming passions all accross the country. No more a young lass, her maturity has added an extra dimension to her allure.
Before a football championship, she announced that if her team (Lazio) won the championship she will walk nude in Rome, had her fans praying fervently for the win of Lazio. When Lazio did win, she did appear in a show in a Roman garden dressed in only in panties and her fans had shouted asking her to maintain her promise.
Her nude pictures in a calendar for an Italian men's magazine Max, sky rocketed its sales to more than a million copies.
The choice of
Alba Parietti
would probably not be supported by many Italians. They would consider her too much advanced in years to be a current sex symbol. Perhaps they are right but to me she is still one of most attractive persons, in spite of her siliconised lips. Elected Miss Italy in 1979, Alba is known for her leftist views, her down to earth way of speaking and her frank opinions. I still remember one of her electrifying dances on a TV show almost twenty years ago and to me she is like a high class liqueur that gets better with age.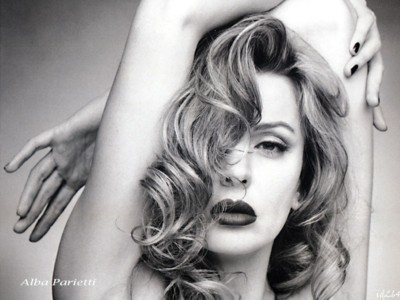 Monica Bellucci
is the third person on this list, who has got some international name. Most of the time, I find Bellucci a little too cold and artificial for my taste but she does have it in her to become a mediterrenean vulcano, when needed.
The male sex symbols
Kim Rossi Stuart
started his career as a young martial arts hero in the Boy with the Golden Kimono series of movies with Ken Watanabe. With blond hair and cool blue eyes, he quickly acquired the fame of being a sex symbol. His long nude scenes for Michelangelo Antonioni and Wim Wanders amplied this fame. After a number of films and TV serials, he decided to shift over to sensible cinema and theatre, choosing films and plays with serious sombre themes. I specially remember his role as the father of a disabled child in Gianni Amelio's Chiavi di Casa (The house keys), where he brought a gentle sensibility and vulnerability to the role of the father who meets his disabled grown up son for the first time and is ashamed of his own cowardness.
Raoul Bova
: A story in a
USA magazine
in 2005 said about him:
Raoul Bova is a movie star but chances are you have never heard of him. He has won prestigious awards, being hounded by paparazzi and starred in nearly 30 films but at the Miramar hotel, Bova is just a handsome European with money to spend.

If all goes according to plan, in a few months Bova will no longer be just another dar haired good looking man in a loose-fitting lemon suit. He will be a multiple magazine cover celebrity, the kind of big star Bova is used to be being in Italy but bigger. Much bigger.

Yes, he did make it to the covers of Vanity Fair and Angeleno, did star with Madonna in a music video but that was it. A couple of years later, he is back in the familiar world of Italian films and TV serials, his hollywood dreams on the backseat for now.
Riccardo Scamarcio
is the latest kid on the block. A film with some hot love scenes with the diva Monica Bellucci in Manuale d'Amore 2 (Manual of love 2) have catapulted him into big league recently. His visit to Bologna university a few days ago had loads of girls screaming in a frenzy with the police hard pressed to control the crowds. Among all the persons in this list, he is the only one that personally I wouldn't have selected but then I couldn't think of any other names.