My wife says that potato chips are bound to each other by an invisible thread. If you pick up one, the next one comes up automatically. Perhaps, thoughts are the same. Only that, one thought leads to another completely different. Thus, thinking in terms of potato chips, potato chip leads to a
jalebi
, that goes to a
samosa
and so on!
As I pedal my bicycle in the morning to the work, most of the time riding the bicycle and negotiating the traffic happens in automatic mode and my mind meanders in different directions. I am convinced that some of those ideas are terrific but the problem is that by the time I reach office and want to write them down, I can't remember most of them!
That is how it was this morning. I was pedalling furiously. Behind our house, they are cutting deep gashes in the green fields. A new road is going to come up there. Further ahead, a new access to the highway is flattening the existing hills and building new hills. Even further, the railway tracks are being moved so that the high speed train lines can be put in their place. Our part of the city is changing face!
The side effect is that the road is full of dust and with the strong humidity in the night, every morning my bicycle wheels raise up drops of dusty glue that sticks to my pants.
And I was thinking about the
Anarchytect post
I had read in the morning about buildings, spaces, layouts. For a lot of things, I realise that I am very superficial. Buildings are part of those things. I mean, a building is a building, full stop. Thinking of spaces as something alive, that you mould and shape like dough for making
chapattis
, seems kind of strange. Seeing the landscape around our house changing in front of us, I know it is true but I still keep on believing that the landscape is something physical, fixed, unchangeable, so why think about it!
Another of these things is art. I mean, you watch a nice painting and instinctively you know whether you like it or not. What need is there to dissect it, analyse it?
You are wrong of course, you just need to read the Hindi article of
Om Thanvi on Starry Nights
of
Van Gogh
in MOMA in New York to understand how wrong you are. There are eleven stars he writes. The bottom most star, its luminous white contrasting with the wonderful yellow of the moon is probably the morning star that Van Gogh saw from the window of his sanatorium and wrote about it to Theo, his brother. The spire of the church in the background is more like the Dutch churches of Van Gogh's childhood and not the French churches surrounding his sanatorium. The cypress tree in the left rising up like a peacock feather, is it a death wish? Van Gogh did die a few months after making this painting.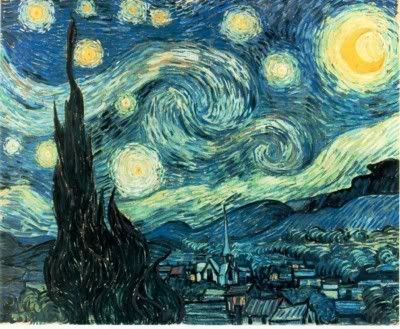 Once you read that article of
Om Thanvi
, it changes the way you look at this painting. It is no longer a question of if you like it or not, you can understand it and see things that you did not see earlier.
Suddenly my thoughts about starry nights and Van Gogh were interrupted by a new song in my earphones. I religiously put on my ipod when I start from my home but I hardly ever remember the songs I have heard during the journeys. But this song was great and different.
Ajnabi Shehar
it is called and it is from
Jaaneman
, I found out later. The singer, perhaps Sonu Nigam, sounded just like Rafi did in those wonderful songs from a film called
Jhuk Gaya Aasman
! It had came out in 1968 and had music by
Shanker Jaikishen
and had Rajendra Kumar and Saira Banu in it. Not that I liked Rajendra Kumar or Saira banu. There is no rational explanation for this jump from
Ajnabi Shaher
to
Jhuk Gaya Aasman
, but that's how thought are. Unpredictable and irrational.
What was the story of JGA like? It had something to do with death. I thought furiously, weaving the bicycle between cars stuck in a traffic jam. Rajendra Kumar dies in it, but then comes back. Actually there were two Rajendra Kumars. One poor and nice, in love with Saira Banu. The other rich and bad. The bad one was supposed to die but by mistake,
Yama
kills the young and poor. By the time they realise the mistake, his body has been cremated or whatever, so the good one goes in the body of the bad one. I had seen it on a black and white TV in the prehistoric days of Indian TV.
JGA had same story as of the
Warren Beatty
film, Paradise lost or can wait or something like that! This last bit of knowledge is fairly recent that Bollywood had started copying long time ago. But JGA had lovely songs and this song from
Jaaneman
reminded me of it - except that it is better, having strange interludes between the stanzas, changing the music styles completely each time.
While trying to think of the
Jhuk Gaya Aasman
songs, I braked in front of a truck of leaves-collectors in the park, that was blocking the path. By now all the trees in the park are naked with skinny arms and the beautiful golden, yellow, kathai, burnt siena of autumn leaves has been replaced by a rotting mass on the ground that sticks to your shoes and to bicycle wheels, making a squashing sucking sound as you walk on it. The leaves-collectors looked like ghost-busters from the film of the same name, with a motor in their backpack and holding thick tubes blowing hissing air like giant earthworms, pushing the sticky gooey mass towards the suction pump of the truck. Leaves-ghost-busters they are, picking up dead leaves, I thought.
Can trees have ghosts too? I had arrived in the office and so the question remained unanswered and like the last dream of the morning, it also slowly dissipated into nothingness.
***