This post has been published by me as a part of the Blog-a-Ton 22; the twenty-second edition of the online marathon of Bloggers; where we decide and we write. To be part of the next edition, visit and start following Blog-a-Ton.
***
Which
books or stories or films
related to revenge have left a strong impression on me?
It is not that there are no real-life examples of revenge these days. The bomb attacks a few days ago in Mumbai and then yesterday in Oslo, are a gruesome reminder of way revenge is enacted for real or perceived injustices, hurts or insults by the terrorists. This way of revenge targets general populations.
However, I don't want to talk about those kinds of real-life things. I would rather focus on
imaginary revenges
, that is, revenges dreamed up by their writers as part of their stories in literature and in cinema.
Revenge is a common enough theme in
cinema and literature
, where it is planned for avenging some wrong-doing or injustices, especially killing or rape of siblings or parents. Think of films like
Yadon ki Baarat
or
Sholay
or
Don
, and you will understand what I mean.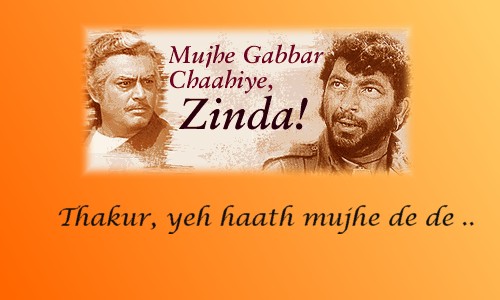 So I decided to think of books, stories and films related to revenge, that have left a strong impression on me.
The dentist and the handsome guy
: There was a Hindi story I had read around 40 years ago, that still remains vivid in my mind. It was published in a magazine called
Sarika
, that was probably shut down in early nineteen nineties.
The story was about a handsome guy who goes to a dentist. He had been chewing paan (betel) and had not rinsed his mouth properly. So the dentist, who is not very good looking and also a haughty-looking woman, tells him curtly that he is ill mannered and to go and rinse the mouth.
The man, used to women falling at him, feels very hurt by the curt manner of the dentist and decides to take his revenge. He follows the dentist and keeps on bumping in to her, first saying sorry, and then slowly praising her and flirting with her. Slowly over a period of time, the dentist falls in love with him. At the end, when dentist wants to kiss him, he tells her that she is ugly and unattractive to him, pushes her away and leaves.
I still remember my shock when I had read this story. I do not remember who had written it or the names of the two characters, but I think that it was an example of really cruel revenge, for something very petty.
Favourite films on the theme of revenge
: I can think of an old Hindi film, that had the element of revenge, that I had liked very much. It was called
Bandini
(Prisoner, 1960) and was directed by
Bimal Roy
. The film was about a gentle and kind woman named Kalyani (a wonderful performance by
Nutan
), who comes to the city to look for her would-be husband and discovers that he has married someone else. She starts to work as a servant in that house, where the woman married to her would-be husband is a rich and ill tempered lady. One day Kalyani gets the news that her father is dead. When Kalyani is still numb with shock, the rich lady shouts abuses at her. Suddenly unhinged with anger, Kalyani takes out rat poison and mixes it in the coffee of the rich lady, killing her.
That film showed that sometimes circumstances can be such that even the gentle and kind person can become a killer.
However, there is another more recent film about revenge that I had enjoyed very much. It was called "
Khosla ka Ghosla
" (The nest of Khosla, 2006, director Dibakar Banerjee). It was the story of the middle class Khosla family living in Delhi that puts all its savings to buy a piece of land where they want to build their dream house. However a cunning builder occupies their land, and wants lots of money to vacate their land. The young son of Khosla, planning to immigrate to USA, asks his friends in a drama company to help him and hatches out a perfect plan to trap the cunning builder.
In our real lives, the corrupt and the crooked, hardly ever get punished. Rather, they seem to get awards and keep on accumulating wealth. Thus, a film like "Khosla ka Ghosla" that has a perfect plan for teaching a good lesson to the corrupt, is mentally satisfying. At least in our imaginations, we can get our revenge, not by fights and might, but just by the intelligence.
And you, do you have a favourite revenge story or film?
***
The fellow Blog-a-Tonics who took part in this Blog-a-Ton and links to their respective posts can be checked here. To be part of the next edition, visit and start following Blog-a-Ton.