I had met
Makbul Fida Hussein
many times as a child in the nineteen sixties.
Where today there is Palika Bazar in Connaught Place in Delhi, in those days there were the state emporiums. Not the nice buildings they have today on Baba Kharag Singh Marg, but at that time, emporiums were more like shacks, like most of the shops on Janpath in those days. In the centre of that space was Coffee House, the mythical place where writers, painters and other creative persons met for their teas, coffees, cigarettes and endless debates.
It was there, in that coffee house, where a few times I accompanied my father, that I saw Hussein, among other persons, mostly Hindi journalists, poets and writers. Only now, looking back, I can notice something strange about those persons - we never called them uncle, aunty, mama, chacha, etc., as was usual in those days, but all those persons were referred to by their names.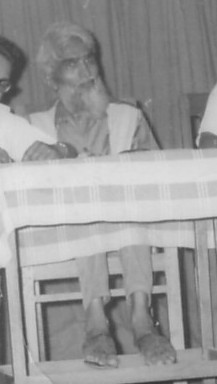 I vaguely knew that he was a well known painter and that he had made a film (
Through the eyes of a painter
, 1966). I also knew that he had been a painter of signboards and film billboards, before becoming famous as an artist. That was the time when big billboards, handpainted, lined the roads and cinema halls. (On left, Hussein saheb in 1967 during the meeting in Delhi after the death of
Dr Ram Manoher Lohia
).
My strongest memory of Hussein saheb is from 1966, from an evening in
Lalit Kala Academy
in
Mandi House
(Delhi). I think that we had been in
Sahahitya Kala Academy
, accross the road and then, we had walked with him to Lalit Kala Academy, where there was an exhibition of his paintings. It was during that walk that I had really taken note of his walking barefeet and thinking that it could not have been easy to walk like that on the hot summer roads.
That day, I was acutely aware of wearing my school uniform pants. We were passing though a bad time financially at that time. Our family had recently shifted to a new rented house, leaving the joint family house of my maternal grandfather, and the house rent must have aggravated our family's already stretched finances. I had only two half-pants in those days, and as I had grown taller, they had become woefully smaller and tighter. That was the reason, I had been forced to wear my school uniform pants that evening and I was thinking that everyone must have noticed it and understood that I didn't have another good pair of pants.
In Lalit Kala Academy, I had looked at the paintings of Hussein saheb, that frankly I didn't appreciate so much. I think that most paintings of that exhibition were about jagged black and dark brown lines criss-crossing the canvas, and they had reminded me of barbed wires. Suddenly I was aware of a bit of excitment around us. It was
Dr Zakir Hussein
, at that time vice-president of India, who had come to see the exhibition. There were just 2-3 persons around him and there were no security issues in those days, so no one had made us go away or stand in a corner.
Dr Zakir Hussein stopped near me and kneeled down to my level with a smile on his face, and asked me if I could make any sense out of those paintings? I don't remember what I had answered him, but I think that I must have been smug and superior, that obviously I could appreciate abstract art.
Decades later, when I had read about Hussein saheb's paintings being sold for hundreds of thousands of rupees, I had remembered some paper in coffee house of
Connaught Place
, where he had drawn something for me, and regretted that I had thrown away because I had not liked it.
Among his paintings, I remember most the images of horses. I also remember the time after "the emergency" when he had started to draw the Durga images in the praise of Mrs. Indira Gandhi, and the feelings of betrayal it had provoked. Wasn't he supposed to be supporter of Lohia? (Below part of a painting by Hussein in the meeting hall of World Health Organisation building in Delhi)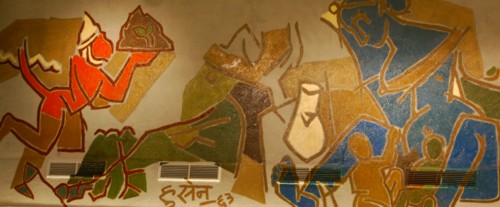 ***
A news item by
Dipanker De Sarkar in Hindustan Times
about his funeral, defines him as a "devout Muslim". These words disturb me a little bit, though I keep on telling myself that they should not.
Today the words "devout Muslim" bring out the image of a conservative person, someone who follows Holy Kuran to the letter. It seems like a reaction to the Hindutva guys who hounded Hussein saheb in the last decade, saying that he had deliberately wanted to insult the Hindu godess by painting her nude and asking why he never painted the Prophet Mohammed like that.
I didn't agree with the Hindutva Brigade's accusations for many reasons - gods and godesses don't need human beings to safeguard them, they are perfectly capable of taking care of themselves; India and Hinduism has long tradition of people who search for God in their own specific ways - those who stand on one leg, those who go around nude, those who smoke ganja, those who do worship of human skulls in a crematorium, those who look for God through sexual union, and art is also a form of worship; Upanishads also talk of God being there in every thing of this world, there is no place where the God is not there, even in the canvas on which Hussein had painted his vision; and so on.
Seen through the eyes of dominant conservative Muslim discourse as it is understood today, painting Hindu idols, could not have been compatible with being a "devout Muslim". I can't imagine the Hussein I remembered from my childhood, defining himself as "devout Muslim".
On the other hand, each of us should have the freedom to define ourselves as we wish. If in his eyes, he followed the spirit of his Book and for him that was enough to call himself a "devout Muslim", then why should this be a problem for others and for me?
Or perhaps Hussein saheb did change with age? As death came closer, did he feel that he had made mistakes and decided to ask for forgiveness, and become a different person? We can all change with time and as we grow older, many of us, want to go back to security of religious teachings that we had decided to abandon during our growing up years. Was it that?
Or, could it be that the surviving members of his family wanted to give a message to others by saying that Hussein saheb was a "devout Muslim", so these words are about them and not about what Hussein saheb really thought. Mostly deaths and the images that are created for the dead are more about needs of followers and surviving family members and not so much about the wishes and ideas of the person himself or herself.
I think of all these things, feeling a little confused.
Was it like Kamala Das becoming Ayesha and deciding to hide herself behind a Burka or like men and women who decide to close themselves in isolated cloisters or silence of monkhood. They are all bruised and fragile souls, who need some kind of security.
Was it like that for Hussein saheb in his last days?
***
How would I like to remember Hussein saheb? I think that I would like to remember him through different images of Meenaxi, the film he had made in 2004.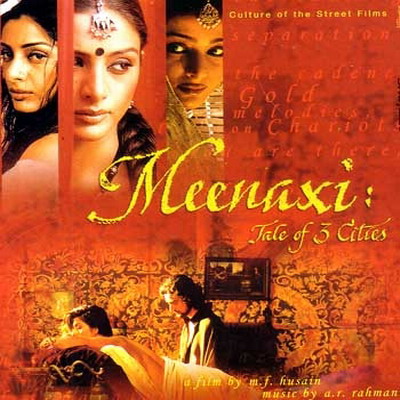 Like the scene of the song "
Nur tera nur.
.", where sufi dancers whirl around, while others do Kalarippayattu.
Like the never-ending colours of the holi song.
Like the doors and windows standing isolated in the desert.
Like the colourful round
matakas
(vases) that roll down sandy slopes, looking for a place to rest.
***