I had heard about the
Delhi Queer Pride parade,
planned on 28 June 2009. But it was going to be in Connaught Place and it was supposed to start at around 5.30 PM, which probably meant that it wouldn't start moving at least till 6 PM. So I was sure that I could not participate in it. I was in Delhi to look after my mother, who can't be left alone. After preparing the dinner, the maid usually leaves around 7 PM and there was no way to go to the parade and then be back in home by 7 PM.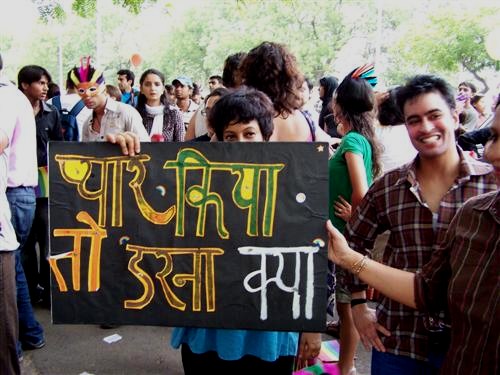 That whole week had been terribly hot, just putting the head out of the door felt like being a cake getting cooked inside an oven. And I was sweating so much! 5 minutes after coming out of the house, I was already looking like Shiv ji who has just received river Ganga on his head, streams of sweat running all around me. Probably in all these years of being away from India, my body mechanisms have forgotten how to deal with the Delhi summer, since I couldn't see anyone else around me sweating so much.
Thus the heat was another reason, I felt that I couldn't go the Delhi Queer Pride.
I wanted to. I had not been in Delhi in June for the past 25 years and I am not likely to come back here again in June (if I can help it)! So this was my only chance to see it. I had been to the Queer Pride parades in Italy and I had loved it with their wonderful music and colourful floats.
And then on Sunday 28, we woke up to a cloudy sky. During the night, the breeze coming in from the window had turned very pleasant. It was still a little hot and humid, yet the clouds were a sign of hope. The morning newspapers had talked about the Pride but didn't give any practical information about it. However a search on internet took me to the
Delhi Queer Pride website
, that had all the practical information. People were supposed to collect at the Tolstoy Marg-Barakhamba road crossing at 5 PM.
What if I leave home around 4 PM, reach Tolstoy Marg-Barahkhamba road crossing by 5 PM, stay there for about 30 minutes and then, come back home, aiming to reach home by 6.30 PM
, I thought.
OK, I will take the decision in early afternoon
, finally I decided. If the clouds stayed, it was a sign from the heavens that I should go, I told myself.
The heavens were definitely in favour of my going, and they showed it by a small shower in the afternoon, and I was there at the starting venue just before 5 PM. There were no floats, and compared to the Pride Parade in Bologna, which is a city of half of million persons, the group gathered there was really tiny. but persons were in high spirits and it was colourful with masks and all kinds of shining-feathery dresses. It was still very hot and some of the heavily made-up drag queens were literally melting down, but still they were busy laughing and preening themselves, like peacocks forced to hide in the darkness of caves, suddenly out in the daylight and enjoying this day of freedom.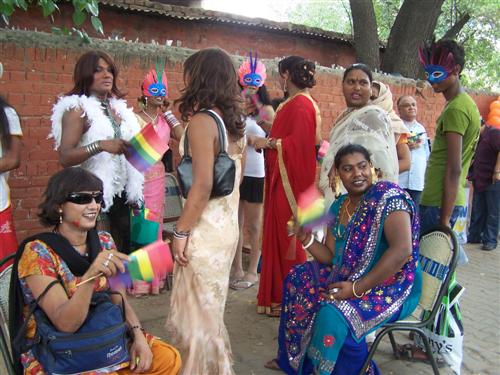 There were a lot of policemen all around, but they were relaxed. There were even more journalists, TV reporters, video-cameras and photographers, who were busy looking for persons willing to talk in front of the cameras.
The Pride manifesto explains the basic issues facing the sexual minorities in India:
"400 years ago, the word "queer" meant odd or unusual. 100 years ago, the word was used as an insult for anyone who was different from the society's norm of gender and sexually "correct" behaviour. It was used to demean and marginalise people. Today, people across the world have reclaimed that word to empower, celebrate and unite people of diverse genders and sexualities. With the rainbow as our symbol of beauty in diversity, we celebrate Queer Pride in solidarity with queer people across the world.




Queer Pride is about celebrating who we are, whether gay, kothi, lesbian, queen, dyke, transgender, bisexual, hijra, butch, paanthi … whether manly looking women or men who sleep with men, whether sex worker or sex changer, Queer Pride affirms our diverse expressions and our everyday struggle for respect and dignity.




Today in India, lesbian, gay, bisexual, transgender and intersex (LGBTI) people face violence and discrimination from different quarters. Here are some examples of our daily oppression:

Lesbians are subject to violence, forced into marriage and even driven to commit suicide by their families.

Gay men are blackmailed by organized scandals that often involve the police.

Hijras are routinely arrested and raped by the police.

Same sex couples who have lived together for years, can not buy a house together or will their property to each other or even adopt a child as a couple if they wish.

LGBTI people are constantly mocked, demeaned and denied their basic human rights of self-expression.




All this is happening because section 377 of the Indian penal code treats LGBTI people as criminals. It has been used to arrest, prosecute, terrorize and blackmail sexual minorities. It has strengthened the already existing stereotypes, hatred and abuse in homes, schools, workplaces and streets, forcing millions of LGBTI people to live in fear and silence at tragic cost to themselves and their families."
Thus the Pride is asking for change of section 377 as well for affirmative legislation to support the rights and dignities of LGBTI persons.
I also tried to identify some persons willing to talk and tell about their views. Most persons were shy, afraid, and some were clearly traumatised. Finally Anil and his friend agreed to say a few words. My initial questions got the usual answers that most young men with alternate sexuality give, "
I am gay, I am proud to be gay and it is nice to be able to come out here but it is so difficult to find acceptance from parents and society.
"
Anil is a counsellor for men who have sex with men (MSM) and are affected with HIV, and he works with a NGO. I knew a bit about HIV issues among women sex workers and I was curious to know about similar issues among gay men, "Women sex workers, even if they know about HIV, can't always ensure that their clients use condoms, because they are powerless while clients can force them into unsafe sex. Does that happen to gay men also?" "Yes, it is exactly the same for gay men" he told me.
I also spoke to Ritu Parna who works for a women's organisation. She was much more willing to speak and more articulate. Ritu said, "I am a queer activist. I have been actively involved in my support to the GLBTI movement and also involved in organising the Pride as part of a community, that is also the "Pride committee", as there is no formal organisation as such."
"How do you form a community in a society like the Indian society?" I asked.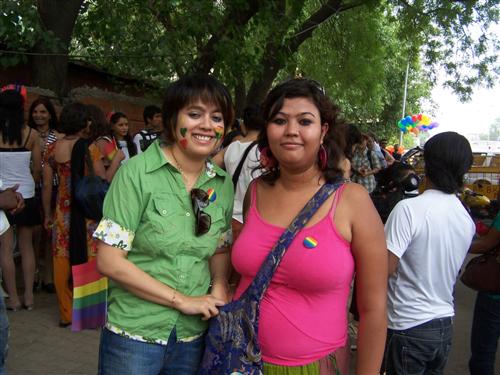 "It is difficult because there is social stigma against it. But we make community through bonding, through shared experiences, others they face our same issues, so we know there are other queer people, who will be with us. So it is an informal network. There also some formal organisations that are working in this area like Sangma in Bangalore that works for sexual minorities."
"What are the strategic issues related to the women in the movement?"
"The issues faced by other women are also the issues of queer women. Like domestic violence. When a lesbian comes out in the family she faces more domestic violence. Or the sexual harassment, a lesbian women also faces the same or may be even more harassment. Because of the sexuality, they face greater challenges. In terms of gender, they are exploited by the society."
"In terms of GLBTI movement, in Europe it is felt that transgender persons face greater difficulties and even among the movement they are marginalised. What is the situation in India?" I asked her.
Ritu was not so sure about this, "It might be relatively, but it may differ from place to place. The hetero-normative society discriminates against all those who are different and in that sense transgender persons also face discrimination. But in our movement, we don't discriminate, and you can see how many transgender persons are there today in this Pride."
Ritu agreed to give a small message to the Italian GLBTI movement, "We are all the same, we need your support, we are also with you, we love you all."
It was nice talking to Ritu and I would have loved to speak to many more persons. For example, I would have liked to know if class and social backgrounds are also an issue in the movement, and how do they deal with it? I did try to speak to a couple of other persons, but they all seemed to be afraid of talking and in the end, I gave up.
My 30 minutes for the Pride were over so quickly and soon I had to look for an auto and come back home. On my journey back home, I was thinking about another group of persons, who face greater barriers in the GLBTI movement, not only in India but all over the world. That is, persons with disabilities. In the Delhi Queer Pride, I didn't see any one on a wheelchair, or a blind or a person with obvious disability. Perhaps there could have been some deaf gay or lesbian persons, that I didn't meet.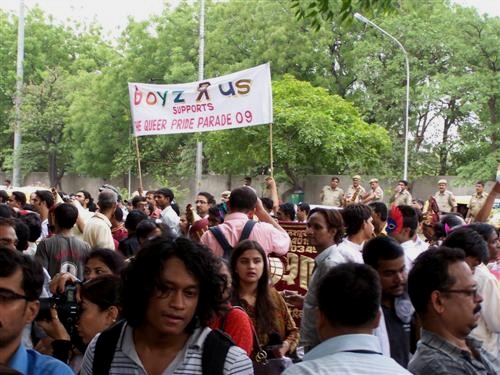 Both, sexual minorities and disabled persons, face isolation, discrimination, stigma, barriers and violations of human rights. Disabled persons who are also sexual minorities face even greater barriers, more so if they are women.
However, I feel that India has a very strong disability movement and in some countries, transgender persons are a strong component of disability movement. I hope that the strong Indian disability movement and the budding GLBTI (Gay, Lesbian, Bisexuals, Transgenders & Intersexuals) movement will join hands and support each other. Fight against discrimination requires unity.
In the evening, the coverage in the 24x7 news channels was quite uneven. On some channels, the kind of language they were using, was aimed at sensationalising and a little bit offensive. Some other channels seemed more aware and used a more balanced language.
On one channel, a "swami ji" thundered about the "
aprakritik
" (against nature) practices and that "these are against our culture". I can't understand this logic of
aprakritik
. Every thing created by nature is
prakritik
(natural) and you don't really need to have genetically modified human beings to become gay or lesbian, because that would be
aprakritik
. If being gay or a lesbian is "against nature" simply because it is not the majority behaviour, then even being a swami or a monk is also
aprakritik
, so why discriminate only against gays and lesbians?
The morning after, the English newspapers were full of colourful pictures. The staid TOI even had a kissing gay couple, though not on the cover page.
Jansatta
, the Hindi newspaper was more restrained, it only mentioned about the Pride in one line, as an afterthought to a statement by the Minister Moily, and didn't carry any pictures.
May be the flamboyant pictures present just one facet of the GLBTI movement, most of the gay or lesbian persons, don't go around wearing feathers or dress up like "rave party on the beach" - their daily lives also move around home-office-home routines like other persons in their communities, still I am sure that any publicity is good publicity at this stage of the movement. Thousands of persons who find themselves isolated with fear, can see those pictures and read about others like them who had the courage and the possibility to come out and be themselves.
It was just the second Pride in Delhi. In the first Pride in 2008, they just had 500 persons, this time they were supposed to 2-3,000. So the movement is growing and getting stronger. The wide publicity the parade received this time, will bring even more persons into open, the next time!
You can see some
more pictures from the Delhi Queer Pride 2009
at my Kalpana webpage. If you are in a picture and wish to receive it (free) in higher resolution, send me an email at sunil (at) kalpana.it - if the picture can create any difficulty for you, let me know and I will remove it.