I was determined to see at least one Hindi film in a proper cinema hall. The last film I had seen at a cinema hall was Jodha Akbar. In Italy, where I live, Bollywood films are not released and I have to wait to come to India to see them in a cinema hall. Last week I was in Bangalore for work and one evening, after the work finished, I walked into the theater and I saw Kurbaan.
Even though I had read in some newspaper that this film has flopped, at least that particular day when I went to see it, the hall in Forum mall of Bangalore, was quite full. Perhaps it was a hit in Bangalore?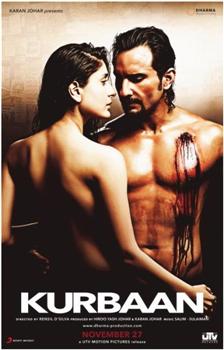 Film: Given a chance, I wouldn't like to see Kurbaan again, even though it did have lot of plus points, especially in terms of acting from the main actors. I liked all of them, especially Kareena Kapoor. She looks good and is great overall, even more in the emotional scenes. Saif, Vivek and veterans like Om Puri and Kirron Kher, all give credible performances.
The plot of the film is tight, it is fast-paced, so the time does run very quickly. The music and the background score are lovely. "Shukran allah" song is my faviourite. Cinematography is wonderful and shots of the explosions and shootings are done like in Hollywood films.
I had read about some debate about the explicit sexual scenes between Saif and Kareena, and indeed there is one such sequence. I think that it is great that Kareena had the strength to do this scene, since in India, all things related to sexuality are usually shrouded in hypocracy. With a clever use of "Rasiya" song in the background, the scene communicates an underlying sense of danger and pathos, even while stretching the limits of sexual moments shown in Indian films.
At the end of the film, from so many scenes, the images of Kareena remain with me. Like the closing image of the film with the unshed tears in her eyes!
Loops in screenplay: Yet there were times, that I felt like laughing in the film, because of its screenplay - it was all a bit childish and unbelievable. Like the reporter deciding to become a part of the terrorist group or the way American policemen were so easily outsmarted by a lone terrorist or the way FBI is shown as clueless, running in circles.
After watching scores of Hollywood dramas about the global reach of American secret services, it does seem different to see them as bumbling idiots. The terrorist can run away from scenes of shootings, even with a bullet in his chest, without the police being able to do anything. May be, as a sign of Indo-American friendship, we can send some sniffer dogs from India to the New York Police department.
Avantika (Kareen Kapoor), the Hindu ladylove of the terrorist, wakes up night to call the reporter, but when she goes to a supermarket with her Appa, why she can't stop a policeman or a security service person to say that the lady accompanying her is her jailor? And when the old lady is whisked away, she can run to the reporter to cry and plead to him for saving her, but can't just walk away? Or, even when she knows that men are carrying bombs (while she is unaware that her own bag has one bomb), why can't she talk to persons in the train or security at train station? If at least they had shown that Appa was carrying a gun and had threatened to kill her, her silence could have looked more believable (Appa does carry a gun but Avantika does not know about it).
So while the film looks and sounds good, if you think about the story, it does seem full of loopholes and not very credible.
Film's message about Muslims: I had read in some reviews that the film tries to be neutral and explain both the sides, and the reasons of anger among Muslims. However, I found the film's depiction of Muslims a bit problematic. I felt that the film explains the apparent reasons given by fundamentalists to justify themselves, but it ignores the point of view of the silent majority of Muslims.
Almost all Muslims in the film are shown to be sympathatic towards terrorism and justify it by the American and European greed and barbarism. The only "good" Muslim in the film is the reporter Riyaaz Masud (Vivek Oberoi) along with his girl friend, but even he can't articulate himself when his father talks about the superiority of religion. His fight seems more motivated by feelings of personal revenge because of death of his lady love in a bomb explosion, rather than from his beliefs.
Reporter's father (Kulbhushan Kharbanda) clarifies that "for Muslims religion comes first" and the terrorist mastermind (Om Puri) says, "No American is ready to sacrifice himself for his God, as Muslims can do".
It is true that the Muslim characters shown in the film are limited and the film does not really show the views of other Muslims, who do not believe in terrorism. But, in my opinion, it would have helped to show some Muslims who could articulate that religion is not more important than their country and that no matter what, killing innocents can't be ever justifed.
Thus the film is a story of a few persons, and can't be generalised to all Muslims. But at the same time, the film's take-home message seems to be: you can't really rely on Muslims. Here some examples of how this message is given in the film:
One of the women in the house is murdered at home and her body is still lying in the basement. Her husband complains about the bad smell, but other ladies in the house can't smell it and go on with their daily khanas and teas. The message is that Muslim women are all afraid and submissive or die-hard fanatics themselves.
There is a university professor, who helps to get a job as a university professor to a Pakistani terrorist in St. Stephen's college in Delhi. This same kindly looking professor, who likes to spend hours playing chess in the teachers' room in the college, happily goes to guard an old man in his house to help the terrorists and smiling threatens to "take care of him". The message is that even cultured and peaceful persons, are in reality hidden terrorists.
And the Pakistani terrorist, is himself talking about the peace messages in holy Kuraan and about promoting a dialogue among university students about Islam. At the same time, he happily shoots American Policemen and unarmed civilians in his free time. He doesn't feel pain and can stitch the wound on his chest without fainting. But The brutal assassin has a saving grace, in spite of himself, he is in love with his Hindu wife and in the end, he forgets his bombing mission and kurbaans (sacrifices) himself for his love.
There is the elderly woman (Kiran Kher), wife of the terrorist mastermind. She does not have any qualms in putting a gun on the head of pregnant woman who calls her Appa (elder sister) and who has been living in her care for some days, because "no one is really innocent" and "it is all justified by the American bombings in Afghanistan and Iraq". Why couldn't she carry the purse with the bomb herself, you may ask, it would have achieved the same end, without risking to have it on a person who is likely to run if she gets a chance?
When the film finished, I felt that its over-riding message was that no Muslim can be really against terrorism, that you can't even believe those Muslims who talk about peace and against terrorism. It is great pity that the film gives such a message.
The unrepresented Muslim: On yesterday's International Herald Tribune, there was an article of Tariq Ahmed, a doctor of Pakistani origin, working in Brigham (USA) titled "The price of being born a Muslim", where he has written:
The reality is that the vast majority of Muslims are secular. We do not pray five times a day, do not read Koran and have not spent much time inside a mosque. We only turn to Islam when a child is born, someone gets married or someone dies. ... We certainly have no interest in participating in civilizational battles. We are in fact loathed by religious minority. And yet we have no clear voice, no representation and no one in the Western world appears to be aware of our existence. Every time a terrorist attack occurs, we suffer the most.
I feel that there is need to represent these persons in film and to help express their point of view.
For majority of people in the world, it does not matter if they are Hindus, Christians, Jews or Muslims, religions and religious books are important in certain moments of their lives, but their lives are not limited by what these books say or do not say. They do not follow everything said by those who claim to be their religious leaders. Kurbaan does not say much on behalf of these persons.