Even after decades, can we ever forget those first giddy confused times, when our bodies changed, hormones were raging and suddenly we thought that we were in love with some one, and the world seemed stronger, sharper, more colourful?
And then, how does it feel when many years later, suddenly you find yourself sitting in front of one of your old dreams? It happened to me yesterday and I felt confused, stuttering and giddy, as if I had gone back to being sixteen once again.
But let me start from the other things, before telling you about my meeting with my teenage crush.
Yesterday, 8 December was the day of
Rahul Bose
and
Onir's new film, "I am"
in
River to River film festival
in Florence, Italy. River to River is the most important festival of Indian films in Italy since 2001 and is directed by
Ms Selvaggia Velo
. This year it has an important retrospective of
Satyajit Ray
's films.
Rahul Bose
has five of his films in the festival this time - Split wide open, Every body says I'm fine, Mr. and Mrs. Iyer, I am and The Japanese Wife. I had already seen Every body says I'm fine and Mr. and Mrs. Iyer but still it was good to see them again.
I had not seen
Dev Benegal'
s "
Split wide open
" and I loved it. It has plenty of scenes that usually create great scandals in Indian media including, plenty of Hindi cuss words, two integral nude scenes of Bose, a steamy sex scene and even a scene where the mumbai mafia don takes out his dick hanging it in Bose's face. So they must have talked a lot about this film when it had come out in 1999. However, I hardly knew anything about it and so had started watching it without too many expectations. If you have not seen it, get hold of a DVD and watch it.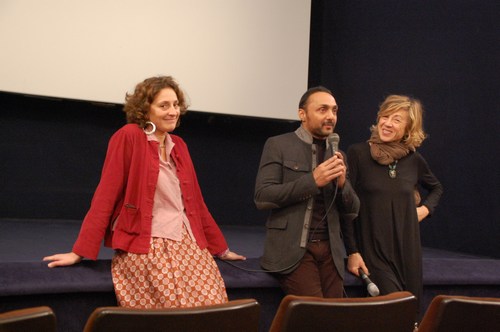 In the picture above, Bose is answering questions by the audience after the film. Next to him are Selvaggia Velo, festival's director and the English/Italian translator (sorry for not asking her name).
I had a conversation with Bose, that focused mainly on his involvement in the NGO called
The Foundation
, and touched superficially about his films.
Coming out of hall, I ran into
Rizwan Siddiqui
and
Vijay Singh
. I had seen Rizwan's short film "Kharboozey" on 7th. Vijay introduced himself and told about his works including a film called Jai Ganga. I need to look for his works and see them. Rizwan lives in Lucknow and Vijay is based in Paris.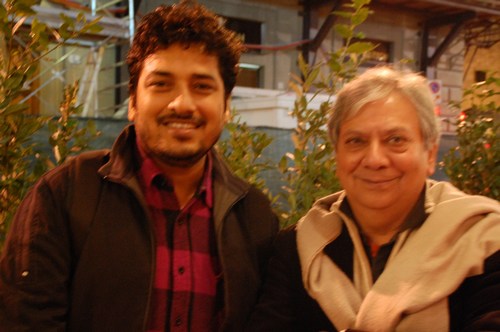 Then it was the time for the Italian premier of
Onir
's film, "I am". Here are film's director Onir and one of the actors, Rahul Bose.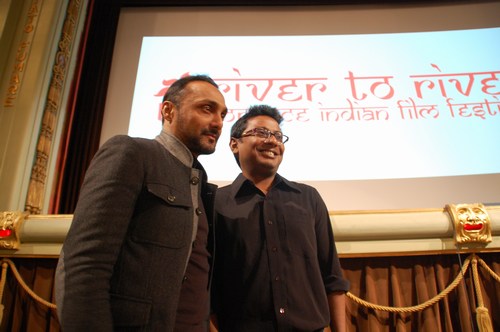 The film is beautiful and as usual for Onir's films, has beautiful music. Made of four inter-related stories, characters from each story spill off into others, the film touches on some of the sensitive issues including child abuse, homosexuality, artificial insemination and conflict-religion issues. The stories are based on real life incidents. Onir was telling that it will probably release in India in February 2011. Don't miss it.
The cinema hall where they are holding the main festival,
Odeon
, is one of the historical old-style theater of Florence. Yesterday, for "I am" it was full.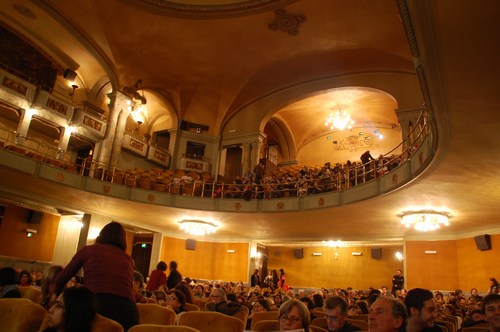 Now about my coming accross one of my teenage dreams, Ms.
Aparna Sen
. Her "
Iti Mrinalini
" opened the festival and her "
The Japanese wife
" is going to close the festival today evening (9 Dec.).
I had read lot of her interviews and had thought of asking her a lot of questions. But in front of her, I felt confused and forgot half of my prepared questions. I don't remember what she answered and probably I was a very distracted interviewer, asking something, then interrupting her, and all the time sneaking looks at her! Hopefully she is used to men like me and didn't take me for being exceptionally stupid or clumsy.
The evening after talking to her, passed in a daze. Couldn't have asked for more! Thanks Ms. Sen.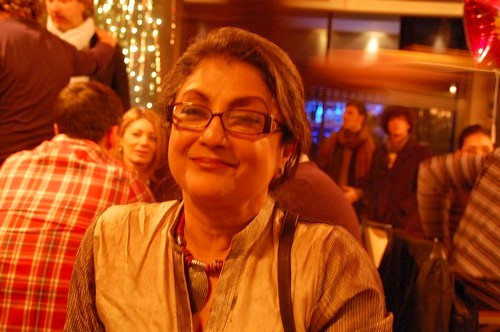 If you wish, you can see Aparna Sen's
Question-answer sessions after Mr. and Mrs Iyer at the festival on Youtube
. On the same page, you can also find links to videos of Rahul Bose answering questions.
***