Naidu
died on 15 March morning.
I had met Naidu only a couple of years ago. While planning for a workshop on mental health in Bangkok, someone had suggested his name. So we exchanged some emails. Then when I met him for the first time in Bangkok, I was immediately captivated by him. He wanted to be called only Naidu.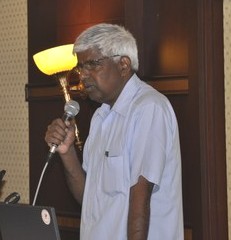 There are people who tread softly in life. Naidu was like that. Treading softly, always gentle, positive and understanding. He had that smile that spoke of a life of suffering, but he never talked of his own problems.
He advocated that persons with mental illness should have the right to decide and take decisions about their lives. Most persons in the workshop were not convinced. How can mentally ill person think and take decisions?
"All right, sometimes there is no choice and you have to safeguard the lives of the persons and of those surrounding them, their families and friends, so you make decisions for them, but it must be for a very limited time. Every one, even those who seem like they are having severe problems, have their moments of lucidity and they can understand and make their decisions. This is a human right of everyone that we decide about our own lives and they must also have it", he had gently explained.
He worked for
Basic Needs
an organisation based in Bangalore (India), and practiced what he preached.
We had continued to exchange emails once in a while, and I had met him twice more, in India. Last month, in our research project, he had decided to come and share his own experiences with persons who get convulsions. He had talked of his own fight for dignity and independence, after polio and convulsions.
Common friends told me that he had problems with his kidneys but he refused to have a kidney transplant and in the last days, he didn't want ICU, he wanted to be left to die peacefully.
I know Naidu that all those persons for whom you were a friend and patient listener, who matter so little for the society, they are the ones who will miss you most. I am happy that I had the opportunity to know you a little bit. Where ever you are my friend, I know you will continue to tread gently.
***