This photo-essay is the second part of a homage to the "
Trampolieri
", the
stilt-walkers of Bologna
(Italy). They use wonderful creativity and imagination to choose new styles, costumes and colours for each of their public appearances. While the
first part looked at their costumes and colours in the period 2005-2011
, this second part is about the period 2012-13.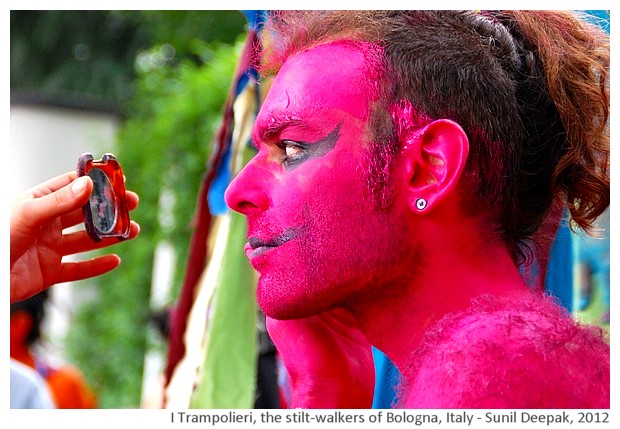 2012
At the
Bologna Gay pride parade
, I had reached early as I was supposed to meet someone. That gave the opportunity to see the Trampolieri getting ready with their make-up and costumes. Their make-up included putting body paint in different colours. This offered numerous opportunities for taking very striking pictures. In fact, I really love these images.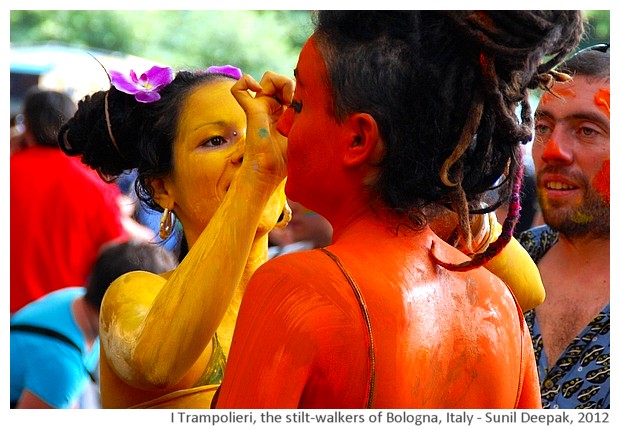 My favourite was the lady in blue who made me think of Shiva!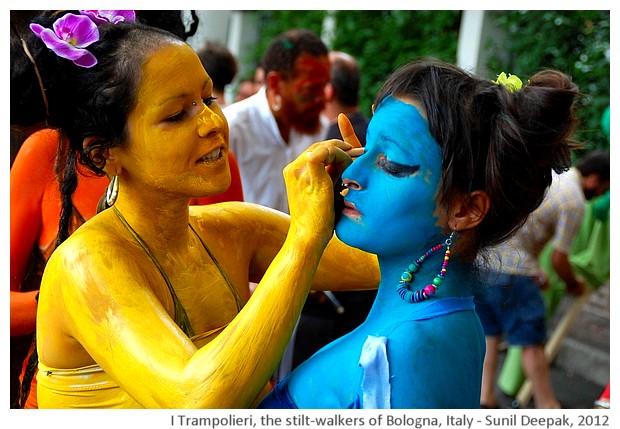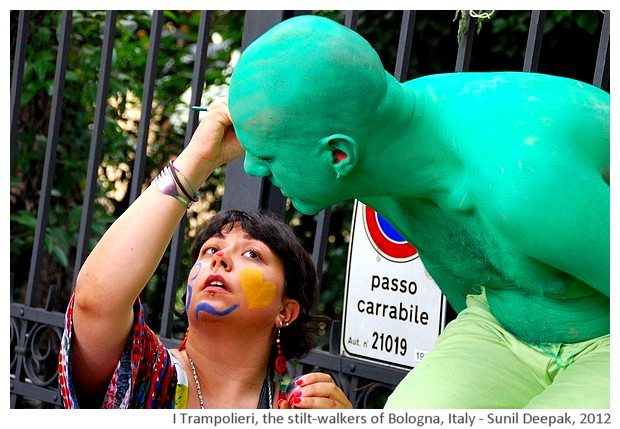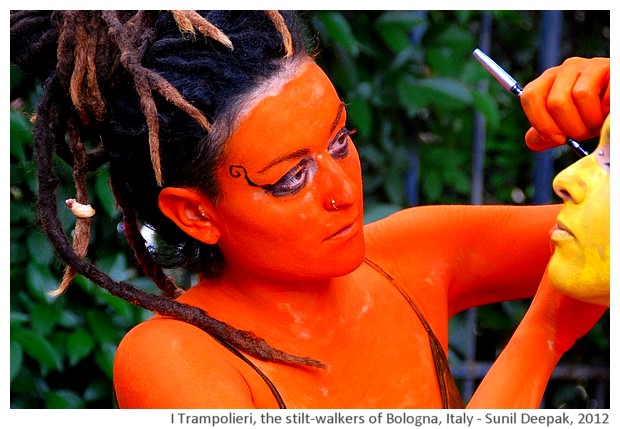 A small group of Trampolieri were also playing with gender and identity issues. I was really struck by the women with moustaches, who seem to underline how gender identities are constructed. At the same time, it made me think of "
Didi tera devar diwana
" kind of situations in Indian marriages, where girls dress up as boys during the women's music ceremonies.
I ended up taking hundreds of pictures that day and it was an unforgettable experience. Looking at these pictures brings back that feeling of joy.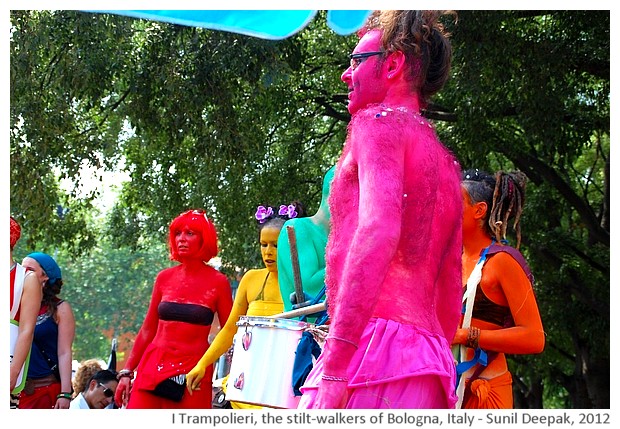 2013
Based on my experience at the Gay Pride 2012, when I heard about the
Gay pride 2013
, I immedietly imagined repeating the experience and the reached venue much in advance to catch the "getting-ready" part of the Trampolieri stilt walkers.
The initial make-up images were fun, though I was missing the strong colours of 2012.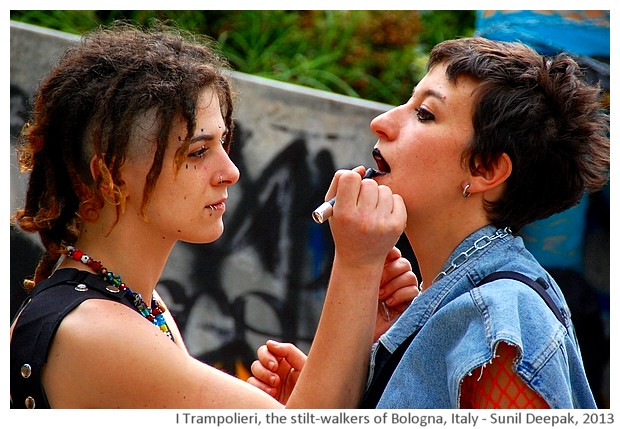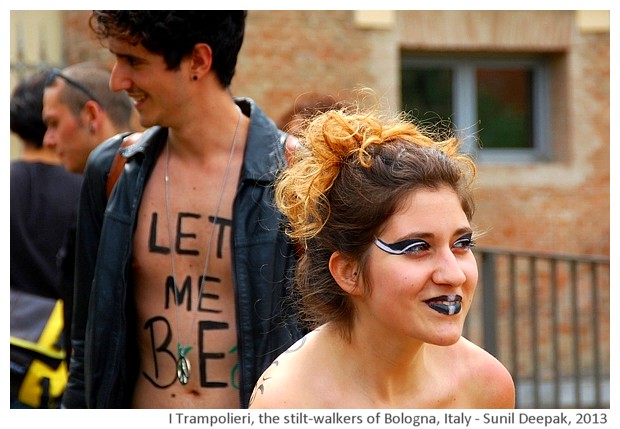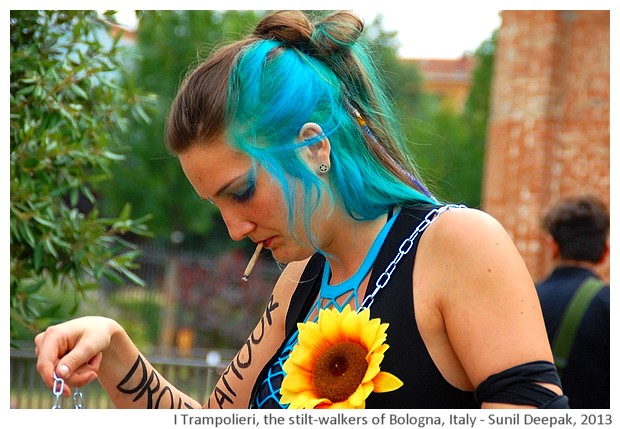 After putting on the make-up, the Trampolieri covered their faces with colourful clothes, through which you could see only their eyes and lips. They made me feel a little uneasy and I think that they conveyed very effectively the feelings of persons who are forced to hide their true selves, to escape the societal discrimination.
Usually in Gay Pride parades, many persons use masks to hide themselves. May be because masks are associated with happy festivals like carnivals or may be because, masks still retain the "being human" kind of feelings, they do not give me the feeling of unease. On the other hand, those faces covered with clothes, did convey a feeling of imprisonment.
The Trampolieri
explained that they had chosen that particular style to express solidarity with Pussy Riot who were imprisoned at that time.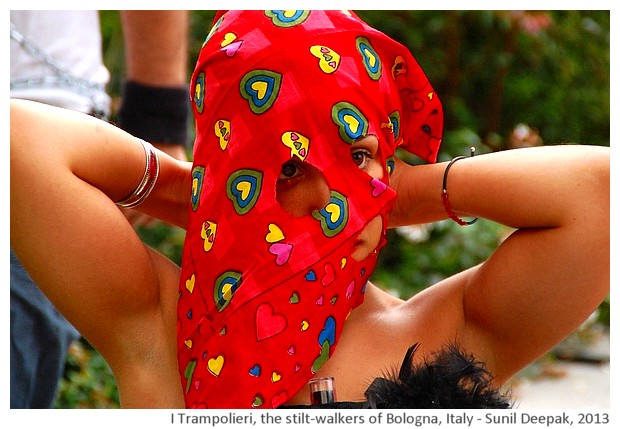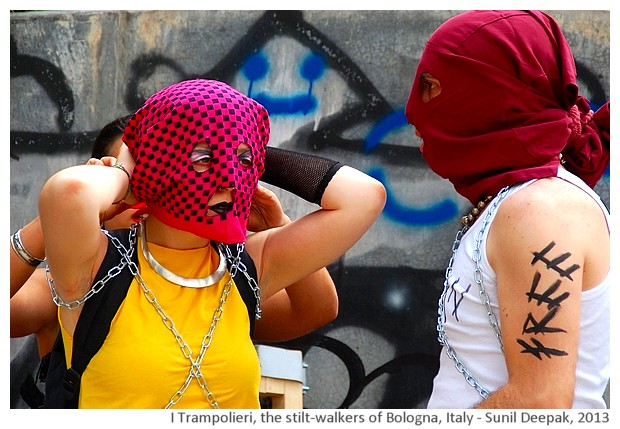 They also had chains criss-crossing over their bodies, which increased the feelings of unease.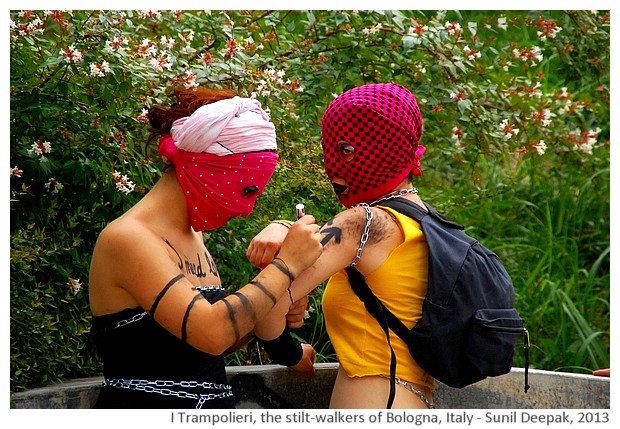 In the end, the Trampolieri were equally colourful in this occasion, but rather than joy, this time, their costumes transmitted pain and fear.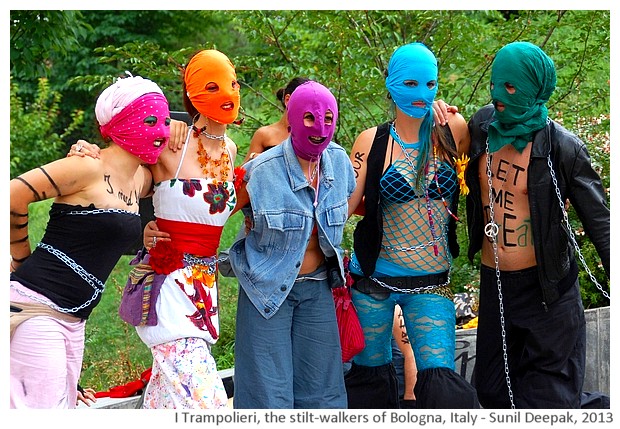 In 2013 there was a second opportunity to see the Trampolieri in action - the
biannual summer festival Par Tot parade
. For a change it was held in one of the peripheral areas of the city called Pilastro.
Obviously, this time, I was there well in advance, to catch their make-up and getting ready.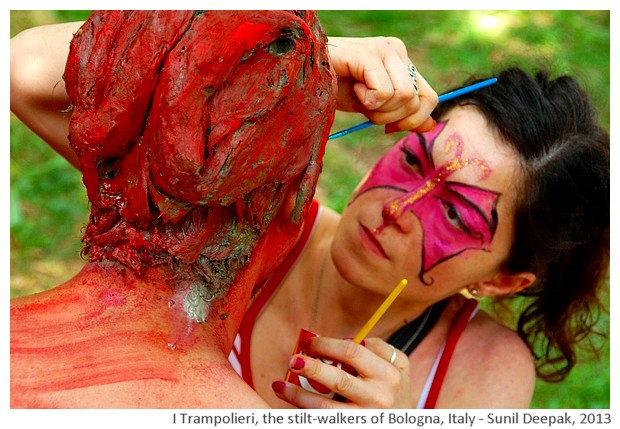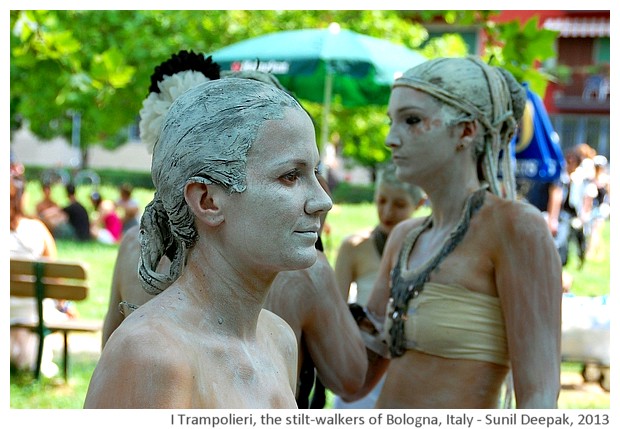 This time, they had again decided on body colours - all the team had their bodies and heads covered with white colour with a few small designs in red or black. Some persons had white flowers, others had silver or black coloured necklaces or bracelets.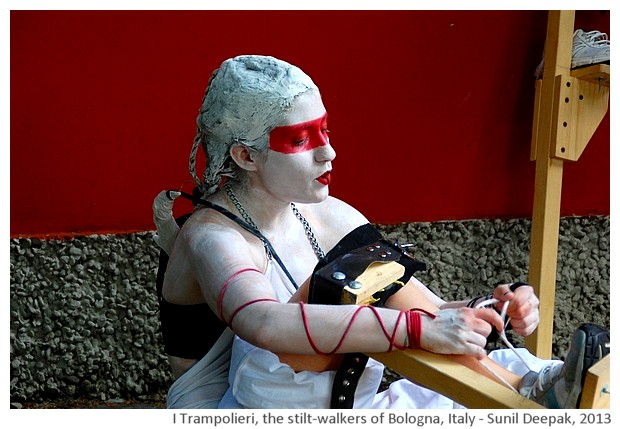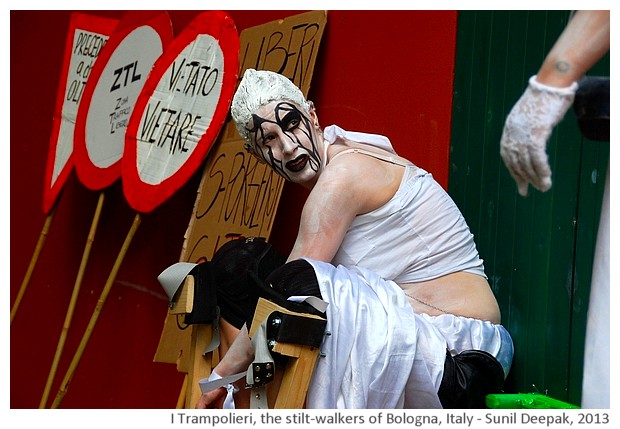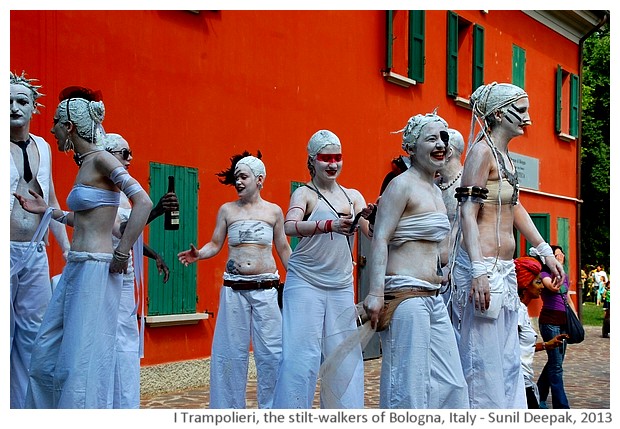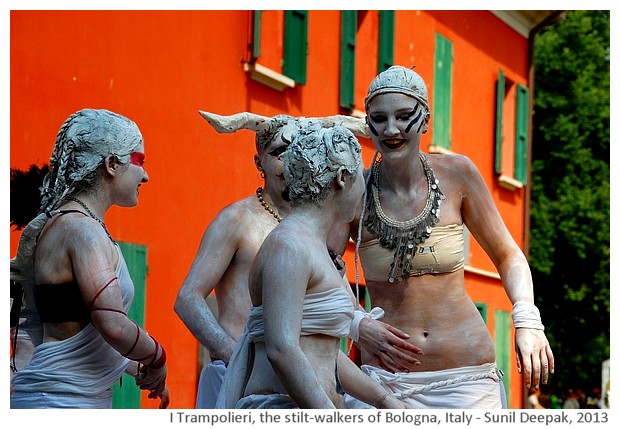 The two team leaders, one man and one woman, were covered entirely with deep red. These colours made for very striking visuals.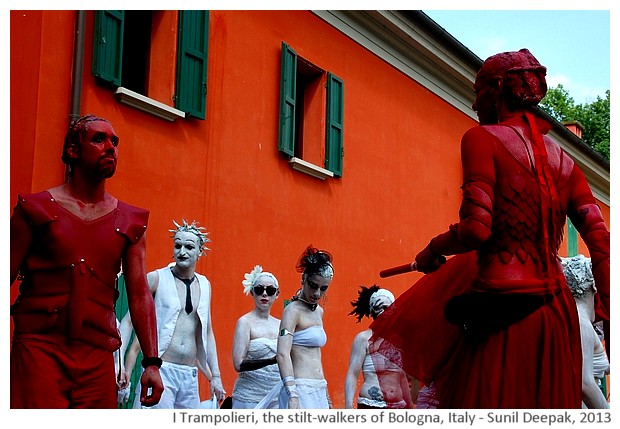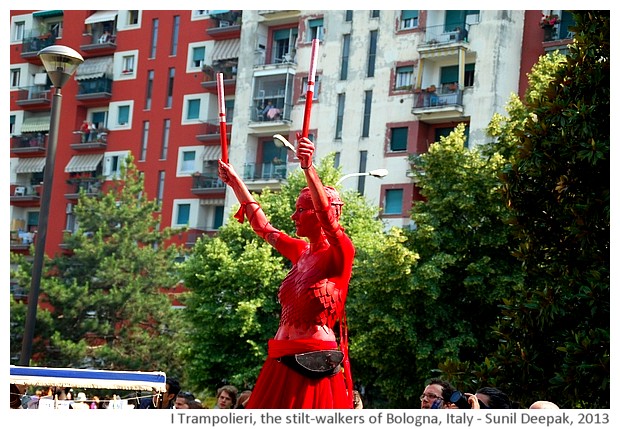 This brings to end
my photographic homage to The Trampolieri
, the stilt-walker group of Bologna. Watching them has given me a lot of pleasure and clicking their pictures has been wonderful. So, thank you and best wishes for continuing this tradition of new make-up, new styles and new costumes.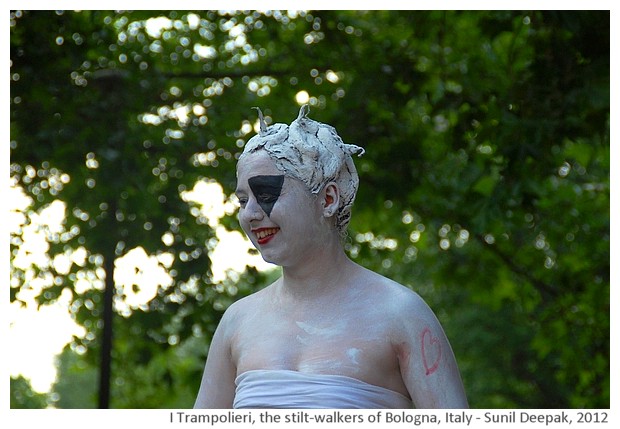 I hope that this photo-essay will inspire people in other cities and other parts of the world, to think of starting something unusual, which can express your creativity in a different way so that you can carve a distinct artistic identity for your group.
You can check the
Facebook page of Trampolieri of Bologna
for more pictures and their other initiatives. If you missed the
first part of this post
that presented their costumes from the period 2005-2011, you can check it by
clicking here
.
***