A chance visit brought me to the works of a photographer from Delhi, who had clicked pictures of the rich, the powerful and the famous persons passing through the Indian capital during 1950s and 1960s. These were the works of
Mr. Madan Mahatta
(Mehta). He died earlier this year, but I am really glad that I could see his works and to know about him.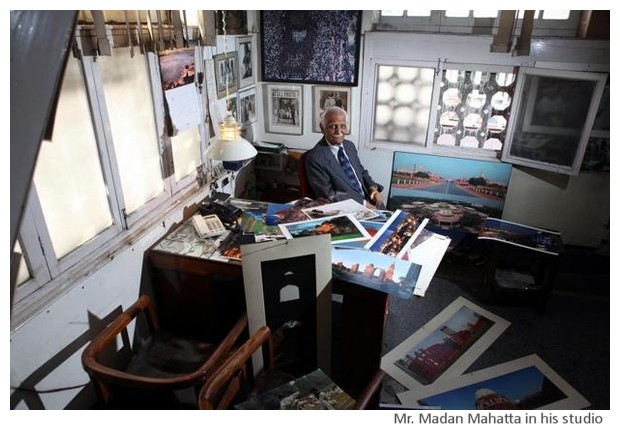 A chance visit
I was in Connaught Place in Delhi and went to an Airtel shop to get a new SIM card.
"You need two pictures for the SIM card and you can go to the photography shop across the road for it", the Airtel guy told me.
I saw the board of "Photographers Mahatta" and walked in. The shop seemed full of cameras, tripods and other things necessary for photography, including a whole wall lined up with antique cameras.
"Take these stairs and go up", a guy guided me.
Upstairs had a photographer's studio with lights and reflectors. But there was no one there. While I waited, I looked around and saw a wall with some old black and white pictures, some of them hand-painted. Going closer, I found that some of them were of well known persons - India's first president Dr Rajendra Prasad, Gayatri Devi of Jaipur, Everest climber Tenzing Norgay ..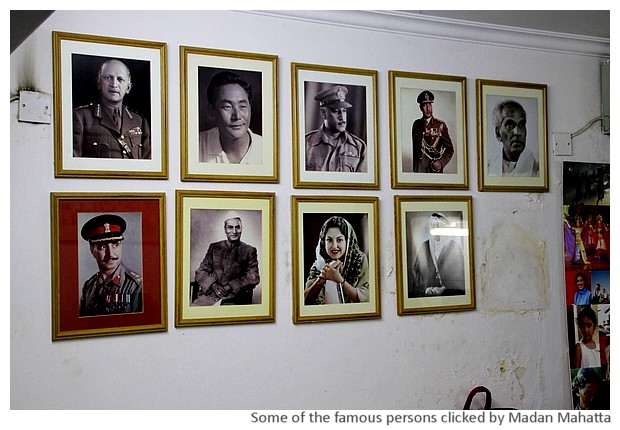 Soon a guy arrived and asked me to sit down on a stool. While he adjusted the lights, I asked him, "Who took those pictures?"
"It was Mr. Madan Mahatta, the owner of this shop. It is the oldest shop of photography in Delhi and next year we are celebrating our 100th anniversary", he told me proudly.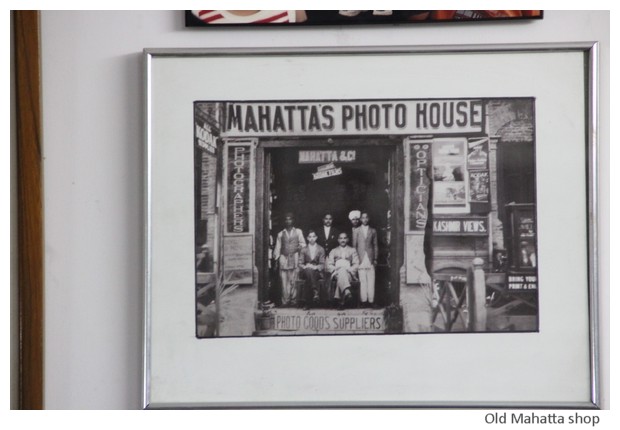 Madan Mahatta, the photographer
Afterwards I talked to
Pavan Mahatta
, son of Mr. Madan Mahatta. He explained that their family was from Srinagar in Kashmir. Photography was initiated by their grandfather in Dalhousie in 1915, when he was 17 years old.
Madan opened his photography shop in M block of Connaught Place in 1947. He went to study photography at Gilford in England and after his return in 1954, set up the first colour lab for photographers in India.
Pavan showed me a book that has been printed to mark the 100 years of photography by the Mahattas that has many examples of his father's works. "Queen Elisabeth of England, Jacqueline Kennedy, anyone who was famous and important, who visited Delhi, was photographed by my father in those days", he explained.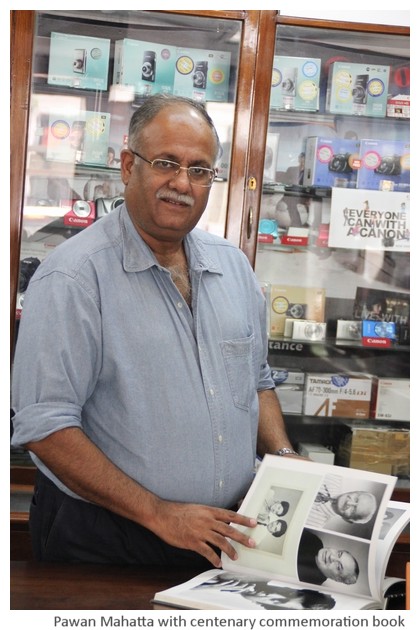 His image archives have been partially digitalized and some of these images can also be seen on
the Mahatta website
.
Madan Mahatta in the Indian press
Madan Mahatta was "rediscovered" by
Ram Rahman
a couple of years ago, who had curated an exhibition of his architectural pictures in 2012. I found different articles about this exhibition, that give more information about Mr. Mahatta:
"Mr. Mahatta, the owner of the famous Mahatta Studios in Connaught Place, is palpably excited about the public display of his works. He shares the experiences he accumulated while capturing through his viewfinder angles and avenues of many a concrete landmark. Though only his architectural pursuits are going to be on display, the seasoned photographer is as animated about the moments of history that he lived through, capturing their images in his camera for posterity. He recalls how he climbed on top of India Gate to shoot Jawaharlal Nehru's funeral procession in 1964, and when he was invited to Bhutan to photograph the coronation ceremony of the king.... Although he has been using colour in photography since the very start of his career, it is black-and-white that he finds more fascinating to work with. "Black-and-White photography is the translation of colour using light and doing that needs a lot of skill." And this is one of the many skills Mr. Mahatta displays." (in The Hindu)
"Mahatta's photographs cover the important period of Nehruvian high modernism, a record of the creation of the new Delhi and the urban monuments of the new nation, most of them commissioned by Nehru himself. Coming from a family which owned the biggest and most reputed photo studios in North India, Mahatta worked closely with two generations of India's best known modern architects including Charles Correa, Habib Rahman, Jasbir Sawhney, J.K. Chowdhury, Joseph Allen Stein, Achyut Kanvinde, Ajoy Choudhury, Kuldip Singh, Raj Rewal, Ram Sharma, Ranjit Sabhiki and designers Mini Boga and Riten Mozumdar." (article by Phantom Lady on "Take on Art" blog)
"A mini museum in itself, their store in Connaught Place is worth a visit. From their collection of old cameras, like the Kodak Autographic Vest Pocket Camera belonging to A N Mehta from 1912 and something called 'Camera Gun' made by Fairchild Camera and Instrument Corp. New York, which was used during World War II to click images from fighter jets to the D800e Nikon Arjun uses currently, this store is a must visit on every photography enthusiasts list." (on the Family history of the Mahattas by Tanya Gupta on "Know your city")
Madan Mahatta died on 6 March 2014 in Delhi.
Conclusions
I had seen some of the works of well known photographer
Sunil Jinah
, especially some his iconic images of Mahatma Gandhi and of the tribals from different parts of India. But I hardly knew about any other significant photographers from the pre and early years of post independent India. I am glad that this chance visit introduced me to the works of Mr.
Madan Mahatta
.
Though his architectural images have been exhibited, perhaps his other images also hide treasures that can be appreciated by art lovers and historians.
On the other hand, it is remarkable that the Mahatta Photographers shop continues to be still active. Apart from its wonderful collection of vintage cameras that have made the history of photography, today it sells equipment from various brands like Nikon, Cannon, Sony, etc. and Pavan's son Arjun continues the legacy that had started in Dalhousie in 1915. If you like photography and are near M block in Connaught Place, find time to go and visit the Mahatta shop!
(The image of Mr. Madan Mahatta used in this post is from
LiveMint
)
***