The extensive and ever-increasing network of the
Delhi Metro
has made it relatively easy to discover different parts of Delhi. This post is about the places to visit near the Jor Bagh station on the Yellow line of Delhi Metro. This walk will take you to discover the Delhi of 16th and 17th century, including one of the most beautiful parks of Delhi.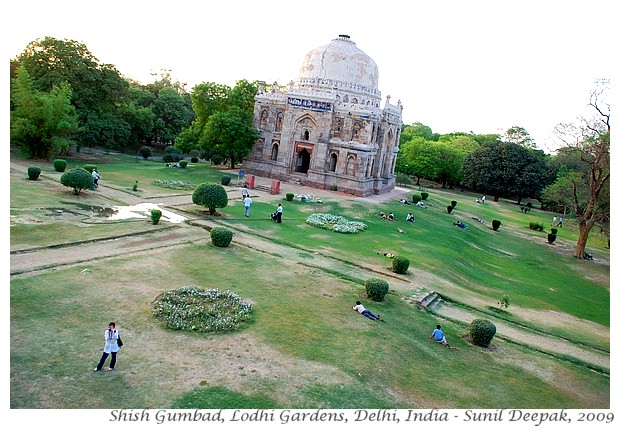 The image above shows "
Shish Gumbad
", built around the end of 15th century during the reign of king Sikander Lodhi. It is one of the riches awaiting you on this metro walk.
1. JOR BAGH METRO STATION
Jor Bagh area of Delhi had been the city centre around 14th and 15th century during the reign of the
Lodhi kings
. After them for a brief period, the city centre had moved to what is now known as Purana Qila and then starting with Akbar, the Mughal Kings had decided to build their capital city in Agra. Later, in 16th century, Aurangzeb had brought his capital to Delhi but he had preferred to build his city more to the east in an area known as Shahjahanabad and thus, this part of Delhi had been abandoned.
Life came back to this part of the city when the British decided to build New Delhi. The area known as Jor Bagh was just outside the city of New Delhi built by the British in late 19th and early 20th centuries. During those constructions, the British had discovered some of the historical buildings of this area and had had initiated their restoration.
Delhi's first airport known as "
Safdarjung airport
" was built here and had functioned as the city airport from 1929 to 1962. Under the British it was called Wellingdon airport. In the 1960s, it was felt that the Safdarjung airport was too close to the city and thus a new airport was built in Palam village. The new airport was known as "
Palam airport
" and parts of that second airport are still there in the area that has terminal 1 of the Delhi airport today and is still used for some domestic airlines. Today of course we have the new airport, also known as Terminal 3, that was given the name of India's prime-minister Mrs. Indira Gandhi.
After the construction of Palam airport, it was decided to use Safdarjung airport for training and military purposes. It was from this airport that
Sanjay Gandhi
, the son of Mrs. Indira Gandhi, at that time the prime minister of India, who was learning flying, had taken off his aeroplane on 23 June 1980 that had crashed and killed him.
As you come out of the Jor Bagh metro station, you can see the Safdarjung airport across the road. With this brief introduction to the history of that period, let us proceed now with our walk.
The route for this walk is shown in the image below. You can also check this route on the Google Map.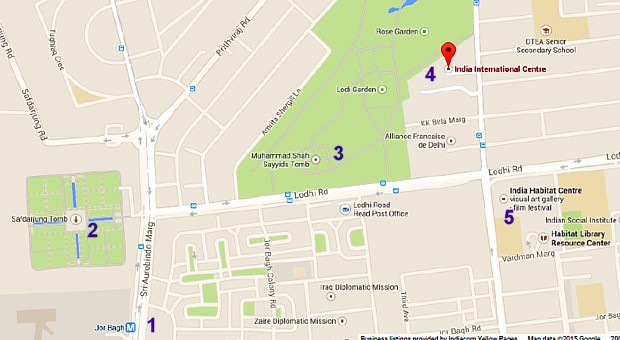 2. SAFDARJUNG'S TOMB
As you walk down from the Jor Bagh metro station, you will see the red building of Safdarjung's tomb on your left. When I was a child, it was known as "Madarsa", probably because at that time, there was an Islamic school here.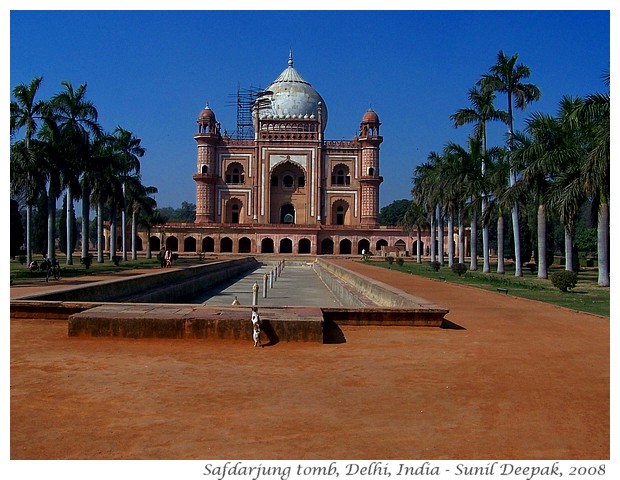 In this building was buried Mirza Murim Abdul Mansur Khan, also known as
Nawab Safdarjung
, who was the governor of Oudh (now known as the Awadh region and is a part of Uttar Pradesh) during the reign of emperor
Muhammed Shah
(1719 to 1748) and prime minister of his successor, emperor
Ahmad Shah
(1748-1754). Safdarjung had died in 1754 and this tomb was built by his son Nawab Shujauddaula.
The building construction is similar to many other Mughal buildings such as Hamayun's tomb, with a
char-bagh
(garden divided into four areas) around a central canal with fountains. It was one of the last important Mughal constructions in Delhi.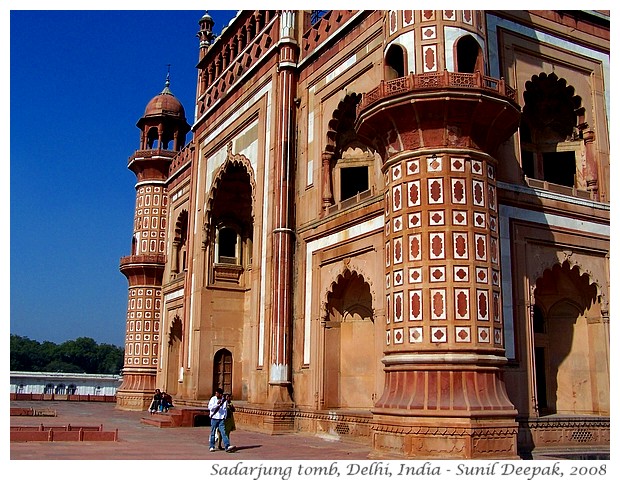 Today, it is one of the favourite places for the young couples of Delhi, to be together. The building hosts a number of tombs. I especially like the entrance gate of this building, which some how makes me think of Rajasthan and its palaces.
3. LODHI GARDENS
These are one of the most beautiful gardens of India, spread over an area of 90 acres and dotted with a number of historical buildings, mostly from the Lodhi period of Delhi. After this area was abandoned in 17th century, two villages had settled here. In 1936 the British asked the villages to vacate this area and the gardens landscaped by lady Wellingdon were laid down, and were thus called
Lady Wellingdon gardens
. (Just an aside about the Wellingdons, who had given their names to many important places of Delhi, including the hospital near Wellingdon crescent, now known as Dr Ram Manohar Lohia hospital.)
Coming from Jor Bagh, as you enter the garden from the first gate on Lodhi road, you will see the beautiful
tomb of Mohammed Shah Sayyid
, who had ruled Delhi from 1434 to 1444. The Sayyid dynasty was not very powerful and the territories covered by them were not so big, thus they did not build any big palaces or monuments. This tomb is one of the few remains of that period. It resembles the Isa Khan tomb built near the entrance to Hamayun's tomb.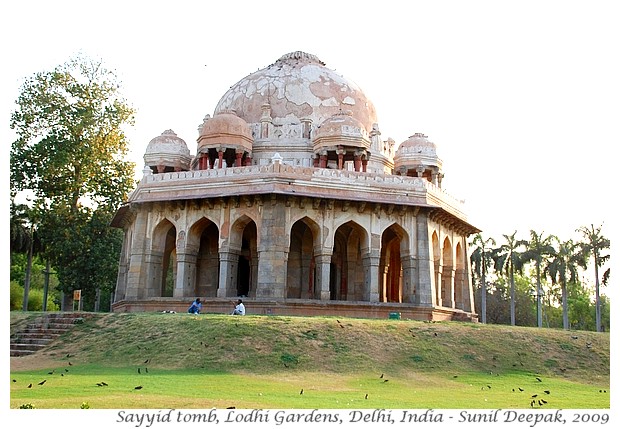 The Sayyid tomb is an octagonal building with
chattris
(umbrella like decorations) on its top. It has different tombs of the Sayyid family, out of which the central tomb is considered to be that of Mohammed Shah's.
Our next stop is the
Bada Gumbad
(Big dome) mosque. The three domed mosque was built in 1494 during the reign of
Sikander Lodhi
.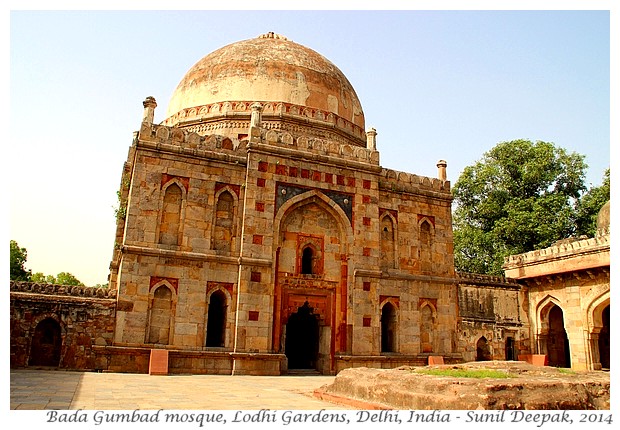 The beautiful building decorated in some parts with blue and red stones is full of arabesque decorations and Quranic inscriptions. At the back of this building there is a
Mihmankhana
(guest house).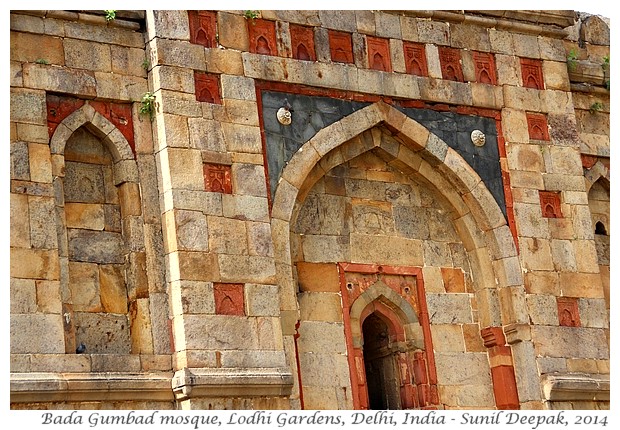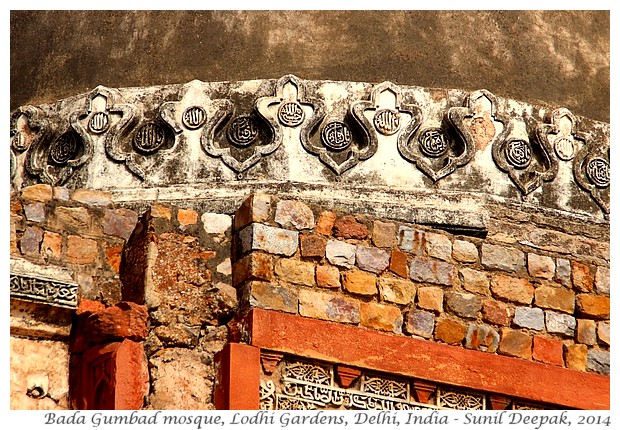 The building known as "
Shish Gumbad
" is just behind the Bada Gumbad mosque. It is one of the most beautiful buildings of Lodhi Garden built in a square shape and with blue-tiles decorations. It has different tombs and was probably built at the end of 15th century, also during the reign of king Sikander Lodhi.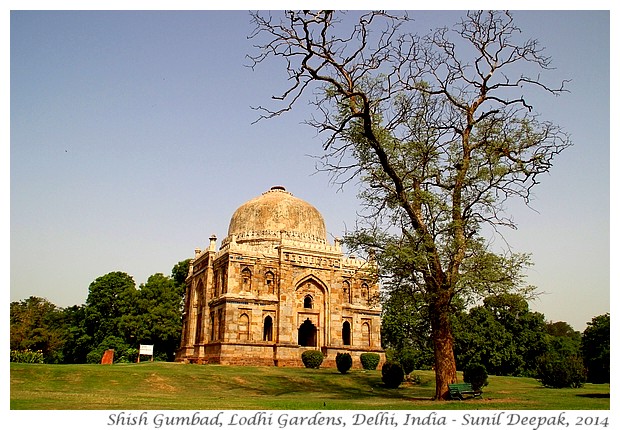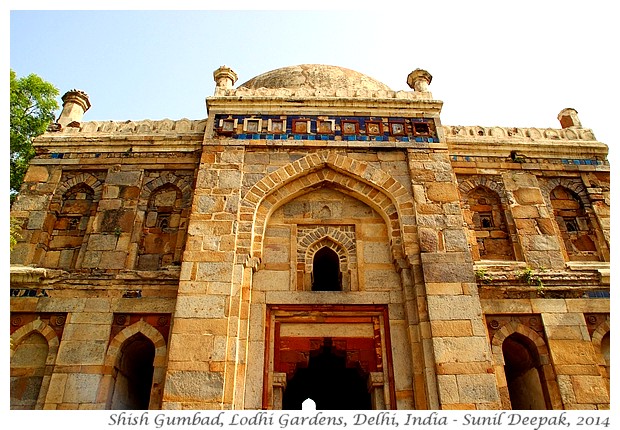 If you walk behind Shish Gumbad, you will soon reach a water canal that made me think of the Serpentine pond in the Hyde park in London, though of course the pond in London is much bigger (and better maintained).
Across the canal, on a small hillock is the
tomb of king Sikander Lodhi
. He ruled Delhi for 28 years, from 1489 to 1517. His tomb shows his importance. It is set in a walled garden behind a raised platform guarded by two
chattris
. (In the image below, you can also see my sandal in the left corner, because I was trying a new angle for clicking this picture!)
Its dome is decorated with exquisite designs surrounded by red geometric shapes.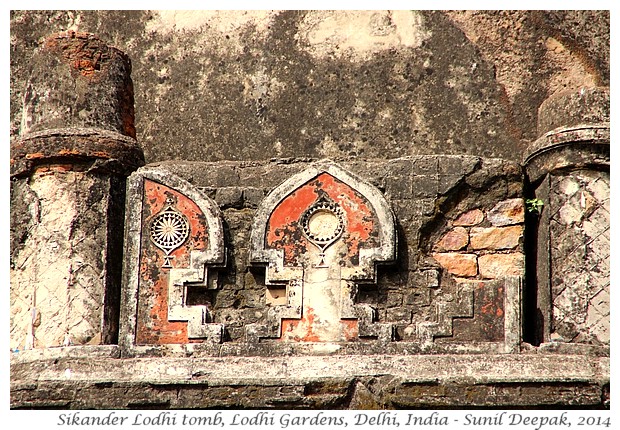 After visiting Sikander Lodhi's tomb, you can walk along the water canal to reach a beautiful bridge with eight arches called "
Aathpula
" (8 arches) or "
Khairpur ka Pul
" built by a nobleman called Nawab Bahadur during the reign of Mughal emperor Akbar (1556 to 1605).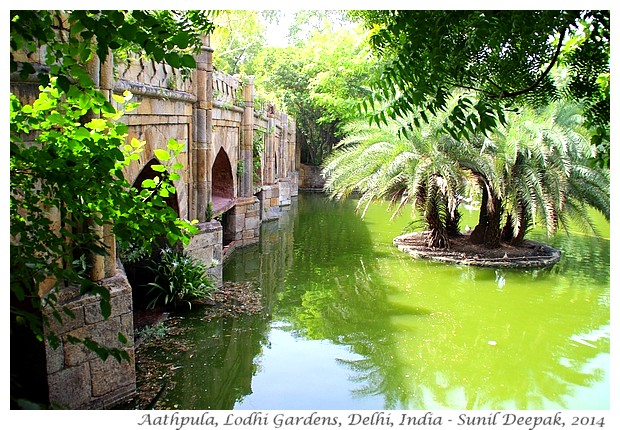 At one time, a river flowed here, a tributary of Yamuna river, that is no longer there. In its place, the present-day canal was built here later in early 20th century, when this bridge was restored during the British reign. Along the southern boundary of the water canal, there are many water birds such as, ducks, swans and geese.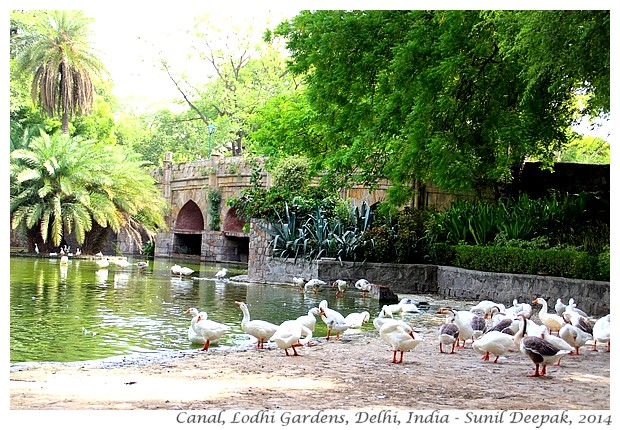 If you walk back towards Lodhi road from the Aathpula bridge, you will come across an old mosque and a rose garden. The mosque and garden were also built in the Mughal period and inside the mosque you can still see some painted inscriptions. The present day rose garden has been created at the site of the old Mughal garden.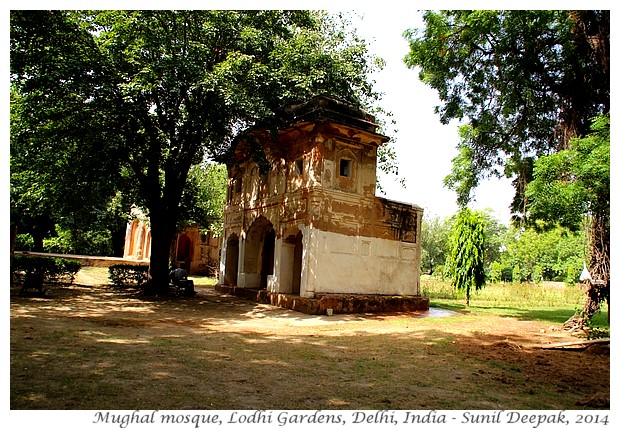 There are many other smaller buildings in Lodhi gardens. There are also some more recent additions in the Gardens such as the fountain shown below, that are not always well maintained.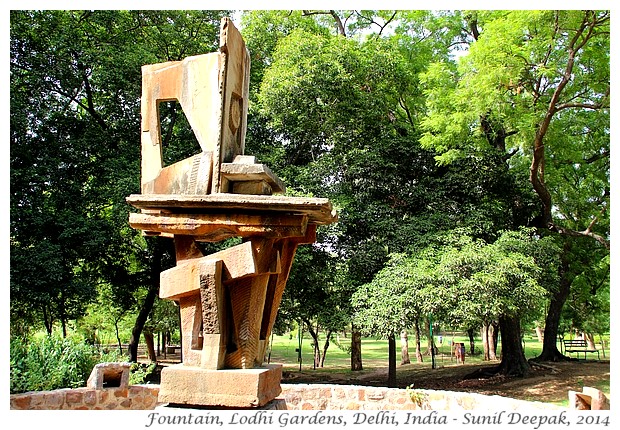 Municipal corporation has also put up some garbage collection boxes in the Gardens, painted with social messages like the one shown below (with a message about "saving the girl child").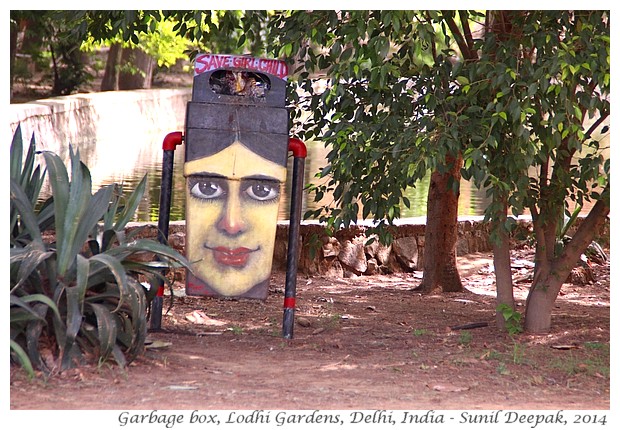 My favourite among these painted garbage collection boxes is the one shown below that has a tongue-in-cheek variation on the call of India's independence leader, Subhash Chandra Bose, who had said "
Give me blood and I will give you freedom
". This one says "
Give me garbage and I will give you cleanliness
".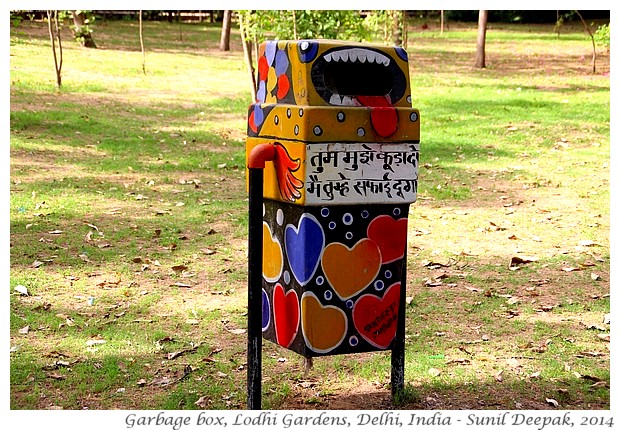 Lodhi gardens are very popular with local inhabitants of the area who come here to take walks, do jogging, exercises and yoga.
The park is also a great place to admire nature with different birds, small animals, plants and trees including a beautiful groove of bamboo trees.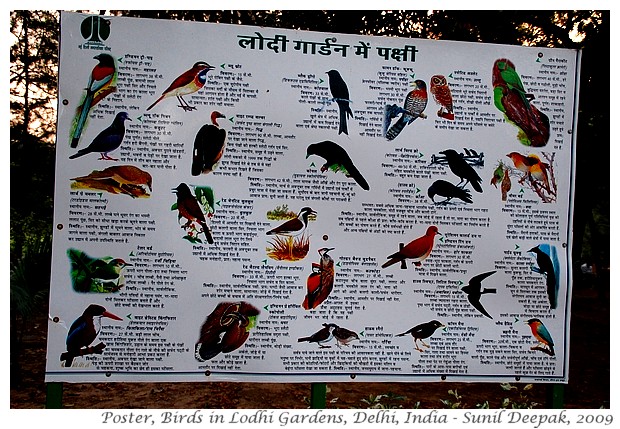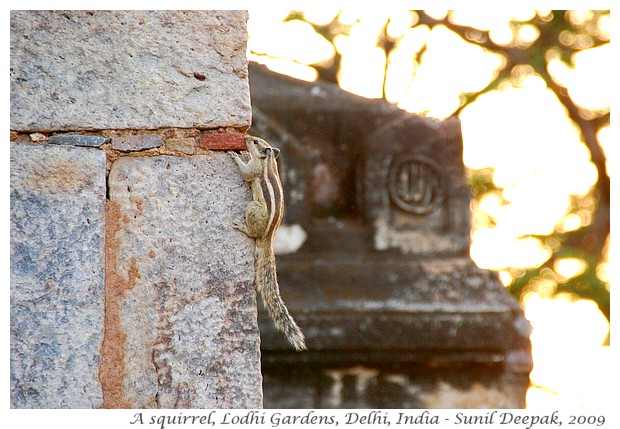 4. INDIA INTERNATIONAL CENTRE (IIC) AND 5. INDIAN HABITAT CENTRE (IHC)
Two important cultural venues of Delhi are close to the Lodhi gardens – IIC and IHC. These are also exclusive clubs, membership to which requires money and connections.
IIC came up in 1958, after a talk between Dr Radhakrishnan (then vice-president of India) and Mr. Rockfeller. Many important and famous persons from India and abroad have been here.
IHC is more recent, it came up only in 1993. Both these places have conference rooms, auditoriums and exhibition spaces, which are much sought-after venues for cultural events.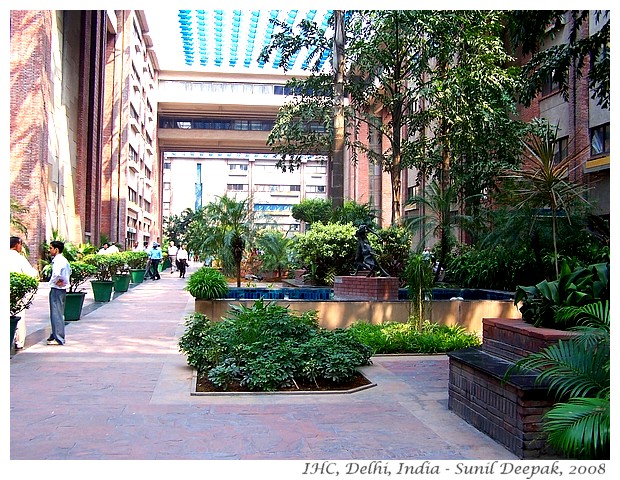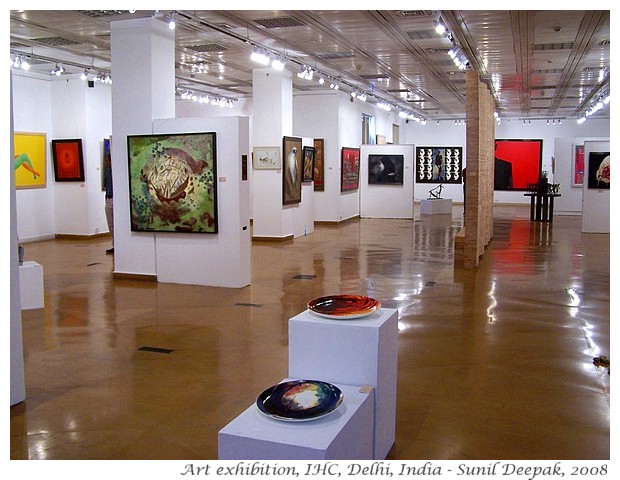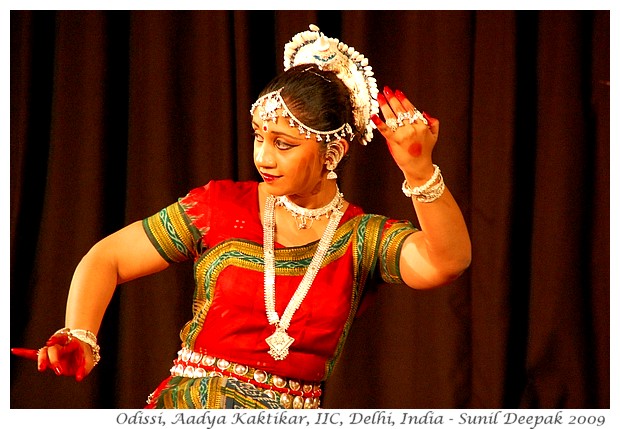 If the long walk in Lodhi Gardens makes you feel tired, you can perhaps stop at the "Food court" area of IHC and have something to drink or eat, before taking an auto to go back to Jor Bagh metro station!
CONCLUSIONS
Lodhi Gardens are the most important part of this metro walk. They require a lot of time but are certainly worth it. Entry to the Lodhi Gardens is free.
There are some other minor places to visit around this area such as the
Islamic Cultural Centre
,
Tibet house
with
Buddhist cultural centre
and a
Sai Baba temple
. However, if you can manage to visit Safdarjung tomb and the Lodhi Gardens, you can be satisfied with this visit.
Rather than going back to Jor Bagh metro station, you can also go the Jawahar Lal Nehru stadium metro station on the Purple line further down the Lodhi road.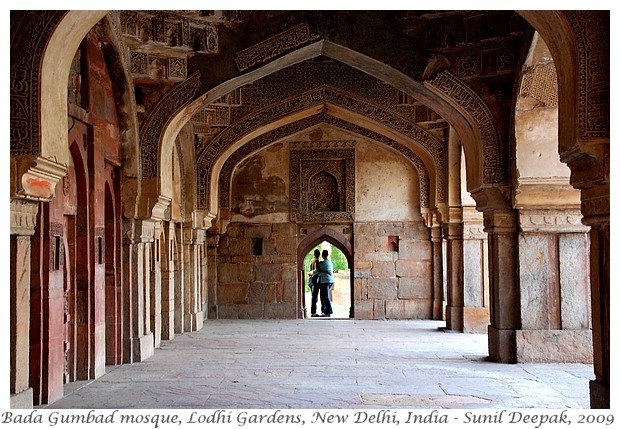 To conclude this post, I have a picture of a couple in the Bada Gumbad mosque, to remind you that Lodhi Gardens are another favourite of the young couples of Delhi looking for a bit of privacy.
***