City spaces can be used for open-air art exhibitions. Art in public spaces can serve as a catalyst to stimulate the cities in different ways, as well as to improve the quality of life of people.
This photo-essay is about the transformation of one such small, ordinary city square in Bologna (Italy) because of the art displays. It is also about this has influenced my personal experience of appreciating art and photography.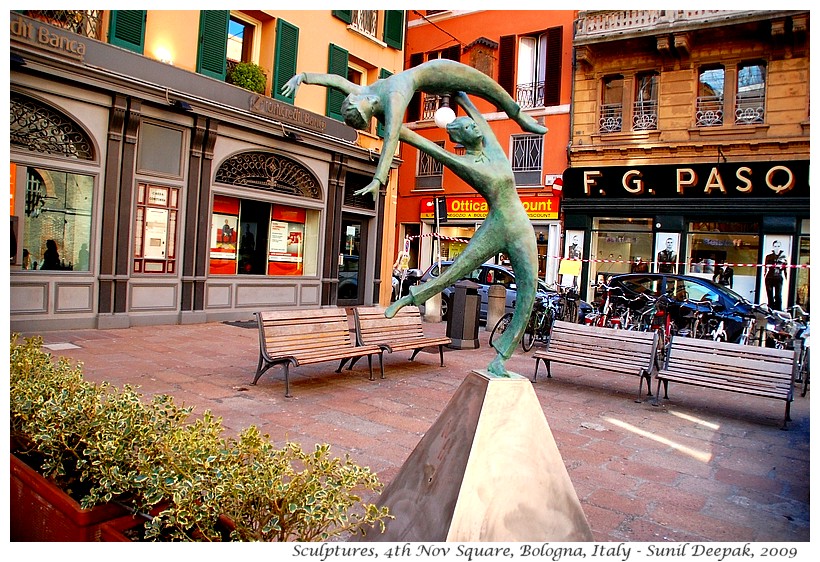 THE CITY SQUARES
Why do cities have squares - those open spaces between the buildings?

Medieval towns in Europe, and probably, all over the world, were characterized by closely knit houses, with narrow winding streets. Often such towns were surrounded by high walls with city gates, watch towers and armed guards. Rich persons in such towns had open spaces inside the houses, where behind high walls, there had courtyards and gardens. However for the poor people, there were only cramped dark rooms, where large number of persons lived in small spaces.
Squares were built in the medieval towns as places where markets, fairs, executions and other public events and meetings could be held. They also had a central square, close to the city palace or the power-centre of the city, where the rulers could organise their public ceremonies. The central squares were usually seen as the symbols of the wealth, status and power of the rulers, and therefore, cities tried to make them bigger and better.
Usually when people in Europe talk about the city centres, they are talking about the medieval central squares close to city's palace and other important institutions. Modern cities are different – they are bigger and more spread-out with suburbs, and tend to have many "centres", especially near the shopping areas and malls. However, since Europe has conserved its medieval towns, even with more spread-out modern cities, their "city centres" remain in those older medieval parts of the city.
Other countries in Asia and Africa, where cities developed differently, they may not always have a "city centre" as it is understood in Europe. For example, in Delhi, till 20 years ago, city centre usually meant Connaught Place (CP), a shopping area with large open space in the middle, not very far from the national parliament, built by the British in early 20th century. However, today with 16 million persons, Delhi is more like a conglomeration of small towns, each with its centre. Thus, cultural and shopping centres are usually fragmented in dozens of different places.
Medieval towns in Asia and Africa did not always have "squares" but sometimes the same role was played by temple or mosque courtyards, or maidans (open grounds used for fairs and sports).
IV NOVEMBER SQUARE OF BOLOGNA
Piazza IV Novembre (4th November square) is a small, ordinary square in the old medieval part of Bologna city in Italy. In almost 3 decades of living and working in Bologna, I don't think that I had ever thought about this square till 2010.
Medieval part of Bologna has its central square called Piazza Maggiore (literally "the biggest square") in front of the Accursio Palace where the Prince Bishop, the governor of the city, used to live. Today this place has different historical buildings including the cathedral and the city's covered market (Sala Borsa) which now hosts the central library. It is no longer the governing centre of the city as mayor's office has shifted to a new modern building some kilometres away, but it remains the cultural centre of the city.
IV November square is to one side of the Accursio palace, a small space that you pass through for going to the passport office, bus stop or the public toilets. It had a historical hotel, but was otherwise it was a nondescript kind of place.
I am not sure when they decided to put the public displays of art in this square. I noticed them for the first time in 2009. I had developed interest in photography a few years earlier. In 2009, I had clicked a few pictures of the sculptures displayed in this square, without really thinking about them as something very special. In fact, I do not know the name of their sculptor.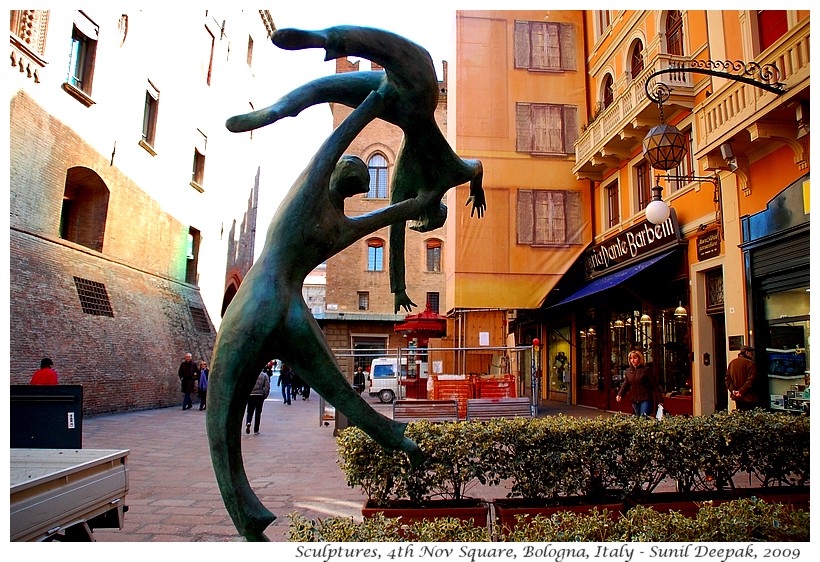 The same year (2009), around Christmas, after a particularly heavy snowfall, while going towards the bus stop, I had paused in IV Novembre square, struck by the beauty of snow that had settled on those sculptures, making furred coats and caps for the "statue people" shivering in the cold night (in the two images below). I think that was the first time that I had consciously thought about sculpture displays in that space.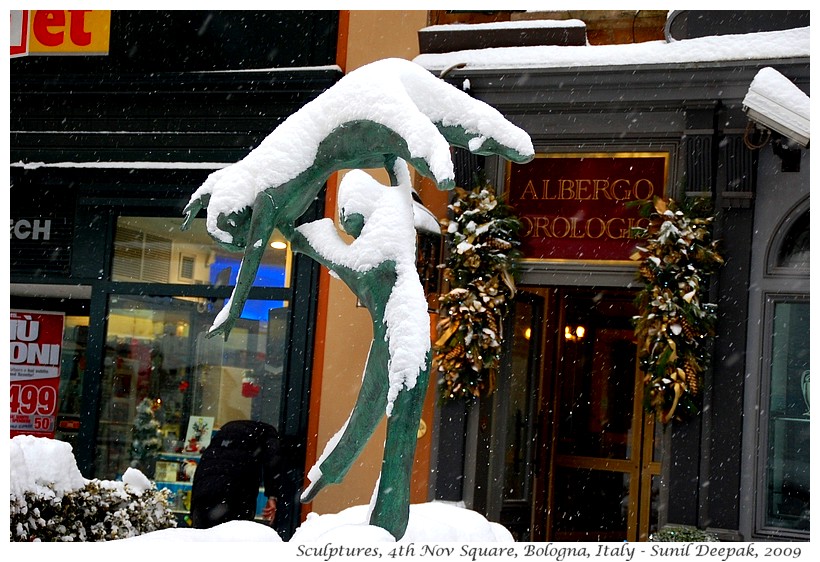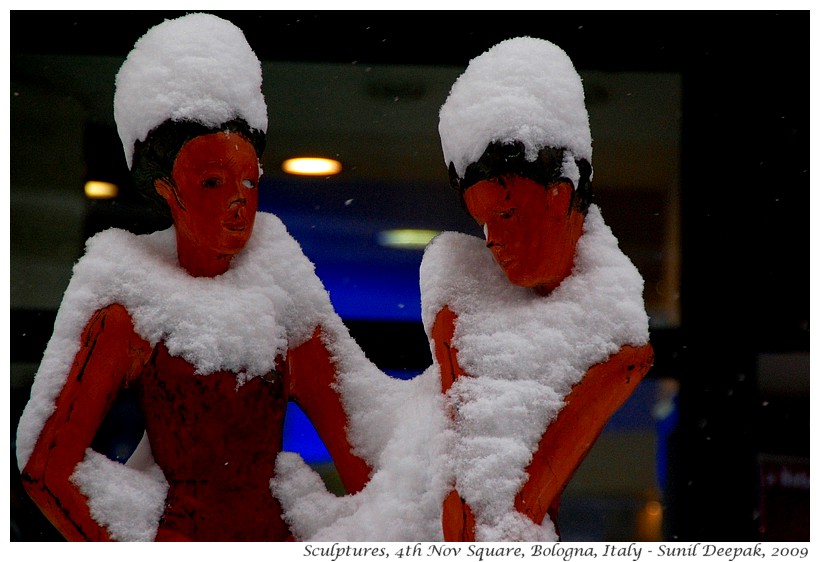 ART IN THE 4TH NOVEMBER SQUARE
Some time in 2011, while rushing through the square towards the bus stop, I had stopped again, realising that the sculptures were different. This time, I could see that all the statues had the same "style" and were the work of the same sculptor - they all had tall and slim women with long graceful bodies.
I had loved those art works, they reminded me of paintings of Modigliani and B. Prabha, an Indian painter that I had loved as a child. So, this time I had looked for the sculptor's name - she was
Mirella Guasti
, a sculptor from Milan.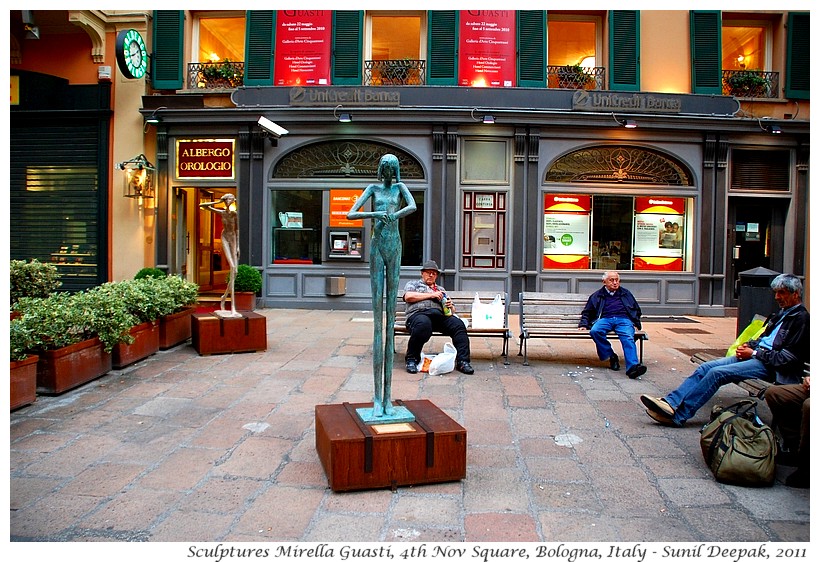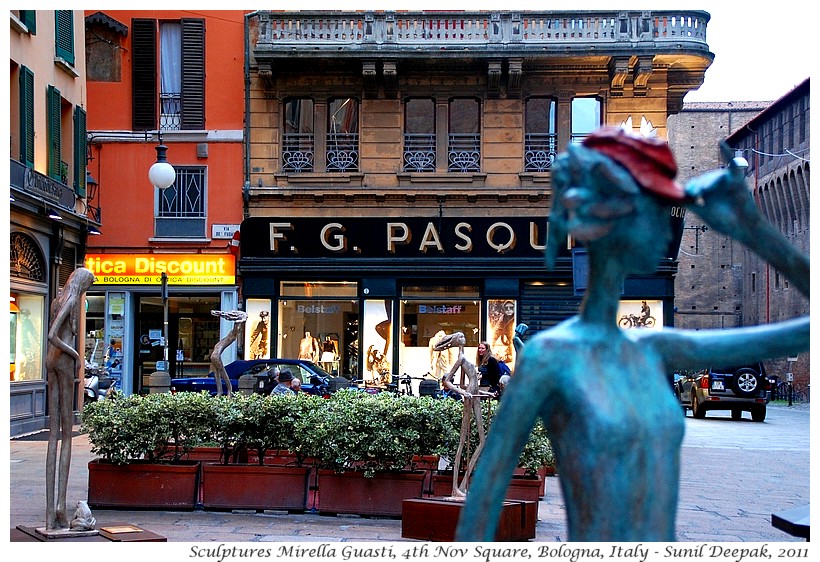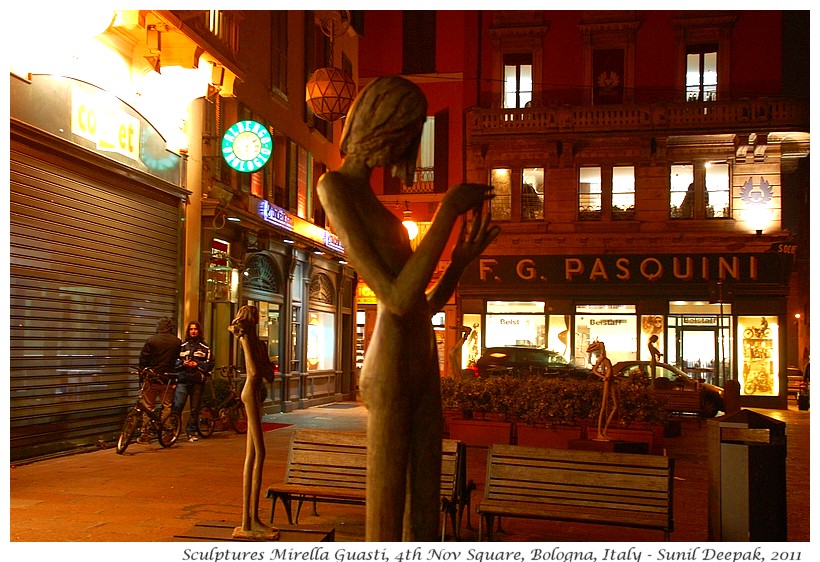 A few days later I had gone back to IV Novembre square to photograph those sculptures. And then over the next few months, I had gone back many times, to look at those sculptures from different sides, to click their pictures from different angles and at different times of the day.
I had thought that there must be some art gallery or an art shop nearby which was putting up these sculptures in the square, as a kind of publicity to get people to visit their shop/gallery.
It was only in 2013, when Mirella Guasti's sculptures were replaced by airy, languid works of
Leonardo Lucchi
, that finally I had understood that the square had been turned into an open air sculpture-exhibition space.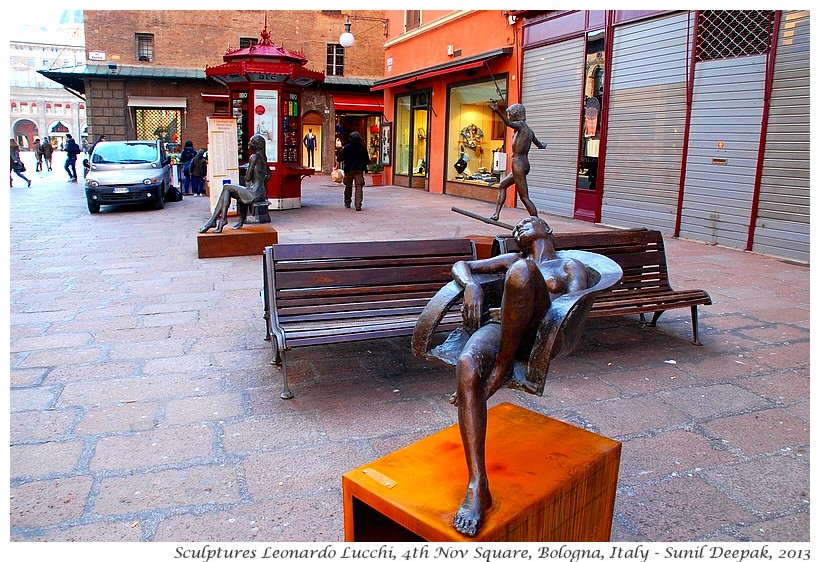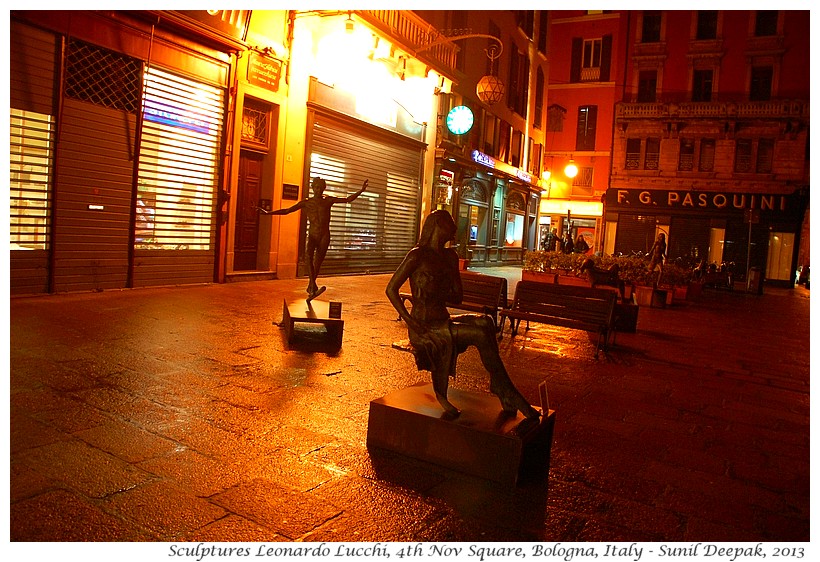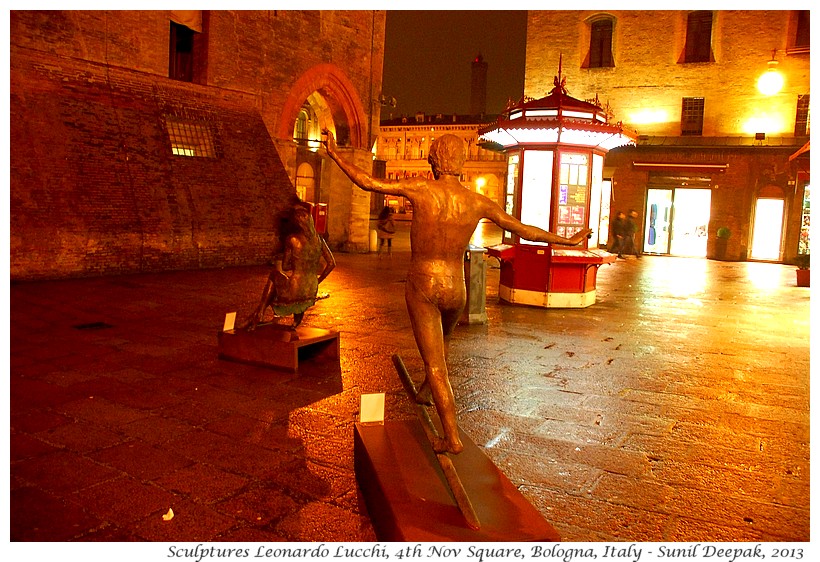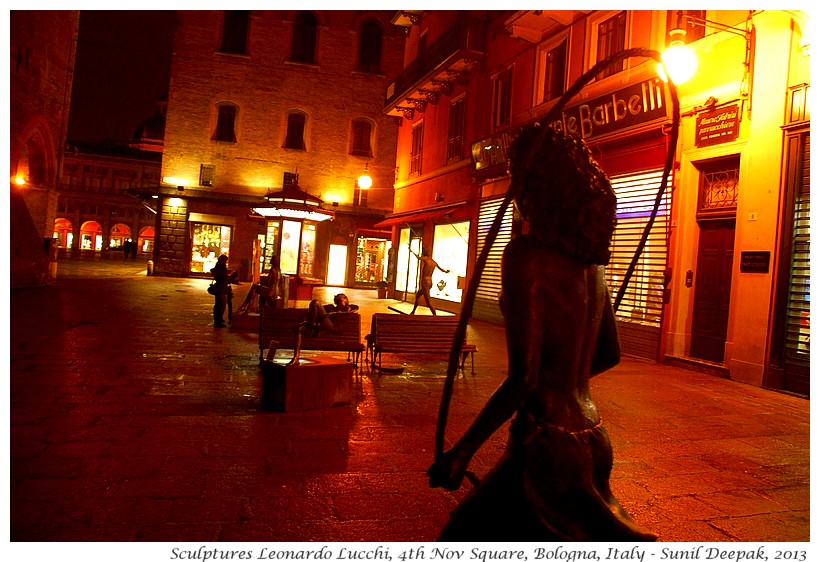 Tourists visiting Piazza Maggiore, saw the glimpses of these sculptures and curious, came to the IV Novembre square to look at them. Often they clicked pictures, sometimes selfies, and sometimes with their hands around the provocative parts of the statues, laughing loudly or turning red with embarrassment about their daring.
In 2014, the new display had the works of the sculptor
Sergio Únia
.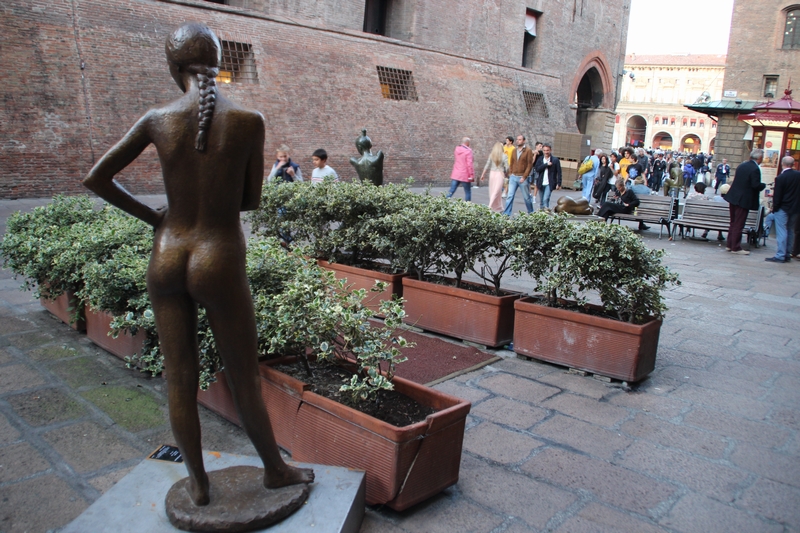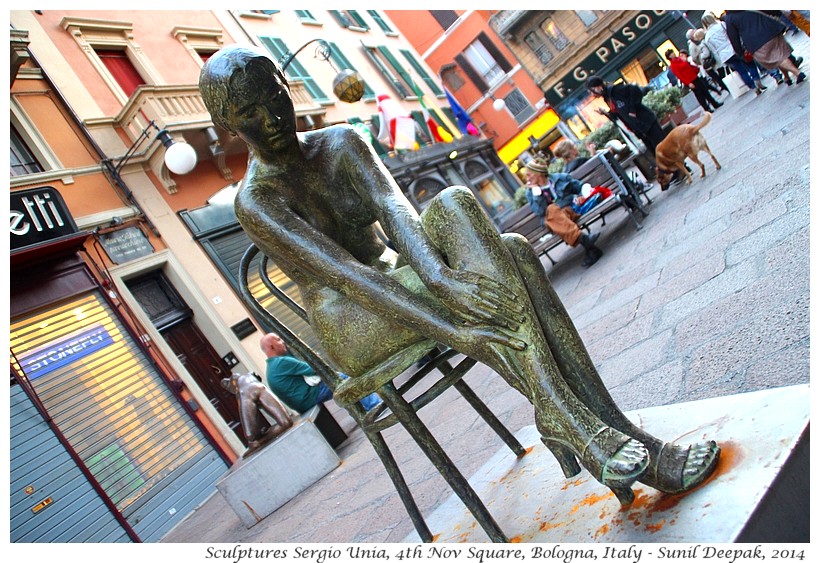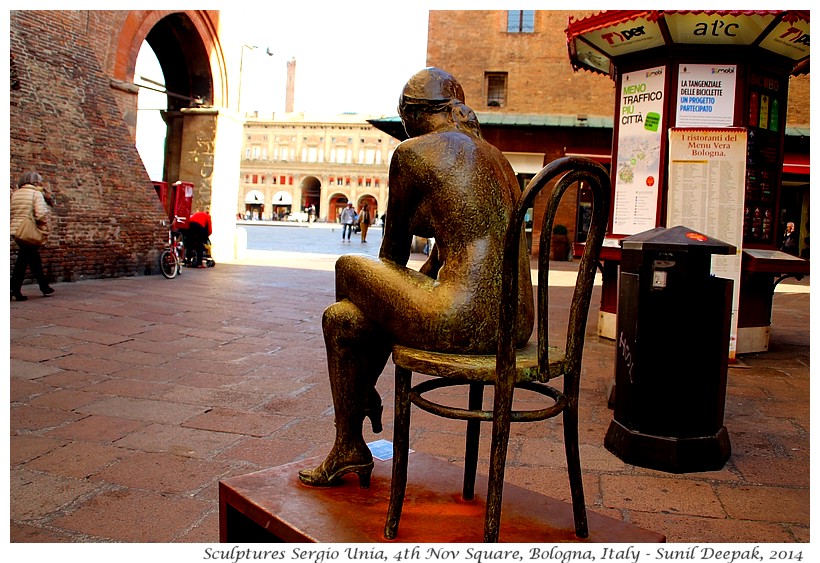 By this time, I had become more aware of the impact of art in public spaces. Thus last year, I went to visit the sculptures of Sergio Únia many times.

Now I am curious about the other artists whose works will be displayed in the IV Novembre square. Next month, when I will go to Bologna, I am planning to check if they have put the works of another artist and what kind of works are they?

So if you are visiting Bologna, remember to go and check the sculptures in this little unassuming square, behind the more famous Piazza Maggiore.

ART IN PUBLIC SPACES AND PHOTOGRAPHY
Ever since my first digital camera in late 2004, I have slowly discovered my passion for photography. This passion has changed the way I react with the world and also with art. In this transformation, the sculptures displayed in the IV Novembre square have also played an important role.
I had always been "artistic" – as a child, I loved painting and looking at paintings and sculptures. My parents had taken me to see many art exhibitions. However, till I learned to look at art through the lens of my camera, my relationship with art was different - it was at a more superficial level. I had the aesthetic pleasure of looking at beauty and the emotions of the art, but there was some distance between me and the art.

Digital photography changed that relationship. By looking at sculptures from different angles, appreciating the way the quality and colour of light changes the textures and shadows, wondering about how different backgrounds influence my perceptions about colours and lines - all these things changed my connection to the art. Now when I look at sculptures, after an overview for their emotional and aesthetic impact, I focus on different parts. I can appreciate small details, and I can think about the hidden meanings of the gestures. I feel that now because of photography, I relate to the art more deeply.
I also think that taking pictures of art in open spaces is very different from looking at them inside museums. In Europe, you can take pictures in almost all museums except for the works of some really famous artists or sometimes in some special exhibitions. Thus, I have been taking pictures of art works inside museums for a long time, but the feelings I get doing photography in open spaces like in the IV Novembre square, are completely different. Perhaps this is because museums are serious places and you can't really behave inappropriately with those art works as if they are your friends?
In 4th November square, I do not have to worry about my behaviour, I can be as irreverent to those sculptures as I wish. If I want to sit underneath and focus on the buttocks, no one is going to frown on me – may be persons passing by will smile knowingly, shaking their heads at the "dirty old man", but that does not really matter. Perhaps you can't look at art inside museums in that way? And, may be that is why I like the public sculptures so much?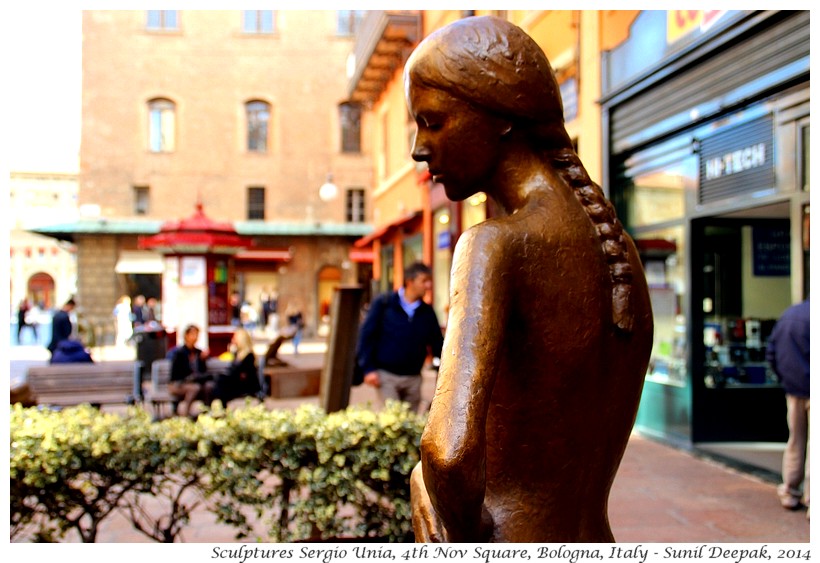 CONCLUSIONS
I don't know whose idea it was of turning 4th November square into an open-air art exhibition space? Whoever it was, I think that it is a wonderful initiative. I hope that it will be emulated by other cities and other squares.
Improving the quality of life of their citizens is, or should be, a key goal of all cities. Art can touch our deepest parts and make us live the human experience in new ways. Most of us in developing world are hardly ever taught about art and art appreciation. For example, most museums in India are usually stuffy places where things are displayed behind glass cases and screens, and there are signboards prohibiting photography, videos and making noise. They are usually not the places of joy and pleasure in learning and experiencing, rather they are places to "teach" us something.
Art in the public spaces, can overcome all these limitations of museums.
Today countries and cities worry about economic growth, they are not so much bothered about art and culture. But I think that art and culture are a fundamental part of humanity, to lose them will be like losing an essential part of ourselves. And, economic growth without art and culture, would be arid and limiting. We live and work better if we are surrounded by beauty and creativity.
So I support the movement for placing art in public spaces!
***