The summing of my photography experiences of 2011 continues today with a selection of best of people's pictures from 2011. I love taking candid pictures of people in all countries where I go. It is difficult to click pictures of persons who are complete strangers in a new city of a new country. Fortunately, my work requires me to travel often in small towns and villages where I can spend some time in knowing persons and their lives. This helps in creating a rapport that helps in getting better images. I especially love clicking pictures of children.
So here is a collection of twenty of my best people's pictures from 2011:
(1) Ice-hockey fan from Prague
: The day I was visiting Prague city centre, there was final match of ice-hockey between Czech Republic and USA. The match was being shown on a giant screen in the city centre. I met many fans of their team, with their faces coloured in Czech Republic's national flag colours.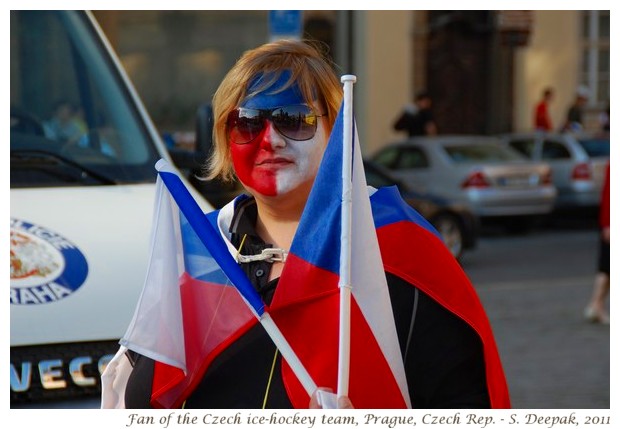 (2) Children in the music class in Goias Velho: I like this picture as it shows the diversity of races in Brazil and also because of the lovely blue background of the classroom.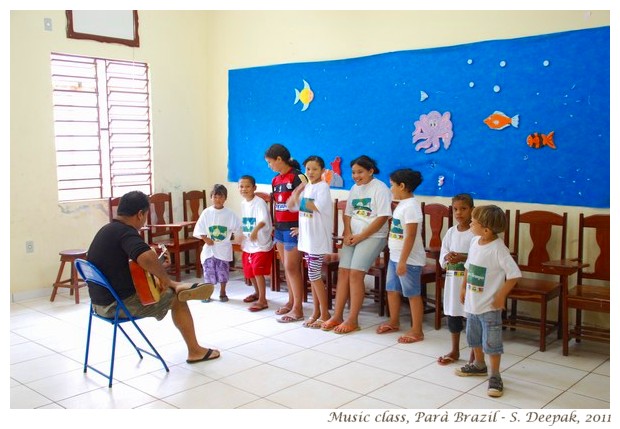 (3) The boy rowing the tiny boat in Abaetetuba, a small city along Amazon coast, with his undervest over his head to save him from harsh sunlight, is one of my big favourites. These small water-hugging rowing boats in the huge never-ending river look fragile and dangerous, but in this area, these seemed to be very popular.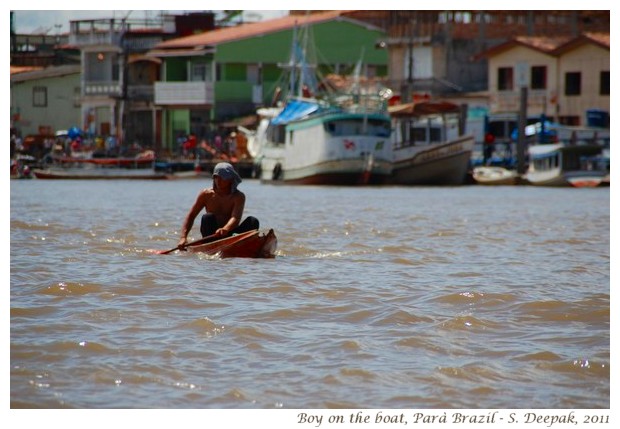 (4) The girl in Goias Velho: I had spent 4 days with these children and their idealist teachers, who dream of building a new Brazil, that is curious, modern and open, and yet is respectful of the African and Amerindian roots of its people.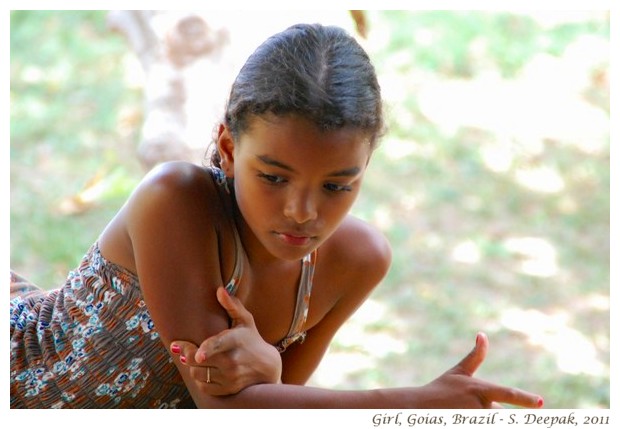 (5) Dancing for life: My friend Pio teaches dance to in-mates of a house for elderly and mentally ill persons. It is a dance for becoming aware of our own bodies and for creating a relationship with others. The woman in the picture didn't join the dancers, she preferred to sit at a distance, hugging her doll and yet, laughing at the persons dancing with Pio.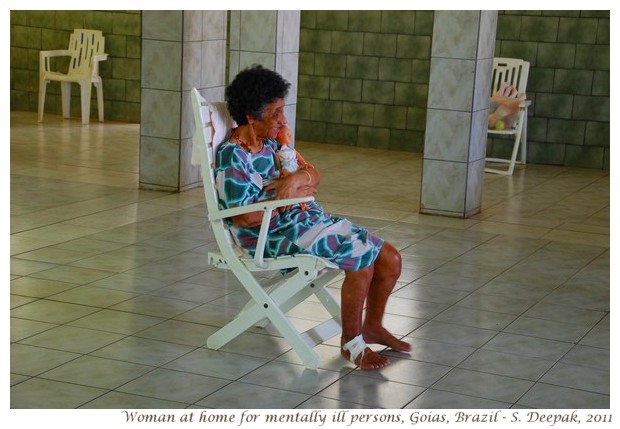 (6) Man in the cattle market: I visited a cattle market in the town of Hegri Bomanahalli, about 40 km from Hampi. It was a lovely experience. I like this man's gentle expression, the lines on his face, and his barely perceptible Monalisa-like smile.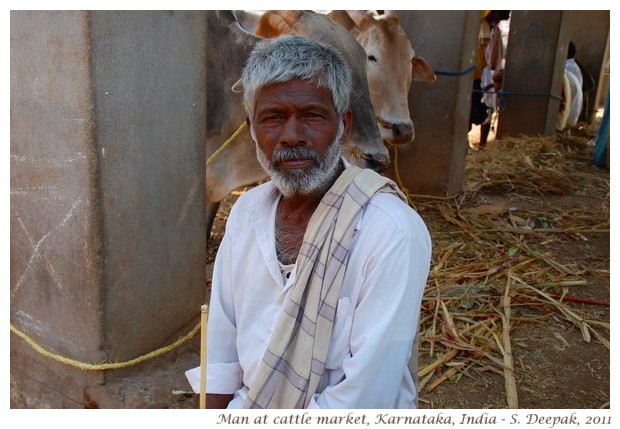 (7) Girl in the village: We had just come out of a health centre where I had interviewed a group of village health workers (ASHA workers), when I had seen this girl. Isn't she beautiful?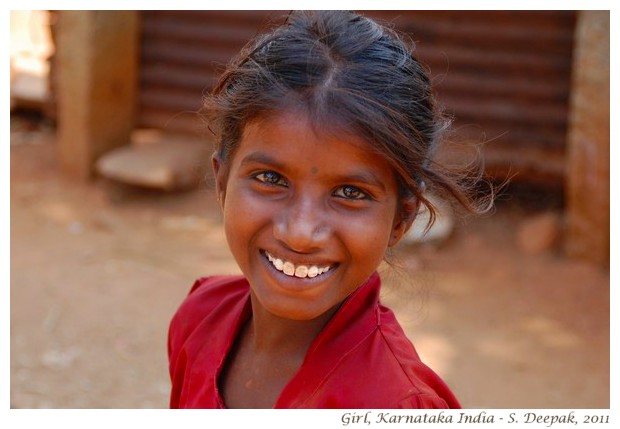 (8) Mumtaz and her new born baby girl: That village had some rows of Muslim households and then some rows of Hindu households. Imam Bi, the president of the village women's self-help group, was an energetic and enthusiastic woman, and had taken me around in the village, introducing me to the persons and their families.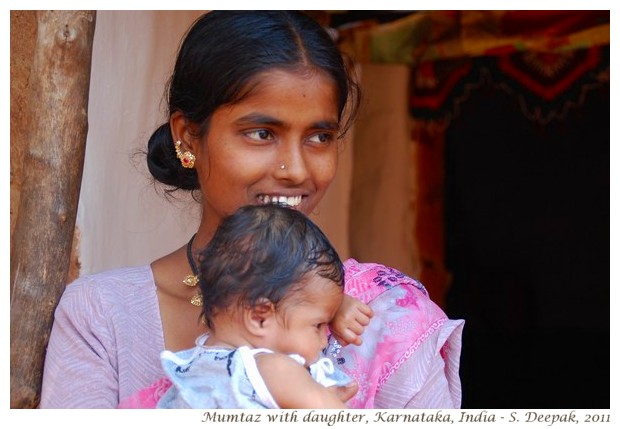 (9) The village boy: If I have to choose only one of my pictures from 2011, I think that I will choose this one. I love the expression in the child's face and the specks of light shining like stars in his eyes.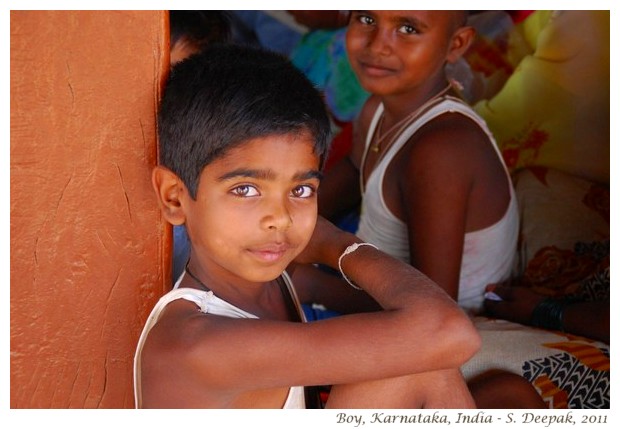 (10) The fish sellers from Tungabhadra dam near Hospet.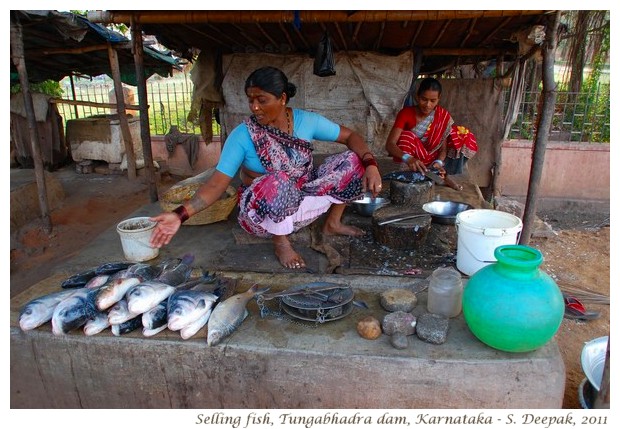 (11) The artist in the museum: When I was a student in Europe (long long time ago!), I used to love going around with my sketch book. Watching the art student sketching the statue in Victoria and Albert museum of London had brought back the memories of those forgotten days.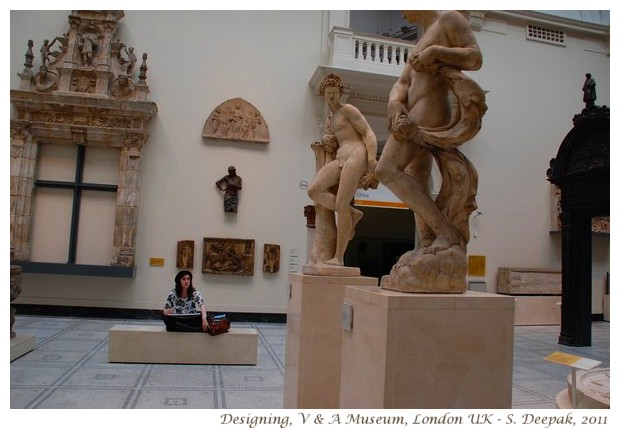 (12) Morning exercise in Manila: People all around the world, especially in hot tropical climates, wake up early morning to do exercises in a some park. I like the slow-motion kind of exercises done in Tai Chi. It looks like a dance.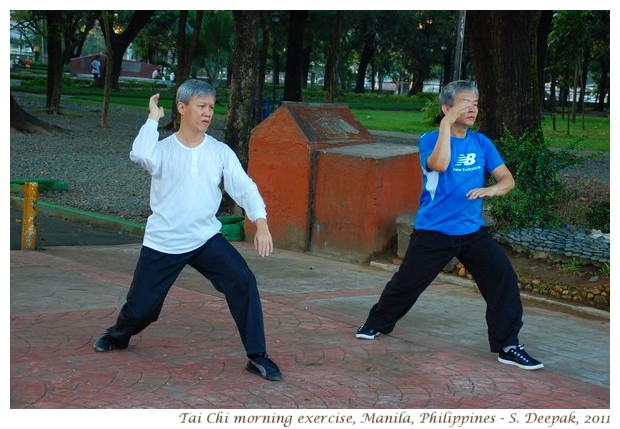 (13) Chess and dama players of Geneva: Huge chess and dama playing boards drawn on the ground and persons of different countries joining together to play a game, including some persons in ties and suits who seem to have come out of some meeting, is a wonderful sight.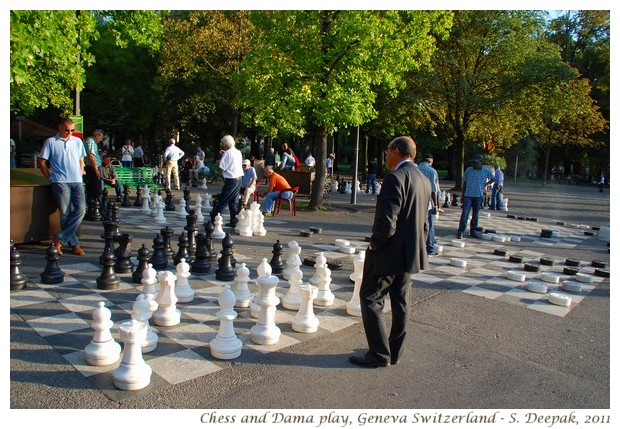 (14) Autumn and remembering the dead: The yellow of autumn leaves and the serious faces of people standing near the graves, it all fits in together so beautifully.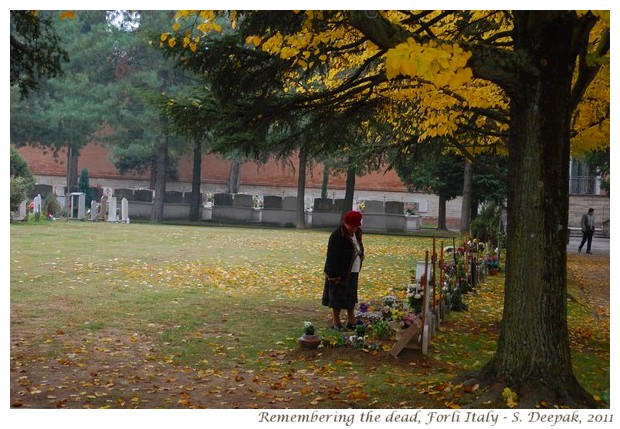 (15) The gondola and the tourists of Venice: T-shirts with red (or blue) stripes and caps with matching ribbons of the gondolieros make for beautiful pictures.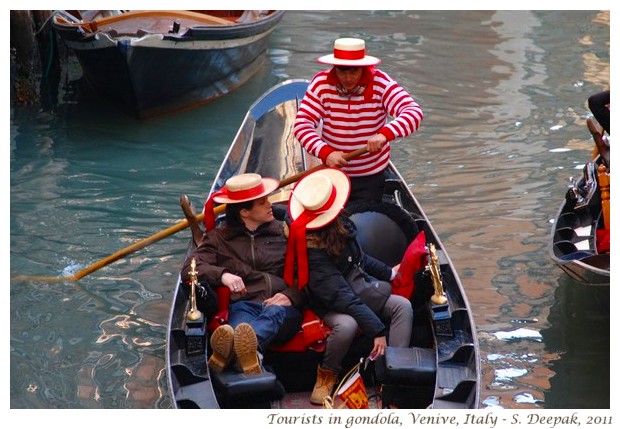 (16) The astronaut: He is Paulo Nespoli, an Italian engineer who has been many times in mission to the space station. He was being interviewed by some TV channel when I had clicked this picture. I like the expression and the light on his face. I makes me think of Star Trek.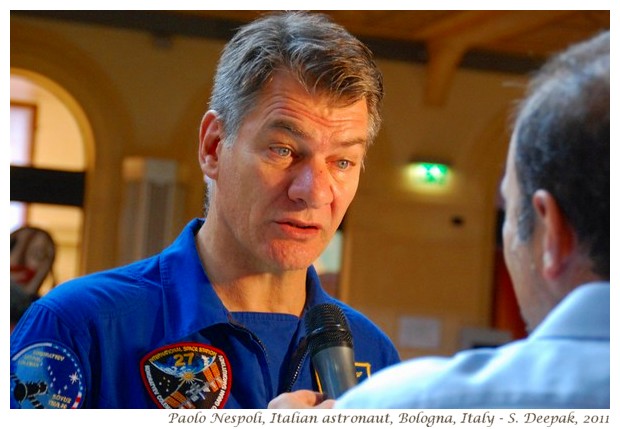 (17) The protestor: On her cheeks she had written "Berlusconi Resign".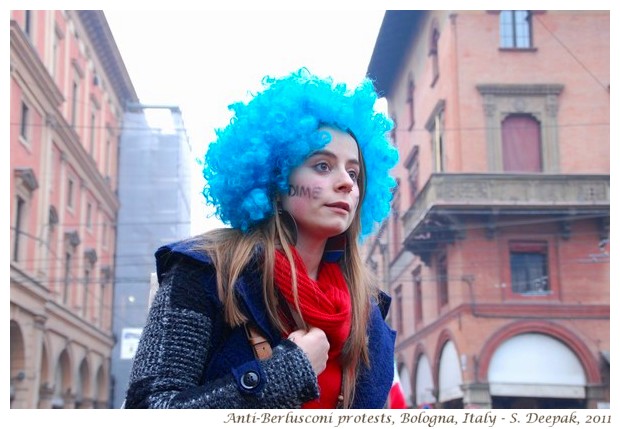 (18) The changing world: FIOM, one the workers' unions of the main Fiat factory in Turin, continues to fight for workers' rights, but it is increasingly alone even among workers' unions, in a world dominated by globalization. At a workers' protest meeting in Bologna.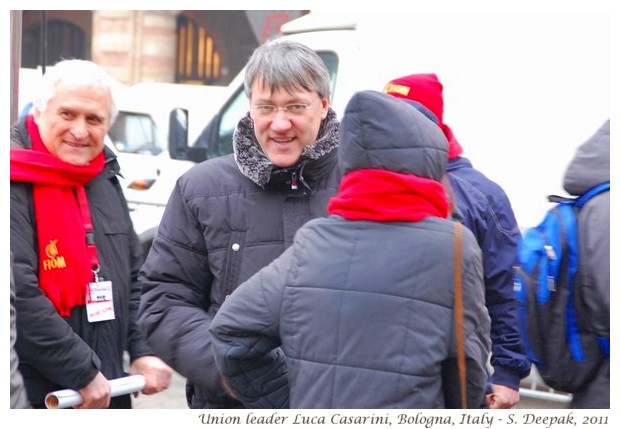 (19) A newly married couple walking out from the marriage registration office of the municipality. The carnation in his jacket's lapel and her beautful dress with the veil, they look so good together. Yet number of marriages (and number of children) continues to go down in the old continent.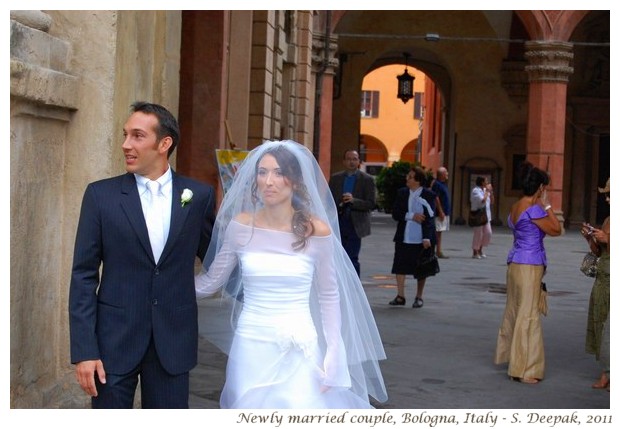 (20) Prayers in St. Petronio cathedral: The rows of candles illuminating the faces of the people makes for a magical ambience.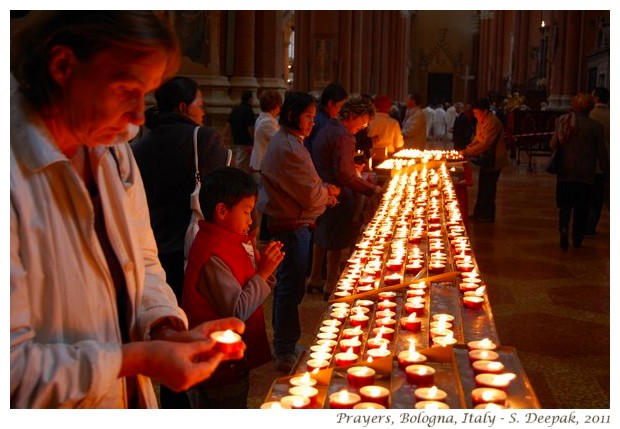 So do let me know which of these 20 pictures you liked most. Today is 1 January and I wish you all a 2012 of joy and peace.