Colours, costumes and crowds make for great photography possibilities. I especially like to click pictures with stage lights and whirling movements of dances. 2011 gave different opportunities for clicking pictures of dances, theater and big public events. The three most important events were - international youth festival in Delhi, the Venice carnival and the Par Tot summer festival of Bologna.
So here is my selection of some of my favourite images from 2011.
(1) Street theater, Brazil
: The first image is of street theater in Belem, the capital of Parà state in Brazil. We had just reached Belem that day, and Luis Agusto, our host in Belem had taken us to the old port for dinner. Finding the performance of street theater had been a pleasant surprize.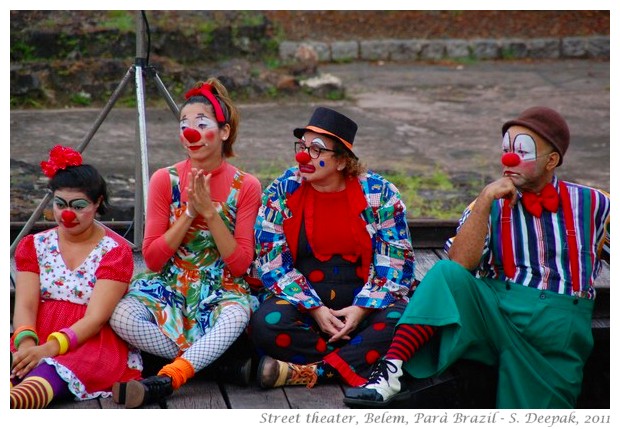 (2) Folkdancers from Karnataka: The second image is of folkdancers from Karnataka. I had just arrived in Bangalore and on my way from the airport to the hotel, I had seen the group of dancers from the taxi. So I had quickly checked in, left the luggage in my room and quickly ran back to the place where I had seen the dancers. It was the inauguration of all India kabaddi championships.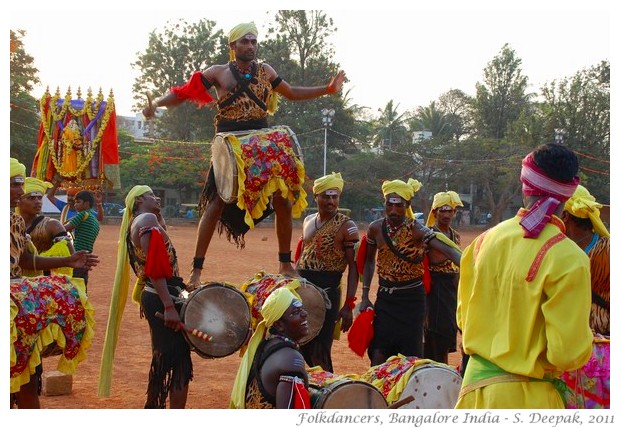 (3) Blind dancers and the dance of lights: The next image is again from Bangalore (India). A group of blind students from Sri Raman Maharishi blind Academy had come to dance. Their bharatnatyam with candles was breath-taking.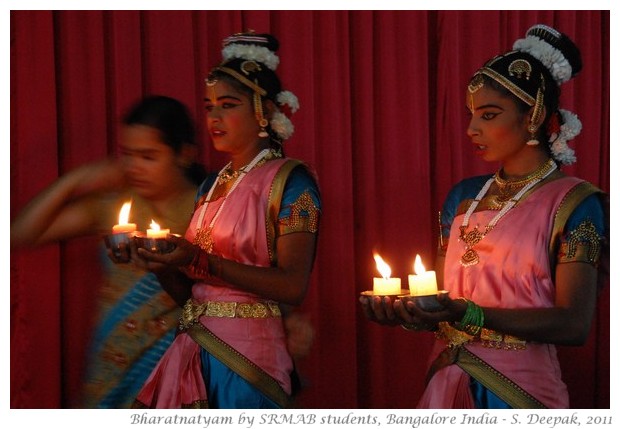 (4) International Youth Festival of Delhi: The next three images are from the International Youth Festival in Delhi. The groups are - odissi dancers students of Harekrishna Behera, Abhimanyu dance drama by Mahendra Rawat and group, and students of Sadhu Vaswani International school doing kathak dance.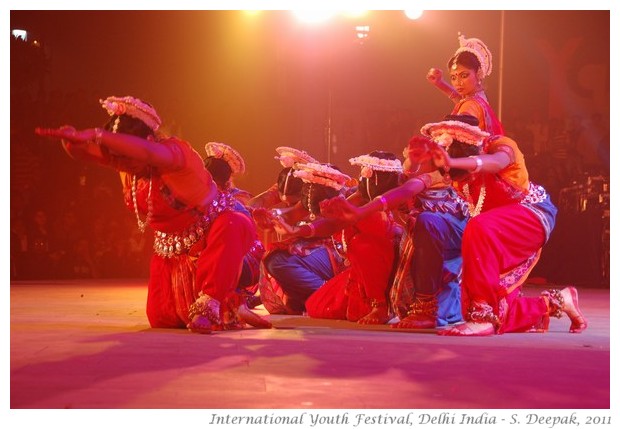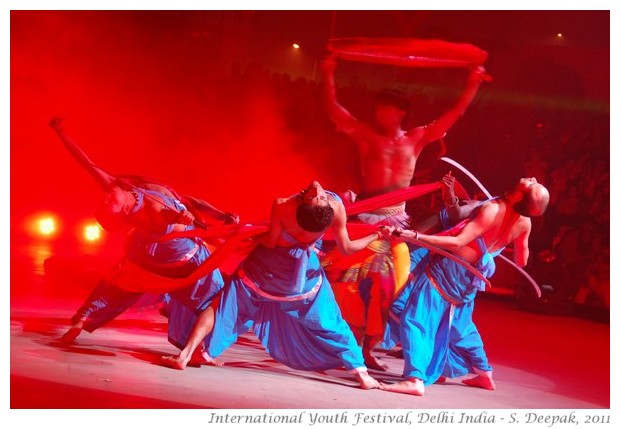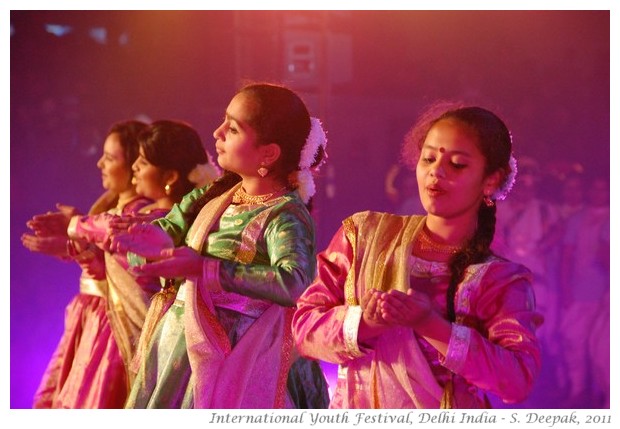 (7) Venice Carnival: The next four images are from carnival in Venice. It was a wonderful experience with incredible masks and costumes. From the hundreds of pictures I had clicked that day, it is difficult to select a few for showing here.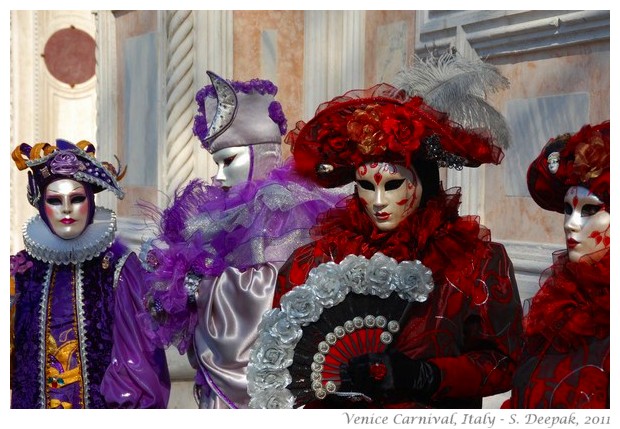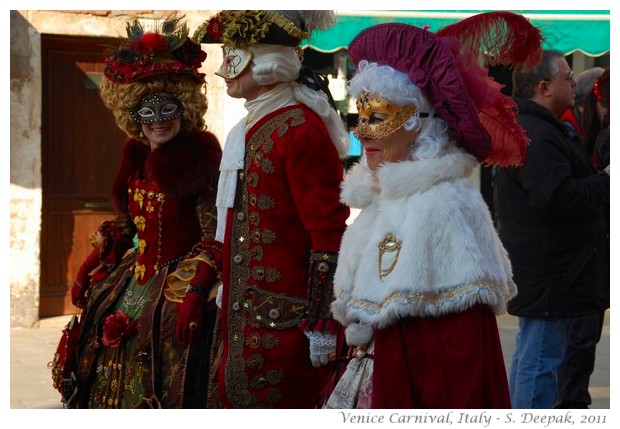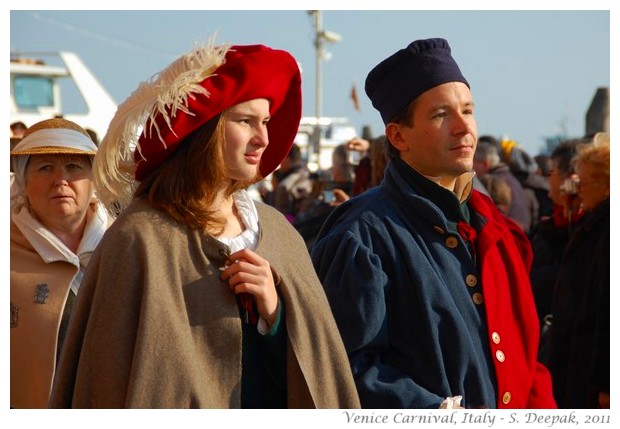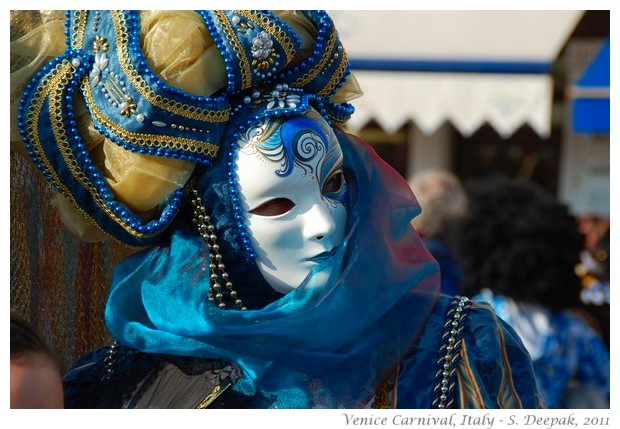 (11) Bologna Carnival: The next image is from Bologna carnival. It was more of an event for children with some colourful floats.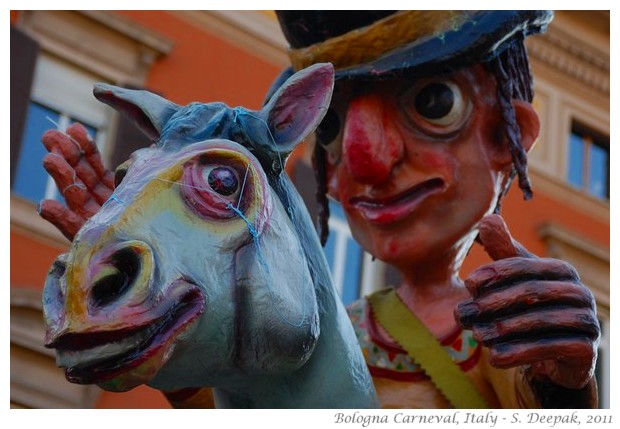 (12) Readings on the River festival: As part of the summer festival, there were some events along the river with theater, music and readings from different writers. I liked the short play about homeless persons enacted under the bridge where often homeless emigrants sleep.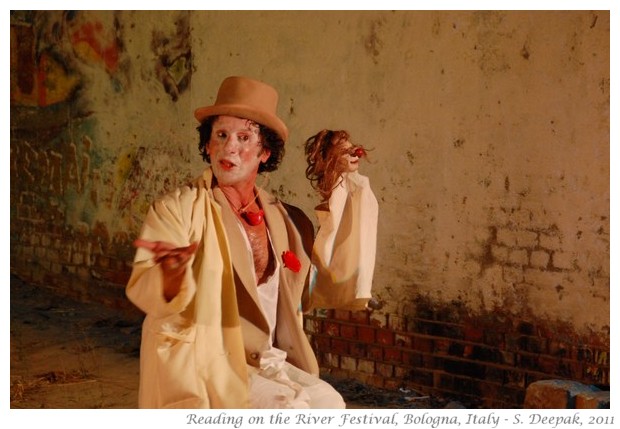 (13) American Astronauts: Another public event in Bologna was the visit of some American astronauts, who held a public meeting in the beautiful Sala Borsa building of the central library. I had goneto the library to return some books and was surprized by the large number of young people who had come to listen to the astronauts.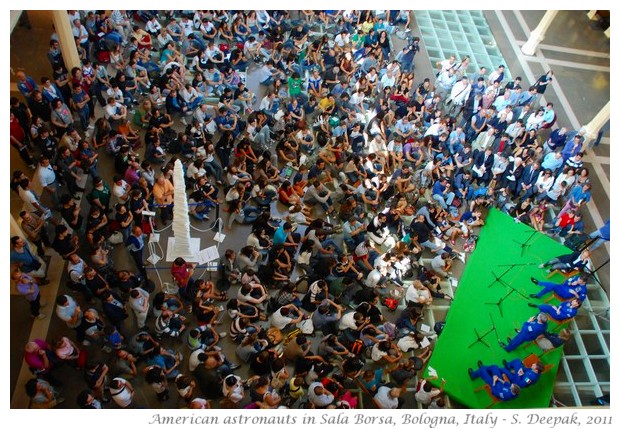 (14) Protests against Berlusconi: 2011 was the year of massive public protests in Italy asking for resignation of prime minister Silvio Berlusconi, who resisted as long as he could, till he was finally forced by the economic crisis.
This same period had the Anna Hazare protests against corruption in India.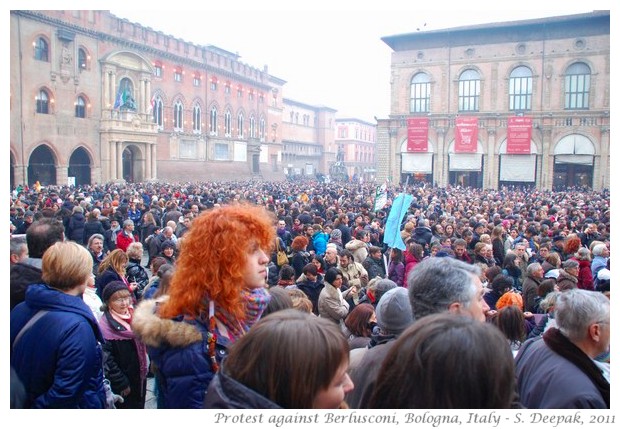 (15) Another important anti-Berlusconi moment in Bologna was organized by Michele Santoro, a TV journalist. Santoro was thrown out of the state run TV channel RAI for his anti-Berlusconi stance and as a protest he organised a web-based TV transmission in a park in Bologna. Thousands of persons had turned up in the park to show their solidarity to Santoro. During the event, among others, Roberto Begnini also turned up to show his support to Santoro.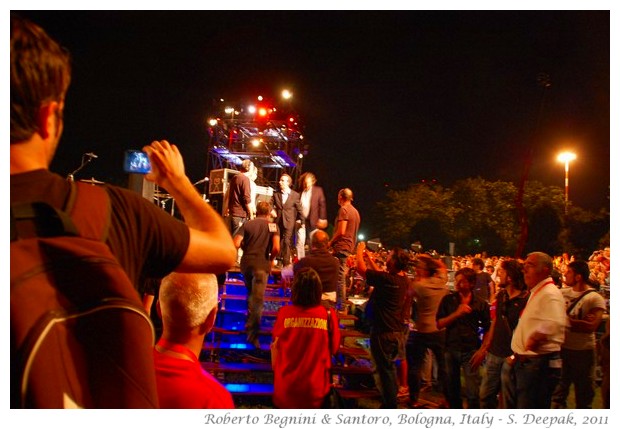 (16) Bharatnatyam by students of Alessandra Pizza at the Vecchia Son dance festival. I really liked the red and black costumes they had chosen for this show.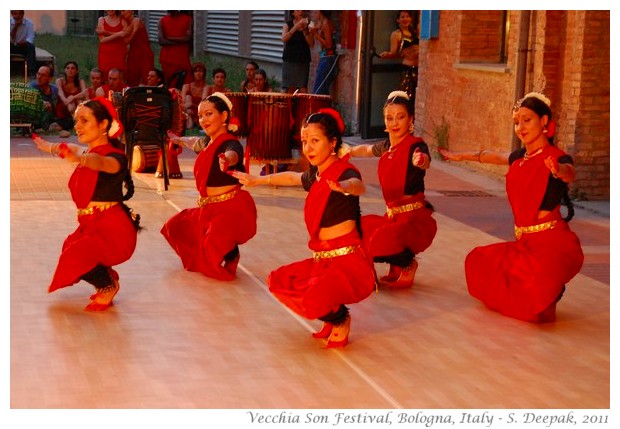 (17) Par Tot Summer Festival of Bologna: The last four images are all from the Par Tot summer festival of Bologna. With almost 3000 participants, including many Italian and international students, the festival presented a huge variety of dances and costumes. My personal favourites were a small group of persons dressed as Avatar/Pandora inhabitants and the group with green and black faces.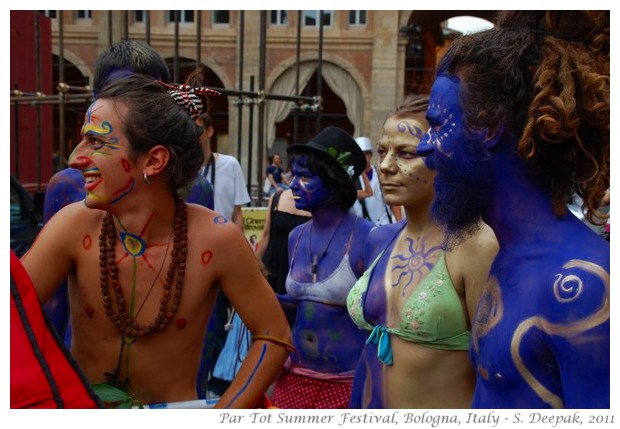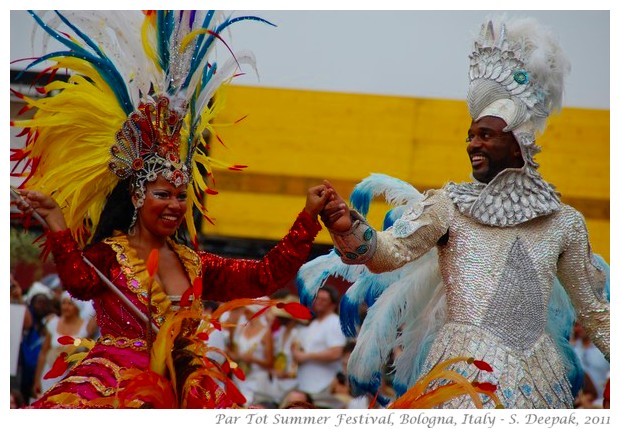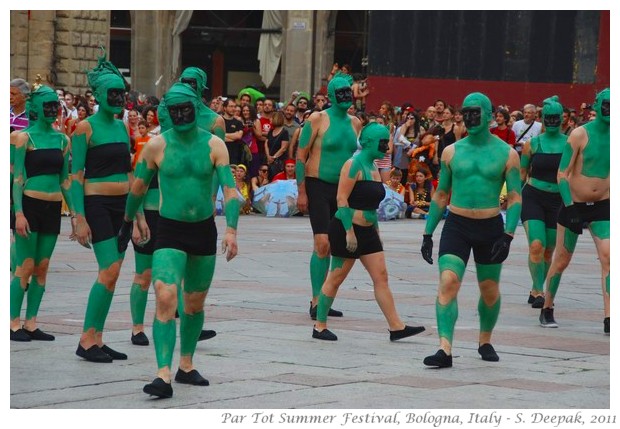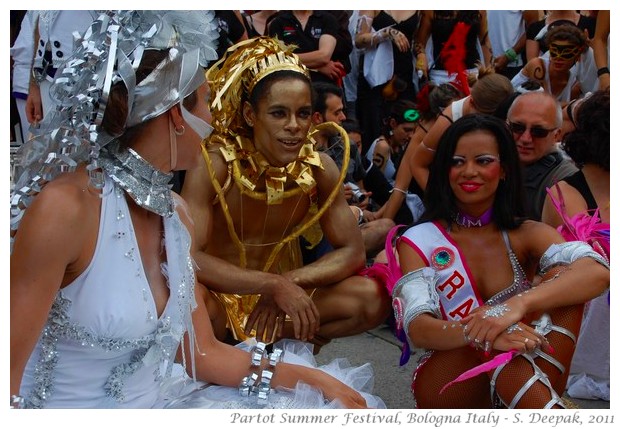 So did you like my selection of pictures related to dances, theaters and public events? If you are asked to choose one image, which one would you choose?