Firoze Manji
is founder and editor of
Pambazuka News
, a newsletter with articles, news and links about different countries, people, civil society organisations and movements of Africa.
Pambazuka News
provides weekly information and links to articles on new developments in Africa in English, French and Portuguese by email. You can also read
Pambazuka News
along with its archive of hundreds of articles
on its website
.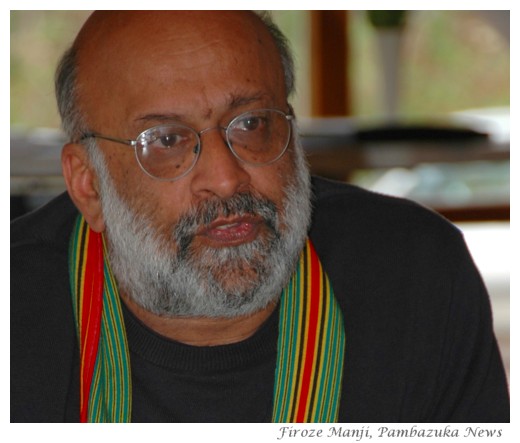 Recently I interviewed Firoze through email for an article in the
AIFO magazine
. So this interview will appear in Italian in the issue of June 2012.
I think that for all persons interested in development issues in Africa and in reading and listening to the more important voices of African thinkers and civil society leaders,
Pambazuka News
is one of the most important gateways. I join Firoze in asking you to become friends of Pambazuka and help in maintaining it independent.
Here is the interview
Sunil
: How did the idea of Pambazuka came and how was the idea turned into reality?
Firoze
: Pambazuka News was the serendipitous offspring of a programme established to harness ICTs for strengthening the human rights movement in Africa. Its birth was intimately intertwined with an attempt to develop distance learning materials for civil society organisations in Africa. In 1997, Fahamu (ndr: an African network of civil society organisations with offices in Kenya, South Africa and Senegal) set out to examine how developments in information and communications technologies can be harnessed to support the growth of human rights and civil society organisations in Africa. Like many others, we saw the potentials opening up with the growth in access to the internet. One of the outcomes was that we began receiving requests from human rights and other civil society organisations for assistance in finding information on the web, and with disseminating information about their own work.
Initially, we responded on a case-by-case basis, sending off the results of searches or disseminating by email information we had received from others to those on our modest contacts list. But soon the demand became overwhelming. We simply could not respond to all the requests we received.
We decided to establish Pambazuka News as a means of sharing information relevant to the this constituency, but rather than just send out information, we decided also to include op-eds that would provoke reflections about the potentials for freedom and justice in Africa. From a small base of subscribers in December 2000, Pambazuka News has grown rapidly with 28,000 subscribers, and an estimated readership approaching one million. Today we publish some 20-30 articles every week, with contributions from more than 3200 authors across the continent and the African diaspora.
We have published some 580 issues of the English edition of Pambazuka News over the 11 years of our existence. And four years ago, we started publishing a French language edition, and two years ago a Portuguese language edition.
Pambazuka News is used widely by activists, commentators, social movements, alliances and networks to foster debate, disseminate analyses and share information. We monitor some 250 websites related to Africa, and publish summaries every week of some 100 sites.
Sunil
: What are the biggest challenges Pambazuka has faced since its inception
Firoze
: Perhaps the greatest challenge we have faced has been to keep up with the demand from the growing constituencies that depend on Pambazuka News as an advocacy tool as well as to get an African progressive perspective on Africa and world affairs. To respond to these demands means that we need the necessary resources, and those are hard to find.
There are very few funders who fully understand the importance of what we do, despite the fact that most of them depend on Pambazuka News as a source of analysis and information. And with the growing African awakening that we have written about in our recent book "
African Awakening: the emerging revolutions
", there is a critical need for Pambazuka News to grow and provide support for the struggles for freedom and justice taking place across the continent.
Which is why we have decided to turn to our readership: we have asked our readers to join the
Friends of Pambazuka
and to donate to keep Pambazuka free and independent.
Sunil
: In which ways Pambazuka has changed and evolved since the beginning?
Firoze
: Pambazuka News has grown substantially in terms of the amount of coverage provided as well as the quality of the articles. We have attracted some of the leading thinkers across the continent to write commentary and analyses, while a the same time providing a platform for social movements such as Abahlali base Mjondolo in South Africa and the Bunge la Mwaninchi in Kenya.
We have produced radio programmes as well as podcasts and multimedia materials such as the 'Burden of Peace", a documentary on violence against women during the post-election violence in Kenya. In 2008 we expanded our operations to including a book publishing enterprise -
Pambazuka Press
. Today, Pambazuka News is produced by staff in Senegal, Kenyam South Africa and UK.
Sunil
: Who are the most popular writers or star writers at Pambazuka?
Firoze
: There are many 'star writers' such as
Mahmood Mamdani
,
Sokari Ekine
,
Samir Amin
,
Horace Campbell
,
Issa Shivji
and many others who are well known - but we are proud that there are many regular contributors from social movements and the activist community who also write and who enrich the dialogue, debates and analyses that appear in Pambazuka News.
Sunil
: Any information campaigns launched by Pambazuka that resulted in change on the ground?
Firoze
: Perhaps the best known campaigns was the support we provided to the campaign for the ratification of the Protocol on the Rights of Women in Africa, coalition of some 30 regional organisations, producing special issues profiling important aspects of the protocol as well as publishing a 6-part radio soap opera in English, French, Portuguese and Kiswahili.
We also developed and hosted a petition on the Pambazuka News website in support of women's rights that involved the development of an SMS function that enabled people to sign the petition by SMS and receive SMS updates about the campaign. This campaign led to the fastest ratification of any international instrument in the history of Africa - today more than 30 countries in Africa have ratified the protocol.
Sunil
: How does Pambazuka reach out to French and Portuguese speaking Africa?
Firoze
: We publish a French and Portuguese language edition of Pambazuka News. Originally we thought that these editions would be merely translations of the English edition, but in practice these are distinct editions, with articles originated in those languages. As a result, the three editions of Pambazuka News contain articles that have been cross translated from each other.
Sunil
: Is there going to be a Kiswahili Pambazuka?
Firoze
: I would hope so. There are certainly demands for a Kiswahili edition, but this will require raising resources to make that possible. We also want to develop an Arabic language edition of Pambazuka News, and are trying to raise the necessary resources for that.
***