Artists don't believe in conventions, everyone knows it. Ordinary mortals are expected to follow the social rules, but for artists we are usually ready to make exceptions. Look at Bollywood. It is common enough to find marriages and relationships that go accross religious lines in Bollywood.
But if film artists can go beyond social conventions in their private lives, they also need to sell the tickets of their films. Do people go to watch films that defy social conventions?
In this three parts article, I will look at - (1) inter-religious families in reel-life Bollywood; (2) inter-religious love in reel-life Bollywood; and, (3) inter-religious stories from real life Bollywood.
This first part of the article is about inter-religious families in Bollywood films.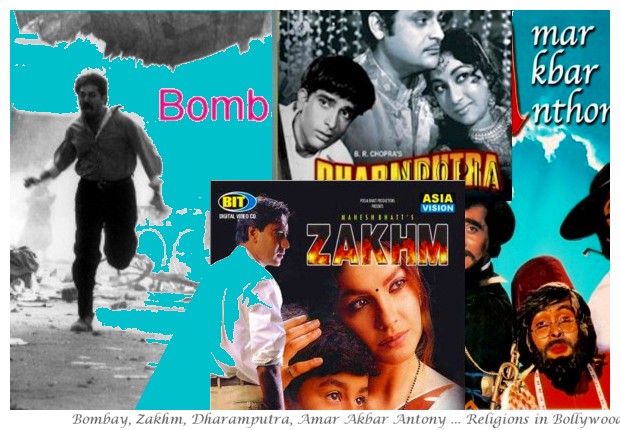 Multi-religious societies & Cinema
I think that among all the different films made in different parts of the world,
Bollywood and Indian cinema
have touched on the issue of inter-religious issues many more times, compared to all other countries. May be it has something to do with the way Indians perceive themselves?
Almost all the countries of the world today are multi-religious. However, most of them do not think of themselves as multi-religious. Or rather did not think of themselves as multi-religous till recently. On the other hand in India, we think of ourselves as being part of a multi-religious country for a long time. May be it is because of our history. It may be also because many religions started in India.
In India 80% of the population is Hindu, though Hinduism can be interpreted very differently among different groups of people in different parts of India, and remaining 20% is composed of different religions. In US, about 75% of population is Christian (protestants and Catholics), while the remaining 25% belong to different religions, including those who do not believe in any religion. In UK about 70% of the population considers themselves as Christians. In Italy, 80% of the population identifies itself as Catholic. So more or less, all these countries have similar percentages of majority groups and minority groups.
Yet, in my opinion, the awareness about different religions and their beliefs, is much higher in India than any where else. Could that be the reason why Bollywood has been extra-sensitive to the issue of inter-religious relationships?
If I think of films from any other country - USA, France, Italy, Japan, Korea, China ... I can't remember even one film on the subject of inter-religious relationships. Even when their films have characters from other countries/religions, usually they are shown in a way where religious differences are not an issue. However, I have seen some American documentary films on this subject, specially on the issue of inter-religious marriages between Christians and Jews.
If you know of some examples
of mainstream films from any country touching on inter-religious relationships, please do let me know.
Persons of different religions in Bollyworld
Bollyworld
is the make believe world of Bollywood that exists only inside the cinema halls and DVDs. In Bollyworld, the idea of including persons of different religions is so pervasive that it hardly makes news. For reaching out to people of different religions, often Indian films include persons of different religions, most common being Muslims but also Christians and Sikhs, shown usually as "almost family" like friends.
Films where Muslims, Christians or Sikhs or Parsi are the main protagonists are less common, but there are some examples of these. Muslim socials was distinct category of Bollywood films till 1980s with films like
Nikaah
,
Mere Huzoor
and
Mere Mehboob
. However, this genre of films is less common today. Sikh culture has found greater expression in Punjabi cinema, though there are some examples from mainstream Bollywood such as
Singh is King
and
Jo Bole So Nihaal
.
More commonly, Bollywood places its main stories in Hindu famlies, while persons of other religions are shown as friends, or less commonly as villains. There was a time when this practice allowed film makers to introduce specific things like
ghazals
and
shairo-shayari
in the narrative. It is hard to think of films which did not have such characters from 1960s and 1970s. From
Hrikesh Mukherjee
, to
Ramanand Sagar
,
Prakash Mehra
,
Manmohan Desai
and
Tarachand Barjatya
, all their films had such characters.
Even more recently, some of the big box-office successes of
Karan Johar
, such as "
Kuch kuch hota hai
" and "
Kabhi Khushi kabhi gham
", have continued with this idea of close family-friends kind of relationships with persons of different religions.
I think that the basic idea behind it is to make sure that persons of all religions can relate to the film (and make it a commercial success). At the same time, it does reflect the real-life reality of India, where it would be impossible to find any person who has not interacted with persons of other religions in the neighbourhoods, friends and workplaces.
Mixed Religion families in Bollywood
While the more popular Bollywood films used characters of different religions in close family and friendship relationships, they also maintain clear boundaries between them. Thus, in most of these films, Muslims are always married to Muslims, Christians to Christians and Hindus to Hindus.
However, the idea of mixing up of religions in the Bollyworld families has been touched upon many times. When I think of significant Bollywood films that have touched on theme of inter-religious families I think of four films -
Dharamputra
,
Amar Akbar Anthony
,
Zakhm
and
Bomba
y.
There are other significant films like the recent
Kurbaan
, but I see them more about inter-religious love stories rather than about inter-religious families. However, I do concede that this division into inter-religious love and inter-religious families is arbitrary and subjective.
Dharamputra
(1961): This Yash Chopra film was my introduction to a world united and yet divided because of religions. It was about a Muslim girl (Mala Sinha) who has to give away her son, born before her marriage, to a Hindu couple who are her family friends (Manmohan Krishen and Nirupa Roy). Years later, that son (Shashi Kapoor) grows up into a Hindu fanatic and during the partition riots goes to burn the house of his Muslim mother.
Amar, Akbar, Anthony
(1977): This Manmohan Desai film is another old favourite about three brothers who get separated when they are young, and grow up in three different families beloning to three different religions - Amar (Vinod Khanna) grows up as Hindu, Akbar (Rishi Kapoor) grows up as a Muslim and Anthony (Amitabh Bacchan) grows up as Christian. One of its most celebrated scene had blood transfusion tubes running from the arms of the three brothers and going into the arm of a blind woman (Nirupa Roy) who is actually their mother, but they don't know it.
The film looked at religious differences as being important for the individuals and yet almost unimportant for the relationships among people. The three brothers growing up with different religions, are shown to be in love with girls from their own religions. They are shown living in the worlds made of persons of their own religions. The film never discusses the impact of religious differences but rather seems to take it for granted that the persons from different religions would love each other "because they are brothers".
There are no religious fanatics or any speeches about religions in this film. Thus, I see this film as an allegory for the ideal multi-religious India, where each religion can maintain its distinctiveness, its own costumes, and yet be like a family.
Zakhm
(1998): This is one of the my favourite films of all times. Directed by Mahesh Bhatt, this was an autobiographical film. Against the backdrop of religious riots in Bombay, the film tells the story of an old woman (Pooja Bhatt), who has been burned alive by a Muslim guy. As she struggles for her life in the intensive care unit of a hospital, her younger son, with the help of Hindu hardliners would like to take a revenge on the Muslims. Her elder son (Ajay Devgan) tells the story of their family to his younger borther.
It is the story of a Muslim woman in love with a Hindu film director, who dies in an accident leaving her with two sons. She hides her own faith and brings up her two sons as Hindus, even though she is rejected by her husband's family.
The film had a powerful performance by child actor Kunal Khemu as the elder son, during the parts in flash back, where Ajay tells about his childhood.
In South Asia, the boundaries between religions can often be hazy. Many families carry hidden histories of inter-mixing of different religions. I felt that this film brought out the issue of those hidden histories in a powerful way. It was also a strong voice against the fanatics and the hate-mongers of different hues.
Bombay
: This 1995 film by Mani Ratnam is one of those rare films that touched on a vital question in all inter-religious marriages - the question of the religion of their children. The Hindu-Muslim couple in the film opt for a civil marriage and ignore the religions.
However, their two fathers would like that their grandchildren follow the family religion. The couple has twins and thus, the two grandfathers decide that one grandchild can receive Muslim religious knowledge and the other can be Hindu. Only when there are Hindu-Muslim riots that threaten the lives of the two children, it makes them understand the futility of religious fights.
Many mixed-religions couples today are like the couple of this story, who do not feel very religious and who feel that they can continue to follow different faiths. However, the issue of their children's religions is a thorny one, especially when there are family expectations and pressures from the two sides.
The different ways in which families deal with this issue, I think that it needs to be tackled in more films.
Conclusions
Bollyworld often shows persons of different religions, living together as close family friends or relating to each other in positive ways.
In a way it is a reflection of the Indian society and at the same time, I believe that it strengthens knowledge and relationships between people of different religions in India.
The past few decades have been marked by shifting of religions towards more exclusionist and radical positions, not just in India but all over the world. In such a situation, I think that Bollywood's role in promoting a multi-religious society is important.
There are many examples of mixed-religions families in Bollywood cinema. Personally, I believe that in this direction, Bollywood (and Indian cinema in other languages) has been much ahead of all other cinematic traditions in the world.
So if you think of Bollywood films dealing with inter-religious families, are there any films that have impressed you? Are there any such films from other countries, that you know of?
In the next part of this article, I will touch on inter-religious love stories in Bollywood films.
***
This article is part of my reflections for an email based research on mixed religious couples and families. This research is called "
Mixed Doubles: You, I and our Gods
".
If you are or were a part of a mixed religious relationship or if you grew up in a mixed religious family, please consider joining this research by sending me an email at: sunil.deepak(at)gmail.com
You can find more information about this research at the
Mixed Doubles Blog
.
***