It is already two weeks since I came back from Thailand and I have yet to finish my Bangkok diary. The last few weeks have been full of travels. First in India, then in Thailand, the to London in UK and finally to Brindisi in south of Italy. So I have loads of pictures from these journeys but there is no time for writing blogs!
***
I saw the canal next to our hotel straight away and while I was standing on the bridge near Mahanak market, I saw the boats also. But I had not realized that these boats are like vaporetto in Venice, cheap public transport (though in Venice they are no longer cheap).
They have blue plastic sheets around the edge of the boat so while it goes in the water, they pull those sheets up to protect the passengers from the water-spray and thus I didn't see the people inside those boats till I actually walked along the canal.
With gestures, I asked about the final destination of the boats but I couldn't understand. However, I could understand that the ride costed only 10 Baht, about 12 Rupees. So I decided to try going towards the river.
However I was disappointed that the boat terminated at the next stop, close to Wat Sraket or the golden mount. As I came out of the boat station, I was amazed to find myself exactly on the same place where I had lost my way during my last trip to Bangkok in November 2007.
So this time I could give names to the two lovely temples at the huge crossing between Lan Luang, Nakhon Sawan road, Ratchadamnoen Nok road and Klang road. The temples of Wat Ratchanaddaram and Wat Thepthidaram.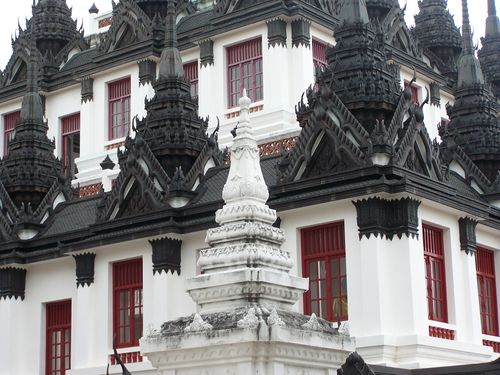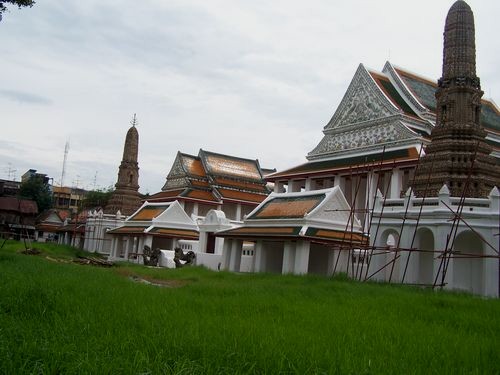 ***
Next to Wat Thepthidaram there are numerous shops where they sell the different god statues from mainly from Buddhism and Hinduism.
Covered with transparent plastic sheets, I felt as if the gods were being suffocated, unable to breathe.
The black statues of the Gurus on sale on the pavement also made me think. Once they are placed in the temple, you are supposed to take off your shoes and pray in front of them. Yet, unsold, they are nothing, they wait on the pavements as people hurry around, uncaring about their saintliness.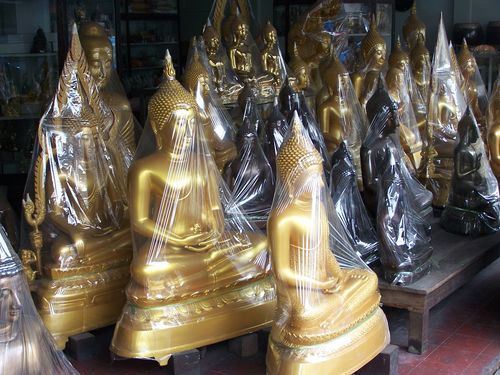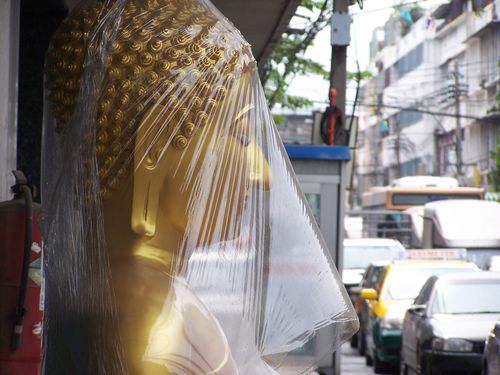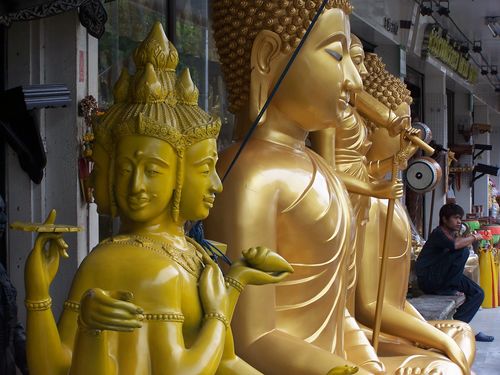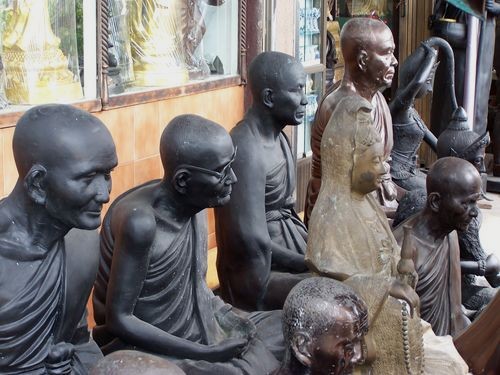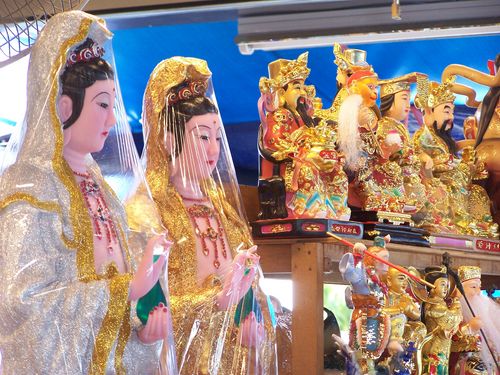 ***
The colourful mannequins in the market do not have Thai faces, they look more like Europeans, except that they have colourful hair and they have expressions. Some of them are laughing, a few are sad, looking like persons turned into stone.
Nude handless mannquins, covered with transparent plastic sheets where like dead corpses, their mouths stretched in death grins, were infinately sad.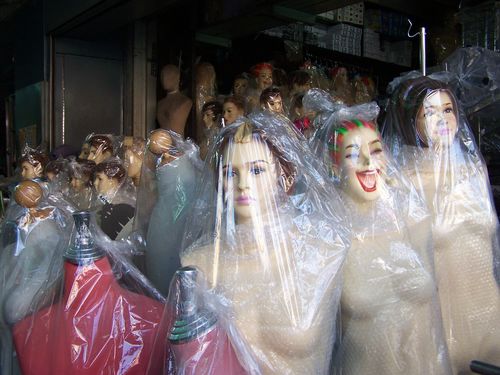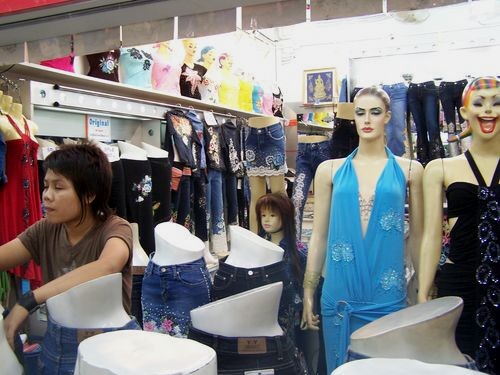 ***
I loved the boat journey on the canals. The boats are so cheap and fast. Yet they don't do publicity about them like they do for the more modern sky train and metro rail systems.
Only problem with these boats is the agily required to get in and out of them. If you are elderly or have stiff joints, like I discovered that I had, raising up the legs to get in, hanging on to the rope support, etc., it may be more dignified to ask for a taxi!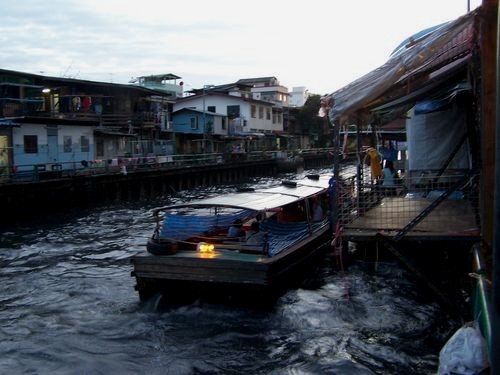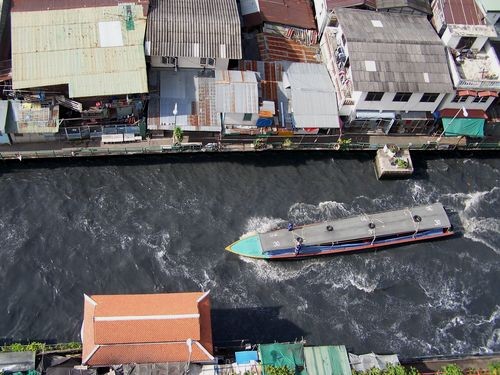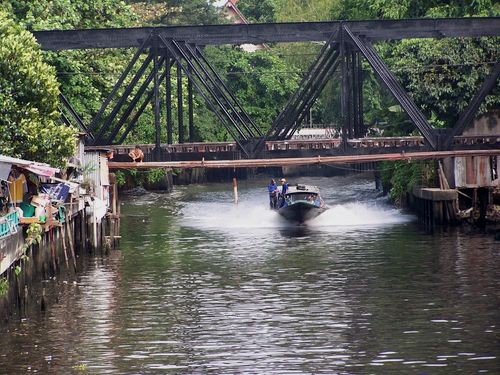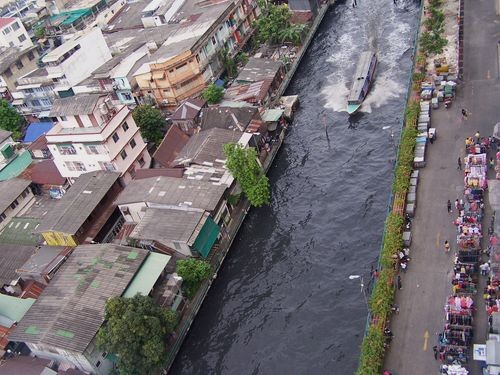 ***
This post was originally written in 2009