The journey, 19 January 2012
It is not yet five o'clock when I reach the Bologna airport. The self check-in at a machine in the airport makes me feel like an old human model that has been long overtaken by newer and better functioning models. I fumble and curse till a young lady feels obliged to come and help me complete it.
The self check-in does not mean that I don't have to queue to check-in the luggage and I am not sure if the airlines save any real time this way, except may be for persons who do not have luggage for check-in?
There are two young women standing in the queue behind me, bitching about their boss. Their conversation is a torrent of Italian cuss words, with plenty of assholes, dickheads and fucking-offs. Probably a second world war sailor would have been proud to have that vocabulary. It makes me smile and wake up. And I can feel a little pity towards their boss. Poor sod does not stand any chance, these two would eat him in one gulp, without ever burping!
***
Can someone help me, the guy in front of me asks the lady at the desk, checking the boarding passes. "Sorry, we don't have anyone, you have to manage yourself", the lady answers without looking up.
The guy looks young, in early twenties, and is probably south american. He has two bags, one on each shoulder, a ruck sack on his back, a pram with a baby, another bag hanging from the pram, a doll and some toys. We need to go down the stairs to a waiting bus and I find the young man standing there holding the baby and folding the pram, with bags scattered all around him. A couple of other passengers pass by without stopping. I ask him to give me the baby and a bag. It is a baby girl and she is still sleeping. He manages to pick up the remaining things and we reach the bus.
I go up the stairs to the plane behind him, still carrying the baby who smells of milk and is so soft in my arms. Her name is Noemi and they are going to Lima, Peru. She has woken up and she smiles at me and touches my cheek with her tiny hands. As I hand her to the guy in the plane, I feel a tiny tug of regret.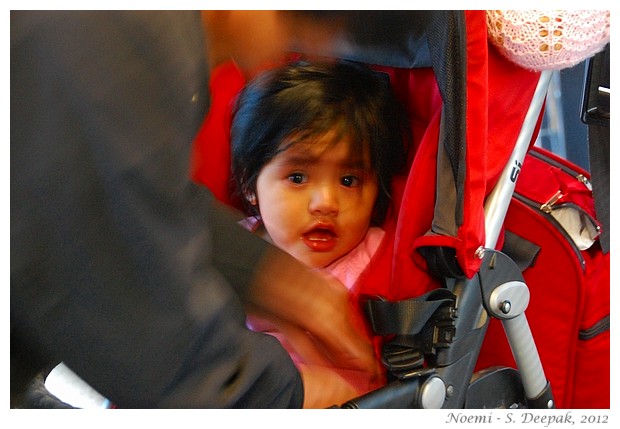 Is he her father? Did he have a fight with her mother and is taking away the baby with him? He seems so tender and careful with her, holding her in his arms and feeding her with a bottle. Or may be they are immigrants and need to work, so they don't know where to leave the baby during the day. There are not enough day care centres in Bologna for the young babies of working mothers and anyway, are so costly and out of reach for immigrants. May be he is going to leave her with the grandparents in Peru till she grows up a little and can go to school? Why is the baby's mother not with them? She did not get leave or they did not have enough money for the two air-tickets? I keep on thinking about them for some time.
Thousands of immigrants go through similar life choices, and probably hundreds of thousands of children grow up like that, without their parents. If I had a child like Noemi and I had to leave her like this, how would I feel? The idea makes me feel like crying.
***
The training, 22 September 2012
It is the third day of training and there are about 25 persons from different grassroots organisations from different parts of Kenya participating in it.
The first two days have gone very well. On the first day we had worked on different kinds of disabilities, the barriers they face and how communities can help in removing those barriers. On the second day, we had focused on working collectively through self-help groups and organisations of persons with disabilities. I am not showing them any slides or making any presentations except when we conclude the day and I want to go through the different things we had discussed together during the day. During the day we work through discussions and I stimulate them to share their ideas and experiences.
Carol, a psychologist teaching in a Nairobi university, is helping me to facilitate this training. She is wonderful. She listens to my ideas and then interprets them in her own ways, explaining them to the participants in Kshwahili. So I don't need to worry about making cultural gaffes.
However, today it is not going on so well. We are supposed to work on advocacy and how to influence decision makers. I have started a discussion on how different groups in the society influence decision makers in different ways, and we had been talking about bribing, corruption and nepotism. I can sense a wariness in the group and discussions are punctuated by long periods of silences.
In the city centre, I had seen a very eloquent graffitti about corruption in the Kenyan politics. I am sure that people from all countries can relate to that graffitti, because corruption has no boundaries.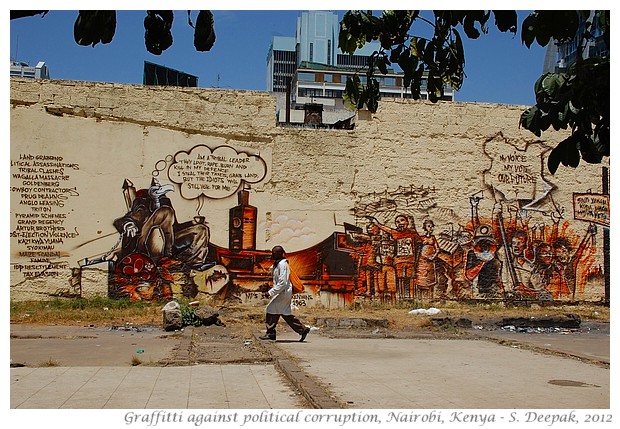 We talk about transparency and democracy in the organisations, and I can see tense faces all around me. Completing this session has been a real struggle and I feel frustrated.
Afterwards I speak to Tiziana about it. "What were you expecting?" she asks me, "You are touching on some raw nerves there. Corruption, nepotism is not just in politics, or among high ups. Though on a much smaller scale, it is also there in all organisations, even in grassroots organisations."
***
Jain temple in Nairobi, 22 September 2012
Nairobi is full of Jain temples. On our way to Limuru road where are having the training, I pass in front of three big temples every day. During the lunch break, I decide to go and visit the one close to our training centre.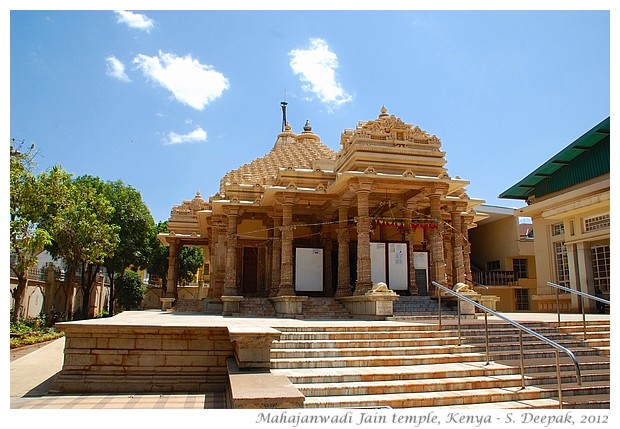 The temple has statues of Mahavir and different
thirthankaars
. Murali, the priest is from Rajasthan. He came here in 1988. Before him, his father was a priest here.
***
Wild life in Nairobi, 23 September 2012
We are free today and Tiziana takes me to the Nairobi national park. It is a wild life safari park inside the city, just 7 km from the city centre, close to the airport.
I buy a 50 dollar foreigner's ticket for a safar in an old run down bus. The bus if mostly full of Kenyans, who have to pay about 4 dollars for this trip. Most foreigners do the safari in small jeeps, paying 200 dollars per person.
The Nairobi national park is incredible. It starts in the lush green forest and quickly goes down the hills towards a vast savanna with tall dry grass full of zebras, giraffes, baboons, wild buffaloes, impala and other varies of deer, white and grey rhinos, hyppos and lions.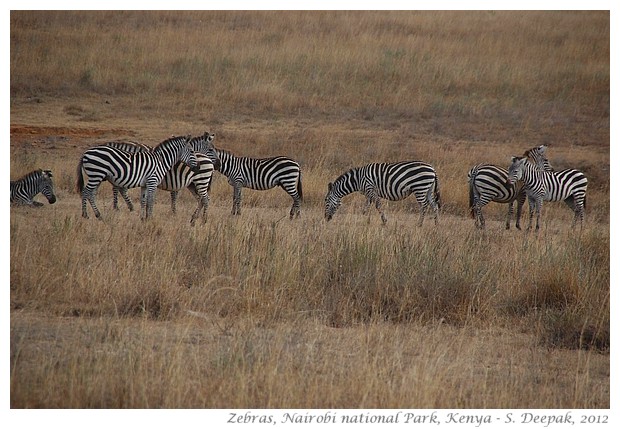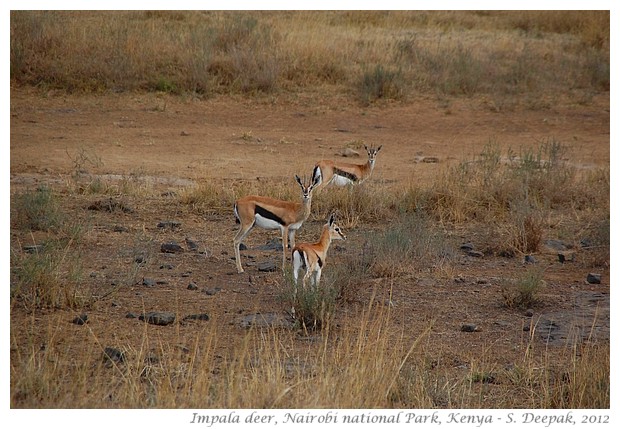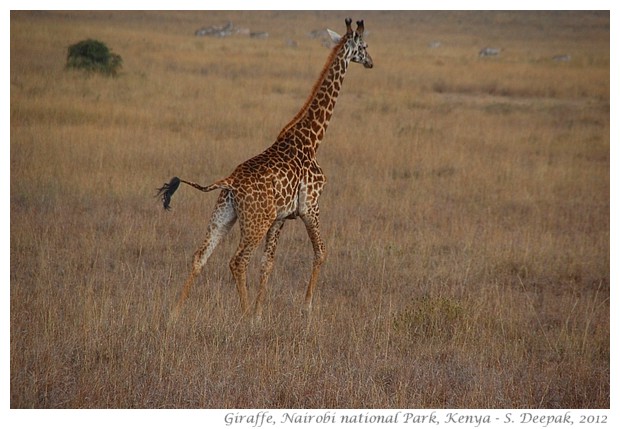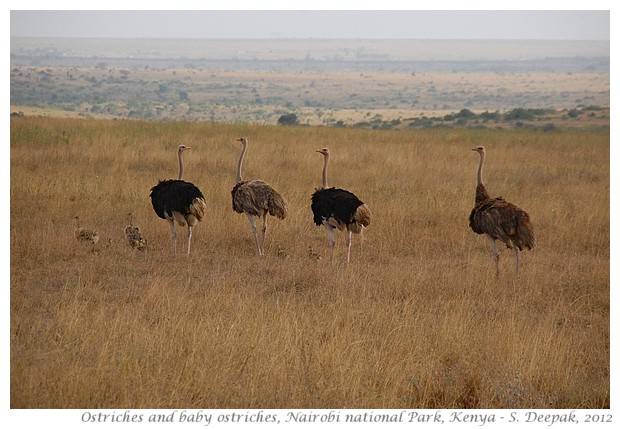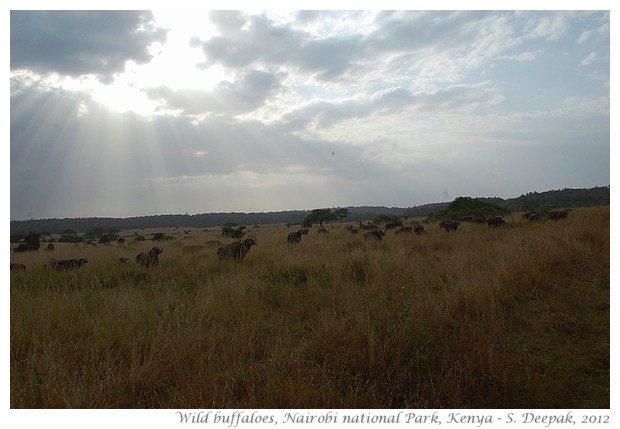 Yet all around the savanna you can see the new houses and sky scappers of Nairobi, circling the national park. The pressure of growing urbanization, attrition between wildlife and people all around and poaching are big problems, the guide acknowledges sadly.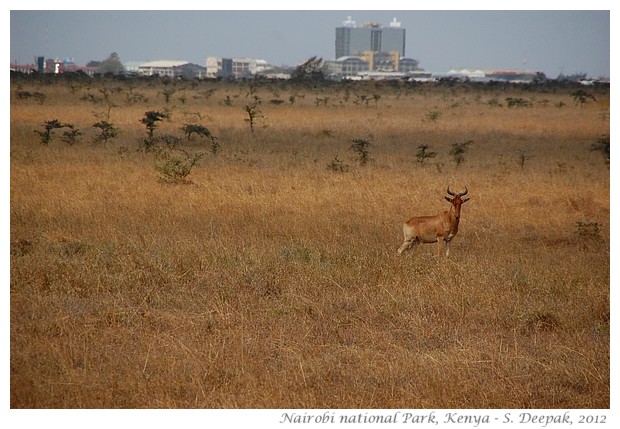 The three hour long safari trip is worth the money. We are lucky since we can see almost all the different animals during this trip, except for the male lion. To compensate for that, we find a lioness with her cubs, resting on a mound a little way away from the bus track.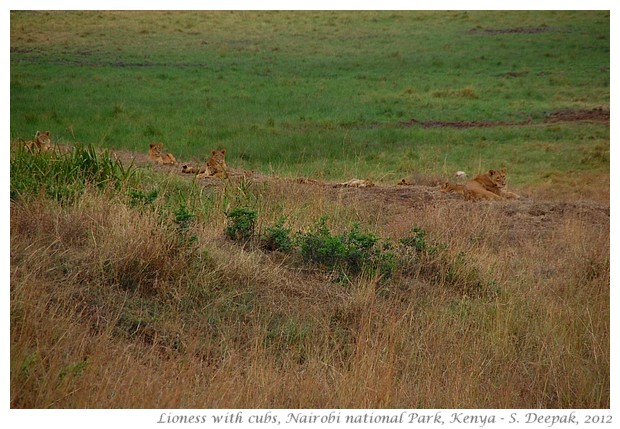 There is also a zoo-safari park near the entrance to the national park. However, for 25 dollars ticket for the foreigners, I found it disappointing in comparison to the ride in the national park.
(End of part 01)
***
This post was originally written in 2012