Old city of Mombasa, 25 September 2012
If Nairobi looked like other modern cities with highways and skyscappers, old city of Mombasa is like Chandani chowk in Delhi, with its narrow winding streets bursting with life. Mombasa is full of mosques and women in black veils.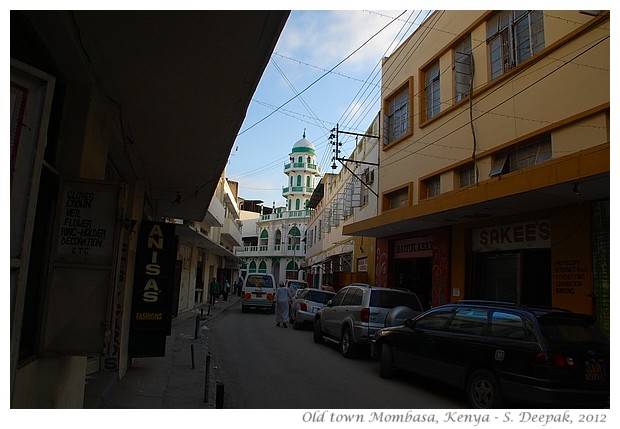 It is evening but it is not yet dark. After a long working day, coming back to the hotel, I had decided to go out and explore. Tiziana had warned me, "Be careful with your camera and come back before it gets dark."
In the old city, I find another Jain temple in one of the alleys of the old town.
It is made of white stone with exquisite designs. The temple also has a library with books and magazines in Gujarati.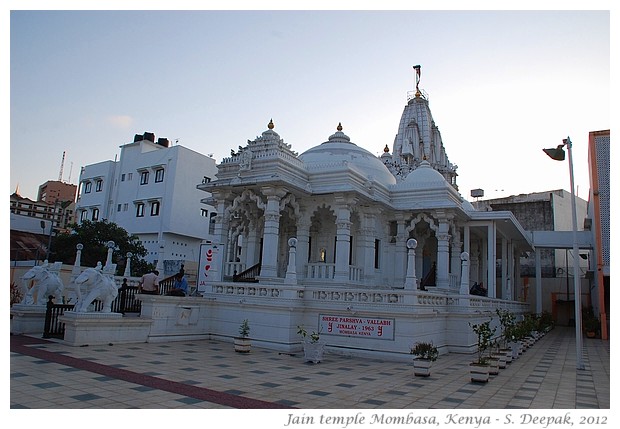 As I come out in the street, I see two asian looking men speaking a language that I can vaguely understood. "Can you please tell me how to the go to the old port", I ask them in English.
One of the men smiles and offers to accompany me towards the port. "It is not so easy to go there through these alleys, you will get lost. You should go out of the old town, and then from the main road, it will be easier to get there."
We walk together in companionable silence. "Which language was it that you were speaking to to your friend?" I ask him.
"Kutchi, a language from Saurashtra in Gujarat", he tells me.
He is Shailesh, and he was born in Mombasa. His grandfather had come here from India. They still have some uncles and aunts in India though he has never been there. "
Yahi mera desh hai
", he says in Hindi and smiles.
His house is near the main road. When we reach there, he indicates the road going towards the old port and folds his hands in
namaste
. At the corner of the street, there is a big building of Bank of India and on the other side of the road, the old Portuguese fort.
It is becoming dark and I remember Tiziana's warning, so I turn back to the hotel without going to the old port. It can wait for another day.
***
Old port of Mombasa, 27 September 2012
We are going back to Nairobi today but our flight is in the afternoon. With Tiziana, I go to visit the old port, where ships from Asia used to come and Africans for the slave trade were taken to different parts of the world. The water in the bay is supposed to be very deep, so ships can come close to the land.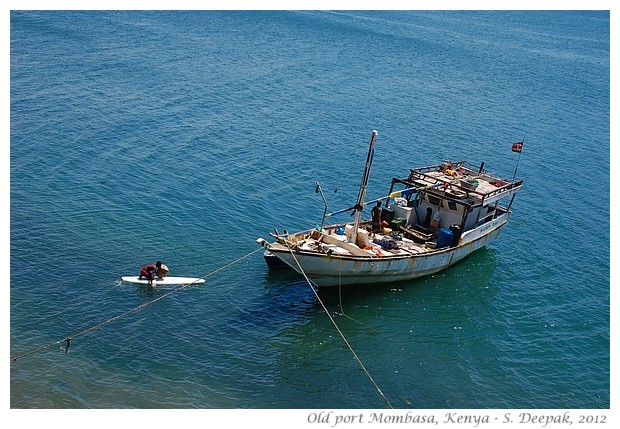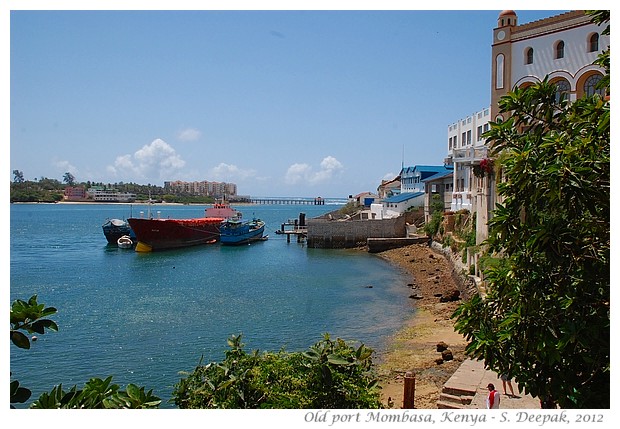 The streets of the old port are like those of the old city, narrow and winding. In one old building near the stairs going down to the port, there is an nice old restaurant. We go there to drink some tamarind juice. It is well diluted but still it has the tangy sour taste of Tamarind. Unlike rasam, it has no spices, and people usually drink it with sugar. However, I drink it natural without adding anything else. I love it.
***
Kenyata tower, Nairobi, 28 September 2012
Our morning meeting is late so rather than sitting and waiting for an hour, I decide to walk to Kenyata tower and take a trip to the top. The ticket for foreigners is about 4 dollars and the lift takes you to 27th floor. From there you need to climb the stairs to the 30th floor.
I walk all around the circular terrace, trying to identify buildings and places.
"The Asians live there, in that rich part of Nairobi", the guide pointed to me. Is there a mild rebuke in his voice? I have heard that rebuke other times as well, about rich Asians who control all the commerce and zip around in fancy cars, keeping their distance from the local persons.
I think that the Asians know it, this feeling of local resentment against "foreigners" who take away their riches and do not mix with them. I am not sure if they have any political party here like the Italian Northern League or the Maharashtrian Nav Nirmal Sena, inciting locals against "outsiders".
"I am a tourist, and I have come only for a few days", I tell the guide to distance myself from the Kenyan Asians.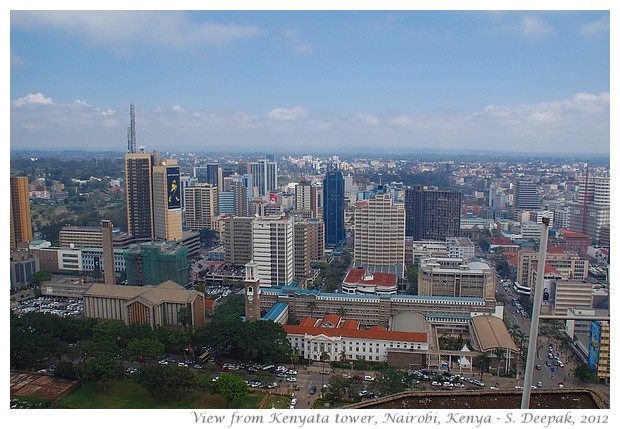 ***
Naivasha, 29 September 2012
Today is my last day in Kenya. Tomorrow, I have an early morning flight back to Europe. Today we are going to spend the day doing some sightseeing in Naivasha in the Rift valley. The journey from Nairobi takes about 2 hours in the car and I love the descent from the mountains down to the savanna with wonderful views of the valley including an old mountain with a volcano crater from prehistoric times.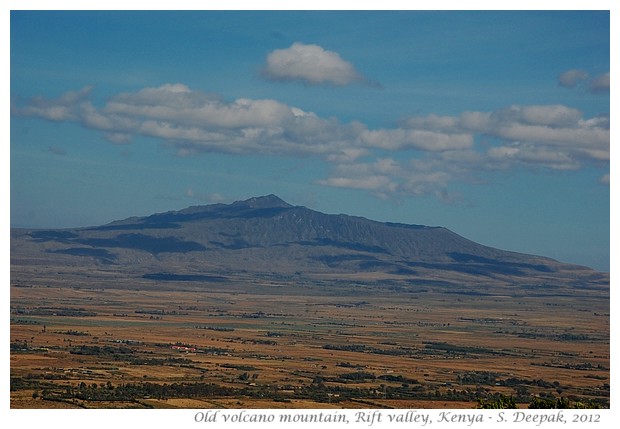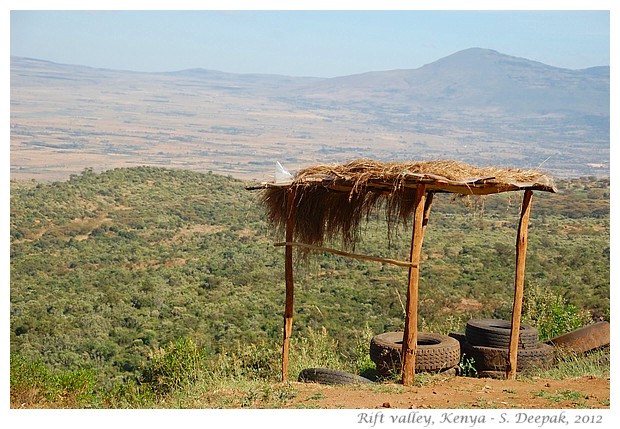 On our way to Oloiden lake, we stop at Shimba lodge on Naivasha lake for a coffee. While waiting for the coffee, I walk around. There are many ibis and deer in the park. Suddenly I see a white bird with black spots, wings flapping widly, getting ready to dive in the water to catch a fish. I aim the camera and click furiously, my heart palpitating. That bird is marvellous.
Afterwards, while sipping the coffee, I check the images to see if I have managed to catch that bird on my camera. Most of the images look blurred but there are a couple that look good.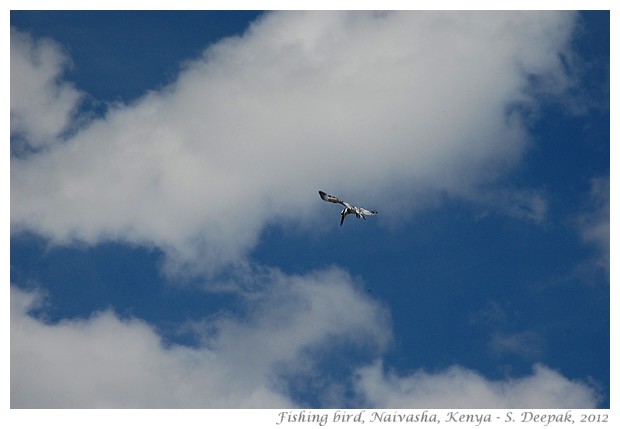 Oloiden lake does not get many visiters. There are no tourist lodges or hotels here, only rural houses. Near the lake there is a community project that runs some boat trips for 4 thousand shillings ( about 425 dollars). Women are taking bath in the lake on one side and on the other side, a group of pink flamingos is in the water.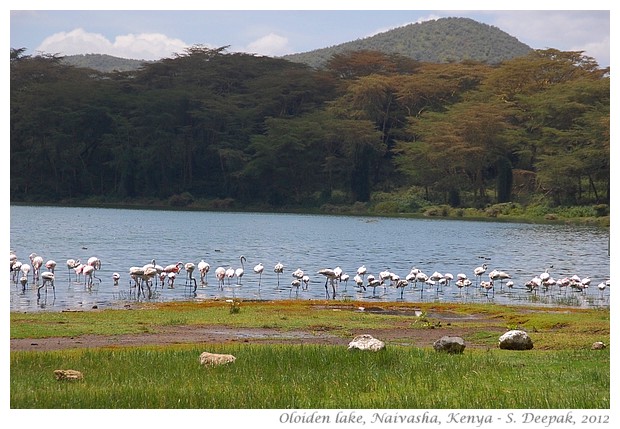 The boat trip is absolutely amazing. The dark green waters look cool, with geese, groups of flamingos and other water birds. Near the edges of the lake, there are lot of hyppos, submerged in water. In the forest around the lake, there are many zebras, giraffes and deer.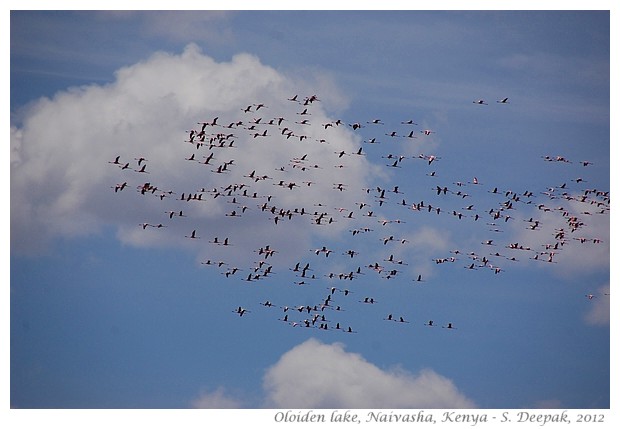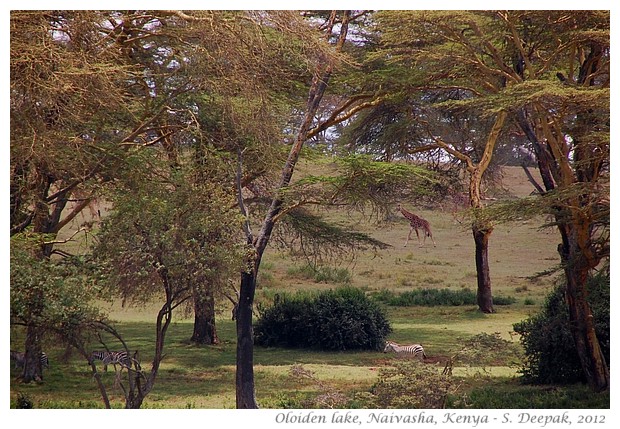 ***
We go to Fisherman's cove on Naivasha lake for lunch. While we wait for lunch, Wilson, our driver, points out the monkeys on the trees. They are small monkeys, black in colour, with a snow white fur on parts of their faces, backs and tails. These are called Colobus.
On some trees, they have fixed small wooden ledges with food for monkeys and birds. One of the monkeys finally comes down to one ledge to eat. However, when I try to go close to it, it runs away.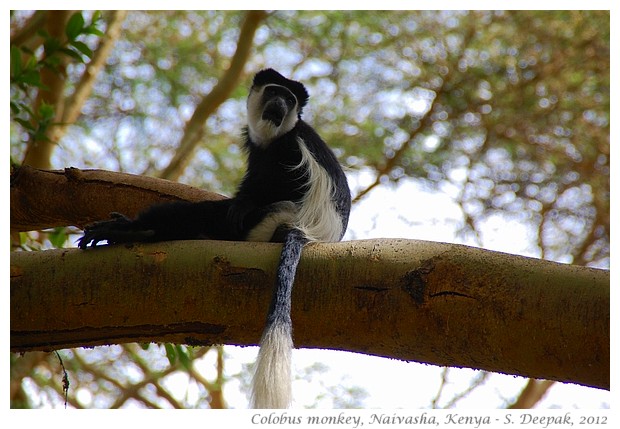 ***
The day is not yet over. We go to Hells Gate safari park. This is the only safari park in Kenya where you can rent a bicycle and go around the park on it or even walk there. This is because there are no big cats (lions and jaguars) in this park and it is relatively safe. The most "dangerous" animal in the park are wild buffaloes. Park ticket is 25 dollars for foreigners.
It is full of zebras, giraffes, deer and warthogs. However the most beautiful thing about the park are its rugged rocks and craggy rocky hills. The panorama is wonderful.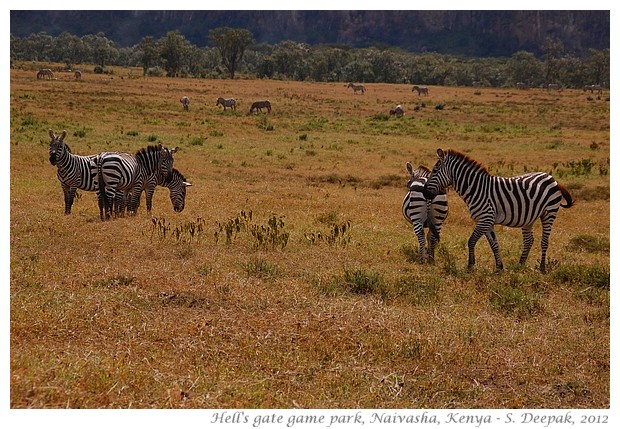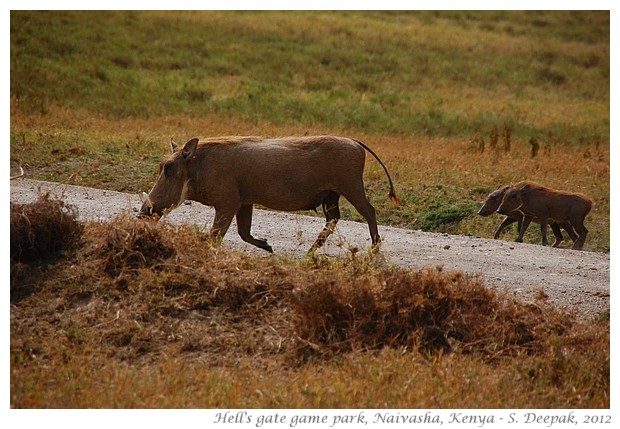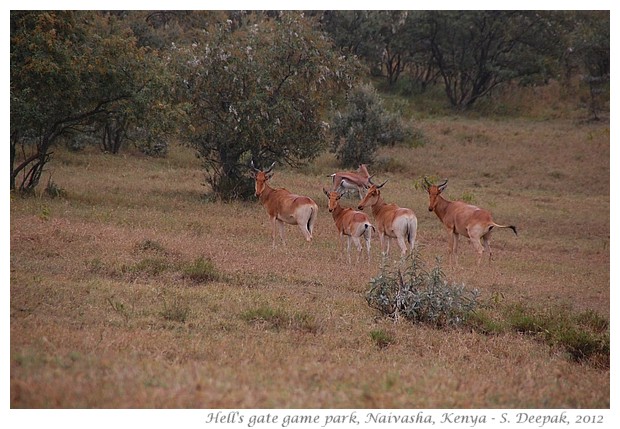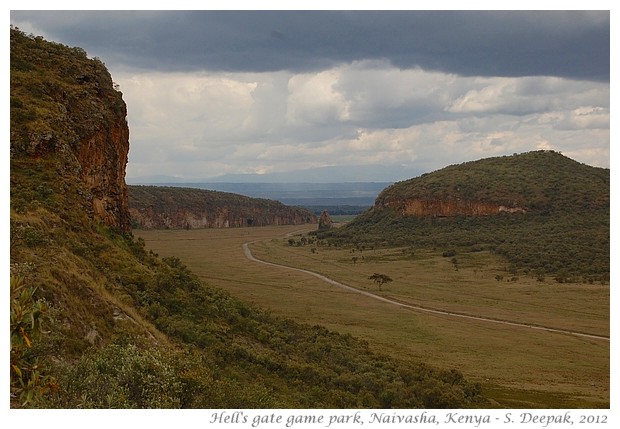 The park has a wonderful narrow gorge called Hell's gate. However, if it rains it is dangerous to go there because rain water from all the surrounding hills comes down thundering in the gorge, sweeping away everything. Some tourists have even died there after sudden rain falls.
Looking at the dark omnious clouds, we decide to forego the gorge trek, and go back to Nairobi.
***
The missed flight, 1 October 2012
Our flight was cancelled today because of some technical problems in the plane. We waited for more than 3 hours in the plane, waiting for the take-off. However, once Kenya airways decided that the flight was going to be cancelled, they were surprisingly efficient. We were quickly brought to a five star hotel in the city centre, not far from Kenyata tower. We have to stay here for one day and our flight will be tomorrow morning.
I have had cancelled flights many times but usually it takes hours for the airlines to organise everything and provide hotels. In comparison, the way Kenya airways has dealt with it is really great.
The view from the hotel room window is very nice but I have no desire to go out. I am spending the day working on my reports.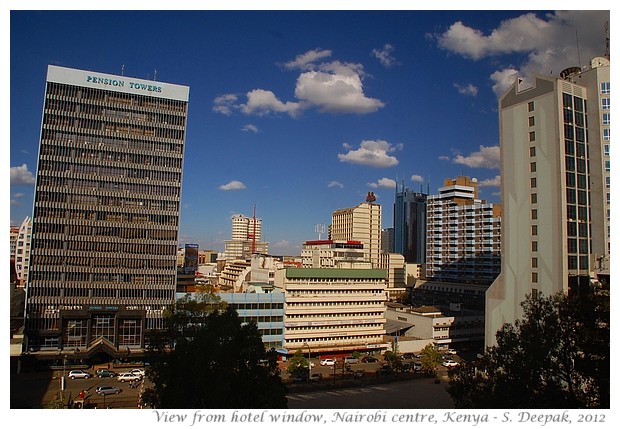 During lunch I had met a lady and a couple from Netherlands. The lady had been visiting some development projects in Kenya and some other countries. She looked a little anxious but has a beautiful smile. The man in the couple had also worked in a community development project in Kenya for six months a few years ago and now had come back with his wife to visit his old friends.
Our conversation was easy and friendly, probably because we are all linked to the "international development world" that goes from "developed" countries towards the "developing" countries.
For dinner also, I again sat with them, our conversation taking off from where it had been interrupted at lunch.
I feel comfrotable with them and this makes me feel guilty. Sitting in a five star hotel, with rooms that cost more than the monthly salaries of the people we are supposed to help, and going back to our comfortable worlds in Europe!
I did stay in realy simple and basic accomodation for all the visit and I did not choose to come here in this luxurious hotel, I tell myself, trying to assauge my guilt, while we eat our five star buffet.
***
You can also
read part 1 of this diary
.
***
This post was originally written in 2012