Once again in
London
! What more can be there to tell about it?
I know the feeling. Every thing that could possibly have been said, has already been said!
Yet, I did have some new experiences. Reality is supposed to be subjective, so even if everyone else has already written about London, my reality of it will be different and it will be different from the last time I was there 4 weeks ago, since in 4 weeks, I have changed. So bear with me, even if I will understand that you might decide to skip this one and to spend your time better!
***
Going to
British museum
in London reminds me of eating a banana split ice cream at
Nirula's in Connaught Place
in Delhi. In the end, it was difficult to finish that banana split and the sweetness of it gave me nausea. Every time I finished eating one, I would say "For one month, I am not going to touch any ice-cream".
Going to the British museum is like that. So much to see that in the end, it all gets too much. Entry to the museum is free and there is no prohibition on taking pictures. I especially love the Assyrian section.
But even the new dome covering the central space is so beautiful. And, the christmas lights in the shops in the museum were so beautiful. In the end, my head was bursting with things I had seen and my arm had cramps from the constant clicking that I was doing. I don't think that I will be back there any time too soon.
There was a wonderful new exhibition in the museum about the death rites and death linked mythology from around the world. There were masks in this exhibition from Andaman and Nicobar islands (India), some what similar to the Mau Mau figurines I had seen among the Toraja tribe in South Sulwesi (Indonesia).
***
On Saturday afternoon, the meeting finished earlier than the plan. "I want to walk along the bank of Thames", I thought and off I was to the
Hammersmith bridge
. I had been to a pub around there for a dinner once and it was lovely to sit along the river, sip some beer and chat with friends in the summer. Probably that was not the right kind of memory for deciding about the walking trip in December, but that thought came to me much later!
The Thames path, goes along the river and then at some places, where private buildings block the way, it goes in between houses, waiting for the next point where it can rejoin the river. At one such point, I found myself in Bishop's park with boys/men playing football and American soccer. I like the funny clothes they wear for soccer, with puffed up shoulders and sleeves. I also like the ritual of everyone putting together their heads as the ball is launched. I don't understand the rules of the game but that does not stop me from admiring it!
Then I reached the All Saints church near the river in Fulham. It had lot of old tombs with some interesting tomb stones. Like, "Here lies Susan Parkinson, loving wife of xxx and mother of xxx. xxx, xxx, left for her heavenly abode on 17 August 1759". I like cemetries.
Anyway, I walked and walked and walked. It was lovely. In the end, when my legs were almost giving up, I thought it was prudent to go back.
"
I will try to find a short cut for going back to the hotel
", I told myself. And, so I walked and walked and walked.
"
I won't ask anyone for directions
", I had told myself. I often make such rules for myself. However, in the end I had to ask someone for directions, since I seemed to going around in circles. My "short cut" was taking me further away from my hotel, I was told and, it would be better to take a bus or a taxi.
When finally I reached my room, I felt like an old man, in terminal stage of some advanced disease, who seemed to walk like a drunk sailor on a ship in a stormy night.
***
By Sunday evening, I had apparently forgotten about my decision to avoid museums for some time, and I was back at the Trafalgar square to look at National Portrait gallery. Like British museum, it is also free but unlike B.M., here you can't click pictures of old masters like Van Gogh, as I discovered when I tried to do so!
Outside, the sky behind the opera house was darkest shade of grey-black, producing a lovely light over Trafalgar square. The statute of a disabled pregnant woman by Mark Quinn in the square is provocative. With countries and societies often insisting on forced sterlisations for the disabled persons and promoting abortions if you think that your child could be disabled, to put such a statue in the main square makes you question some fundamental beliefs, I hope!
The newspapers on Monday were about the big blast in a petrol depot, some 30 miles from London, that had produced a 75 km wide black mushroom cloud. I wonder if that black cloud visible in Trafalgar square was because of it?
***
Saw this funny ad about condoms in an underground station, with digital ducks wearing condoms on their head-plumes.
Reminded me of an ad I had once seen in Salvador de Bahia in Brazil about noise pollution and loud music in cars. "
Show your virility in the bedroom, not on the streets. People who can't do it in the bedroom, tend to make more noise on the street
", that ad said.
So here are some images from this eventful London trip!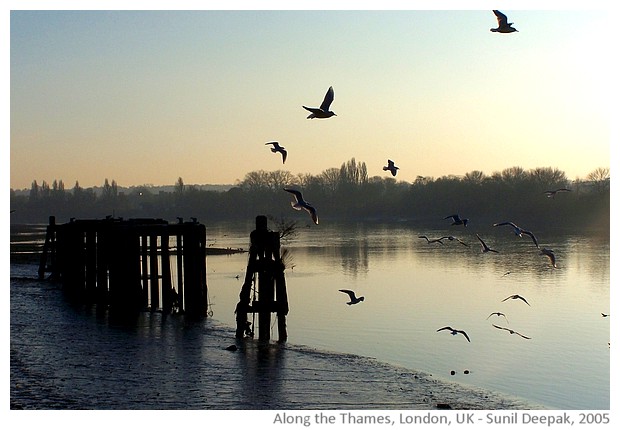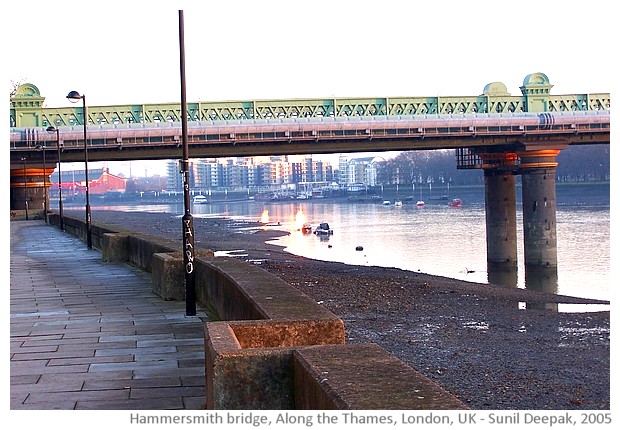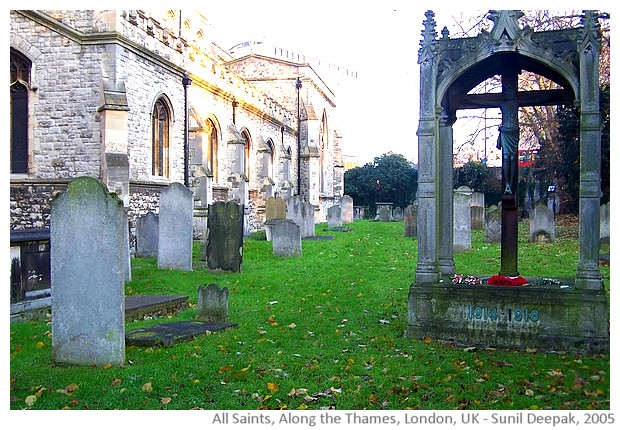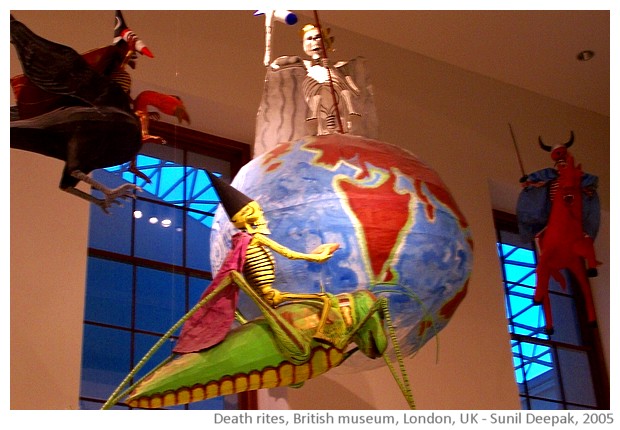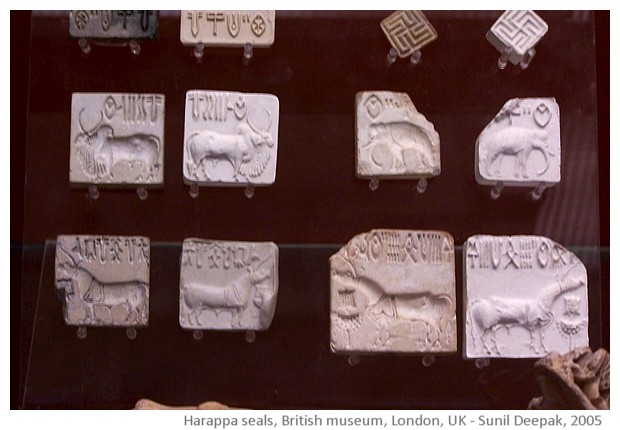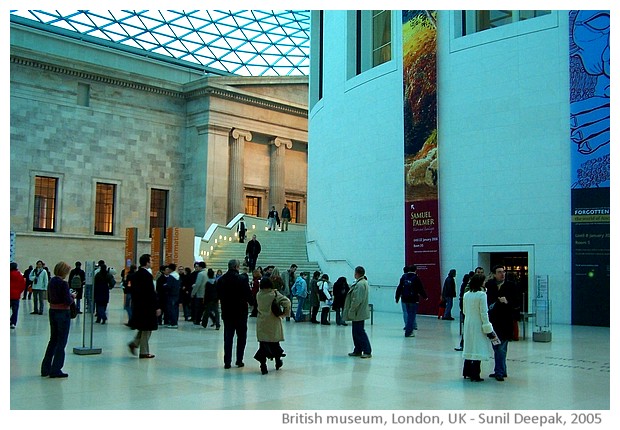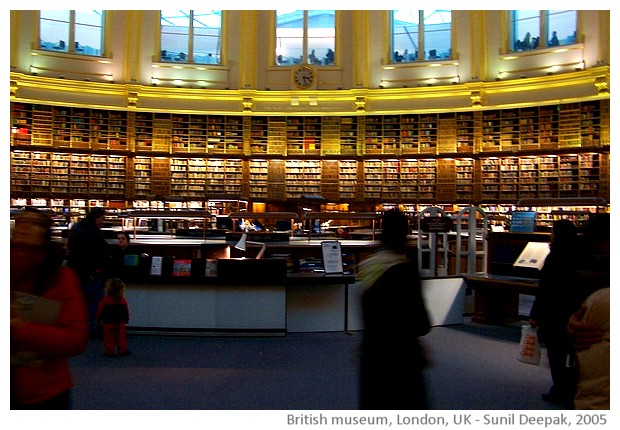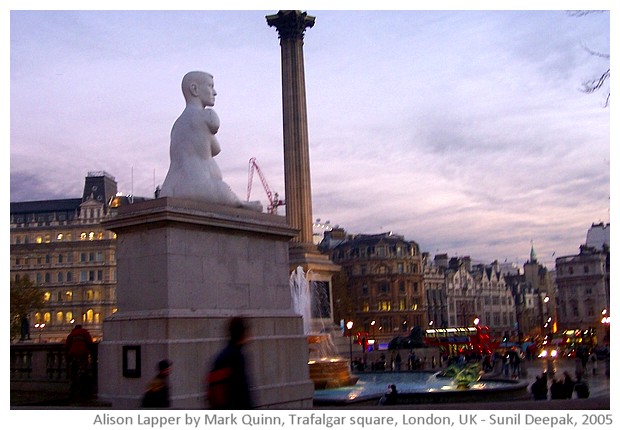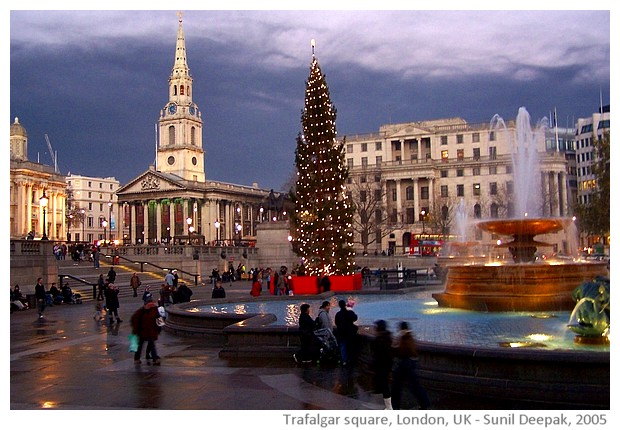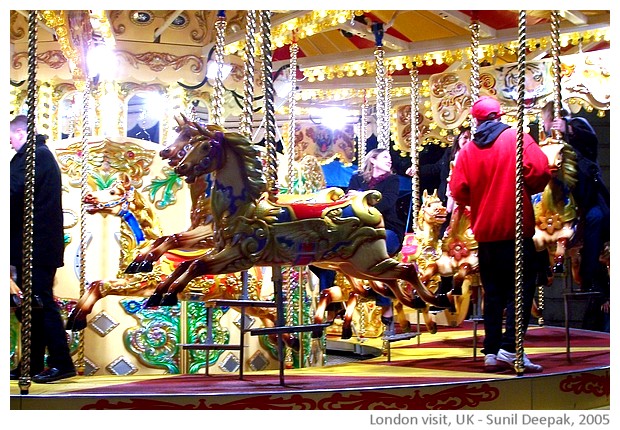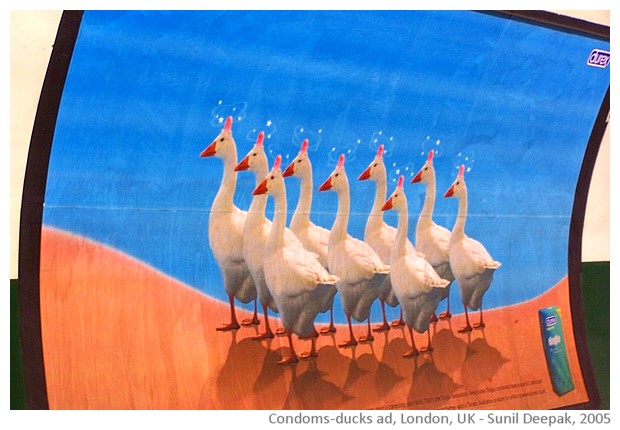 ***
This post was originally written in 2006