It was almost a year since I had been in Delhi. Usually, everytime I reached Delhi international airport, I felt cheated that they hadn't improved on the rotting structure that does not go along with the image of "Shining India". However, this time I was coming from Bangalore. Compared to Bangalore's "international" airport (about which I had already written in
my last post
), Delhi's national airport was reassuringly spacious, nice and clean with working luggage delivery conveyor belts.
The prepaid taxi service from the airport still works well, even if everyone seems to be in a hurry, trying to push forward from all sides. This pushing and hurrying is part of Indian way of living now, everywhere on the roads and queues in public spaces, people seem irritable and hurried, ready to honk, accelrating if anyone tries to cross the road in front of them. Fortunately, this hurry seems to vanish as we go back to our private spaces. As I paid 180 rupees at the prepaid taxi booth, I mentally converted the amount to Euros - it seems that I can think only in Euros and everytime I pay for something, I can't stop myself from converting it into Euros - just little more than 3 euros for almost 20 km of journey, I thought gleefully, remembering the 30 Euros paid in Bologna for the 6 kms to the airport.
****
Travelling on the outer Ring road was relatively smooth with all the flyovers, and with only a few red lights on the way. It is still not the wonderful wide highway of Beijing or Bangkok, but it is a vast improvement on the chaos of a few years ago.
The familiar landmarks on the way are changing so quickly. I was here only one year ago and yet I can see so many changed buildings. Simple plain houses are getting transformed into multistorey posh apartment buildings (mostly without any garages so that all the new cars then spill on the roads) and new malls and shopping centres are mushrooming, while streets have problems in expanding and accomodating all the new cars and SUVs. In fact, as soon as we leave the Ring road, the traffic slows down considerably.
With the metro, travelling in Delhi has been transformed. Reaching Delhi university from C.P. or going to far away places like Tilak Nagar, are now swift and comfortable journeys.
Coming out at
Chawri Baazar
from the deep metro tunnel is like being in the "Back to the future" film. As you come out, the 21st century meets 17th century with narrow winding streets, running sewers, people spitting paans and other things, rickshaws blowing
bhompoo
and a spiderwebs of thick naked wires running around the shops and houses like those thick gold chains that Circuit sports in
Lage Raho Munnabhai
.
The
central park in CP
is finally reincarnated and is an improvement on its previous birth, with lovely green grass, zen fountains, a gentle flowing water-fall used by pigeons as their private
hammam
and some vaguely Japanese looking wooden bridges.
I have finally understood the trick of finding autorickshaws in C.P. Roads going in different directions come out like rays from the outer circle of C.P., like spooks of a bicycle wheel and you need to walk to the spook road that leads to your direction. For example, for going to south Delhi, it is useless to try to find an auto on Baba Kharag Singh Marg or Madras Hotel, you must walk to Janpath and then search for the auto. Because I was mentally converting all the fares in Euros all the time, I never needed to bargain with autos about the fare. I am sorry
Delhiwallas
if I have spoiled so many autowallas by paying whatever fare they were asking, but compared to the Euros, the amounts were so tiny that I felt as if I was exploiting them by paying very little!
****
Travelling always by taxis, autos and air-conditioned cars, I felt that I was missing something. It was kind of antiseptic and unreal. No pushing, no squeezing, no fighting, no sweat, no
gaalis
, no loud songs ... it was so unreal to be in India and not experience those.
So I got in a DTC bus. The old man sitting next to me smiled at me and started talking to me. "From where are you?" he asked me. When I told him that I lived in Italy, he told me about his journey to Rome some fifty years ago as part of his government service. "I am retired now", he explained sadly, underlining the loss of social standing that retirement seems to bring in India.
I was wearing a khadi kurta and feeling suitably shabby, so curiously I asked him, "How did you understand that I am not local?" "Your smell is nice and different", he smiled again. It was the fault of the deodorant and the Kenzo eau de toilette that had given me away. DTC bus travellers in Delhi, don't put those kinds of things? Or perhaps, it was just my luck that he was more aware compared to average bus travellers?
Persons travelling in the bus in Delhi are different compared to co-travellers in Europe. Apart from the fact that in a bus the space is limited and often you are squeezed with others poking in your ribs and blowing garlic fumes in your face, persons behave differently in India. Even in a metro. Persons look at each other openly and don't remove their gaze if you look at them. Of course there are those that gaze outside the windows lost in their thoughts, but they laugh and talk without worrying about other passengers.
***
Are there any places in Delhi that I have never seen? Answering this question, I found myself in
Mehrauli archeological park
, close to the Mehrauli flower market, not very far from
Qutab Minaar
.
If you haven't been there, go and take a look at it. Entry is free. At the more famous monuments, I feel that entry tickets have a reservation system based on the colour of your skin. If you look Indian, you are Indian and you pay about 20 cents for entry. But if you are white or black skinned, you are easily taken for a foreigner and you must pay about 4 euros to enter. It seems like a way of saying that we are a poor country and we can't afford to ask our own citizens to pay so much, but because for us all foreigners are rich so they should pay more. However, you can be someone from Jhumaritalayia or Ambani or Ratan Tata or a NRI and still pay 10 rupees; and you can be a rich tourist from US or a student from Ethiopia or Europe, then you must pay 250 rupees. China had similar system till late nineties. At that time, as a foreigner, an Indian paid more than what a Chinese paid to see the Forbidden City. Then, probably they decided that they were enough developed and scrapped the system, making everyone pay the same amount. Perhaps one day India Shining will also make India a developed country, and everyone can pay the same amount!
Anyway, sorry for the digression and lets go back to Mehrauli archeological park. The whole area has been restored thanks to funds from Agha Khan foundation. Metcalf's chattri (also called Metcalf's follies), the twin graves of Kaamali and Jaamali, the ruins of turkish slave Balban who had become the emperor ... there is a lot to see.
The explanation board at Jaamali Kaamali mosque describes Jaamali as a well known poet while it says that Kaamali was someone unknown. "They were lovers and because they don't want to admit that there were gay relationships in India, so they are glossing about it", someone told me. The twin tombs lying close to each other inside the beautiful building with blue tiles and wonderful mosaics with romantic couplets of Jaamali all around on the walls do seem very romantic.
So if you haven't seen it yet, find time to go and have a look at
Jaamali Kaamali mosque
and tomb, and other ruins from 13-14 century's Delhi at the Mehrauli archeological park, next time you are in Delhi!
***
Here are some pictures from this visit.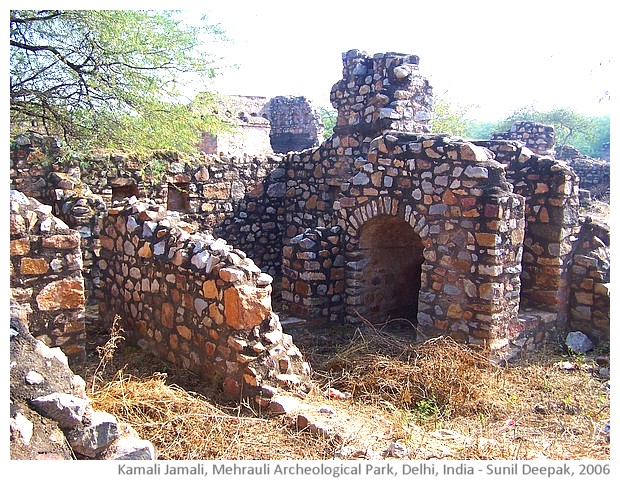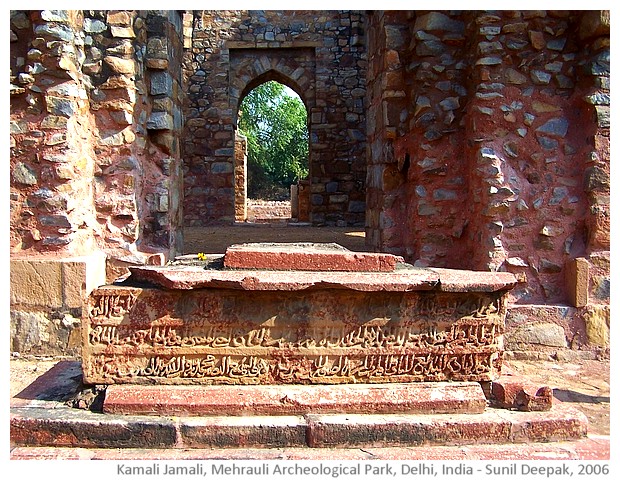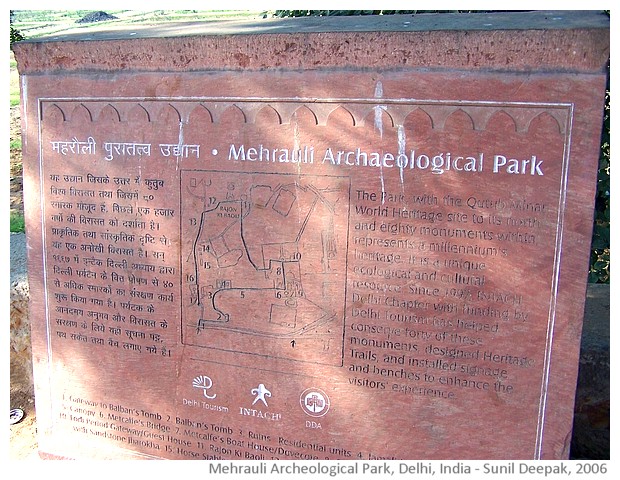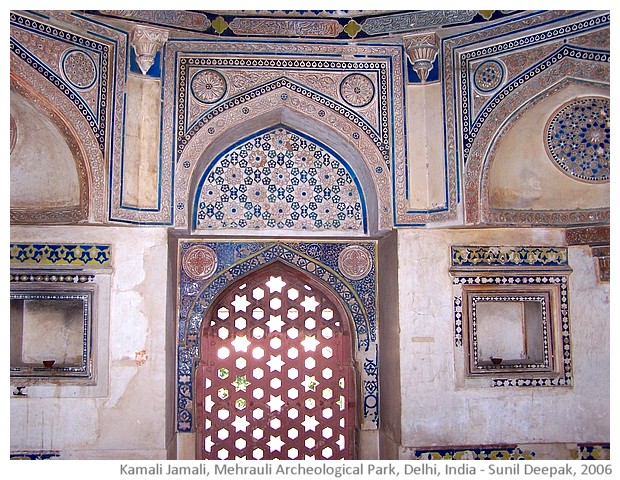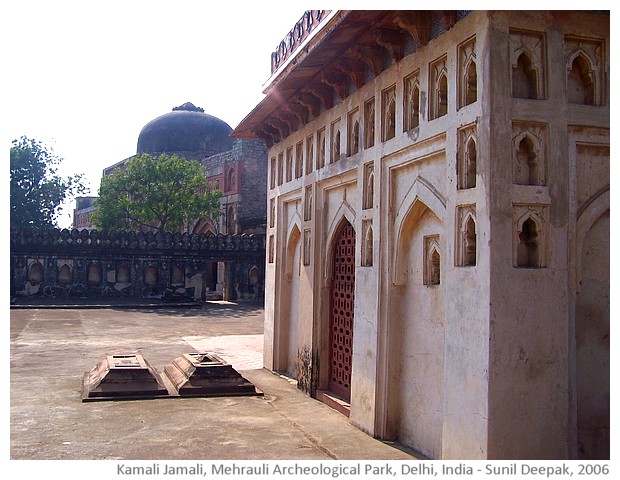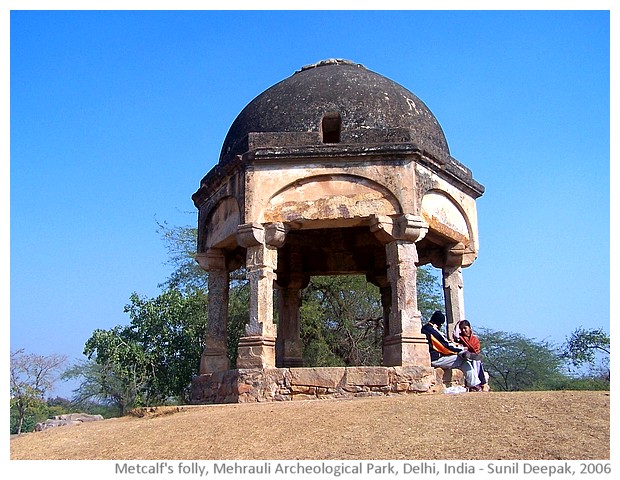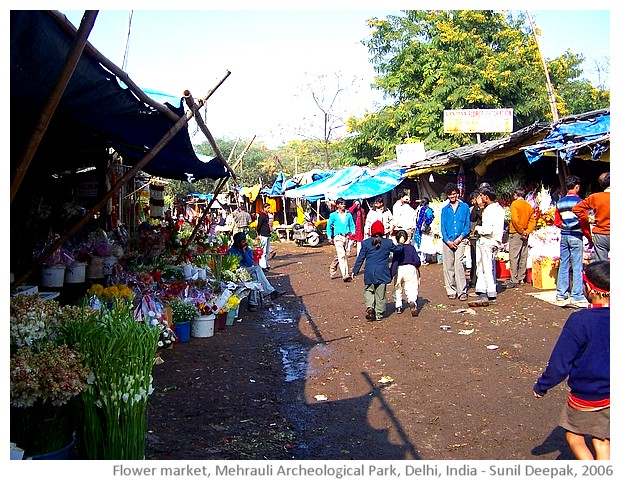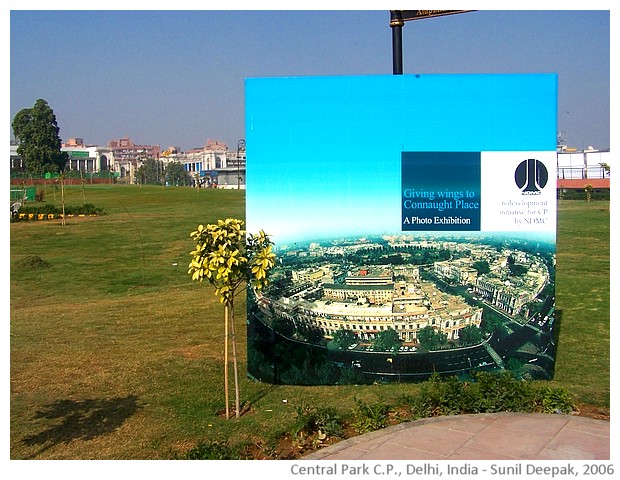 ***
This article was originally written in 2006