I love the strange looking conical roofs made of black
Tufa
stone in the south eastern tip of Italy, the Apulia region. I think that they are the ideal homes of goblins and fairies from my childhood fantasy books. The local people call these houses "trullo" (plural, Trulli) that has a nice tinkling sound, appropriate for the fantasy setting.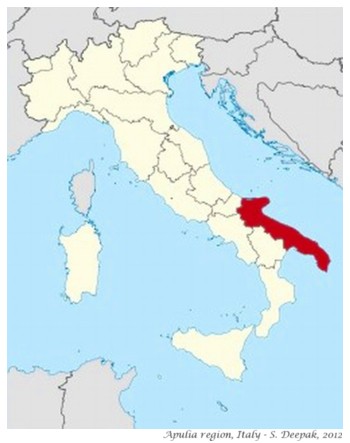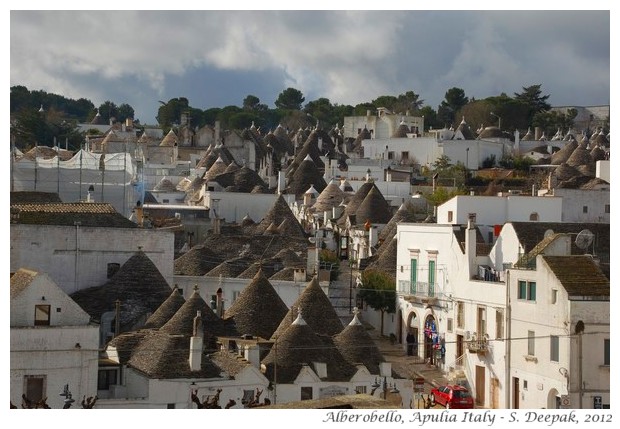 This weekend, I visited Alberobello, the land of Trulli, an area that has been declared a world heritage site by UNESCO. I stayed in
Ostuni
and travelled to
Brindisi
,
Oria
and
Alberobello
. This travel diary is about that trip.
***
After the relentless snow of past two weeks in Bologna, the cool sea breeze at the
port in Brindisi
seemed like a dream.
This small and ancient city has seen almost all important leaders from the pre-second world war India, from
Mahatma Gandhi
to
Subhash Chandra Bose
, who travelled by sea to London and other cities of Europe and USA. They used to arrive here from India passing through Suez canal. From Brindisi they travelled northwards in trains through Italy and France to their destinations. It was a much faster way to travel to Europe compared to going around the cape of Good Hope at the southern tip of Africa.
It was at the port of Brindisi that Indian regiments had arrived in 1944 as part of the Allied forces during the second world war and so many of them had given their lives to the war against Nazi and Fascist rule in Europe.
Not far from the castle of Brindisi and the port is a monument commemorating the Italian soldiers from Brindisi who had died in the first world war. Hidden behind the monument, one level below, the inscription on a wall remembers the inauguration of the monument by Mussolini.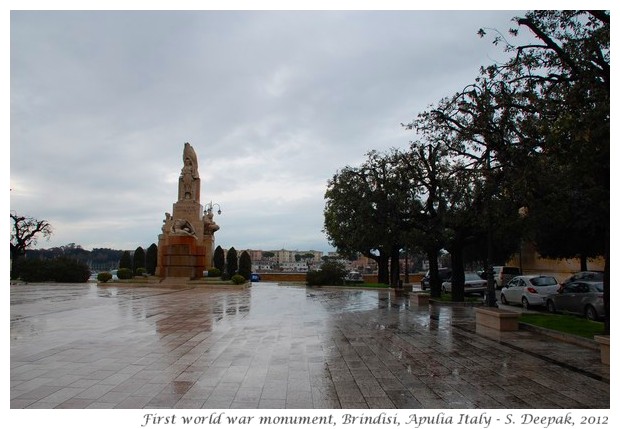 At the port the fishermen bring their catch from the sea. A cat sat patiently watching a fishermen's boat dock at the port and looked expectantly at them. One of the fishermen talked to the cat and finally threw a small fish to him.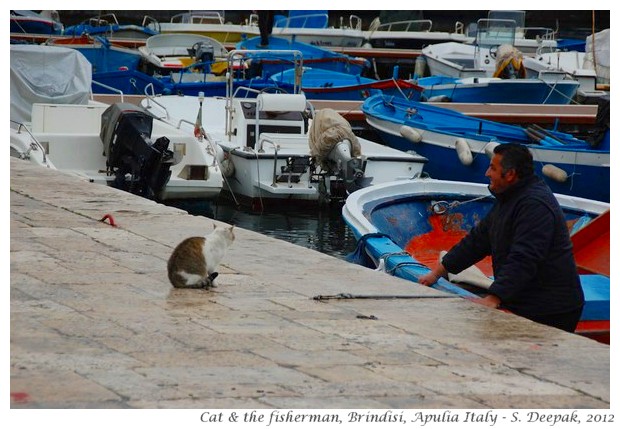 ***
We were at the ancient city of
Oria
. The earliest inhabitants of the tiny city at the top of a hill in pre-Roman times had come from the Greek island of Creta, but there are also many traces of stone-age prehistoric people in this area.
It was evening when we arrived there. At the meeting we were expecting
Nichi Vendola
, the charismatic leader of a left party, who is also president of the Apulia region. For such a traditional and conservative area in far south of Italy, Vendola is a strange and unexpected public figure, because he is gay and has been open about his sexuality, as well as, been a strong fighter for rights of different groups of marginlized persons.
People of Pulia have voted overhelmingly for him and this makes me feel hopeful. Vendola has been able to promote development in his region with his progressive and humanistic policies. He is not just a local leader but has a national following and is often seen on national TV.
In his speech he spoke passionately about not following the neoliberal policies that Europe seems to be following these days. He did not talk in usual ideological terms that lfet leaders tend to use. At one point, he said, "What kind of cure for the crisis is that they are proposing to Greece? With cost of living higher than in Italy, a minimum pension of 150 Euro and an average salary of 450 Euro, how are people going to survive? And if people can't live, what kind of economy-cure is that?"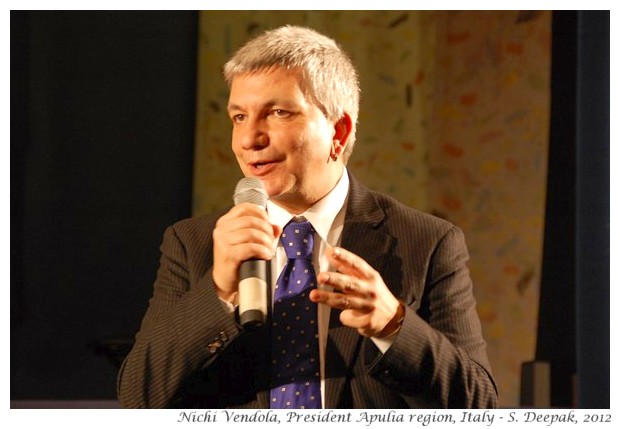 The meeting was about persons with disabilities and Vendola was very eloquent about his own personal experiences and views about exclusion and discrimination that disabled persons and other groups of persons have to face.
Compared to the tabloid culture in UK that thrives on juicy news of scandals and personal issues, in Italian newspapers there has hardly been any gossip about Vendola. Even when persons like Berlusconi made vulgar comments about Vendola's sexuality, he has always responded with maturity, refusing to play a victim.
***
Our meeting was at the place run by a group of nuns in
Ostuni
, Santa Maria della Nova. It is a huge and imposing building, however only one wing of the building is being used by the nuns. In the other part of the building are other things including a gymn where you can hear the disco music that accompanies the exercise-routines. The nuns are very friendly and it is a good place to stay in Ostuni on a limited budget, though the nuns have restrictions about going in and out at late hours and for food you need to go out.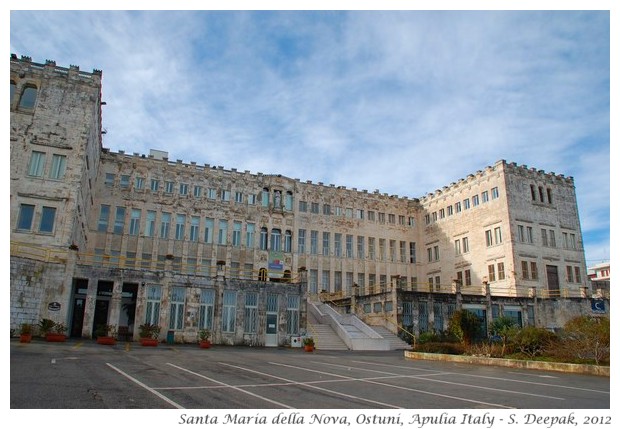 Ostuni is beautiful, a dense group of whitewashed medieval houses sitting at the top of a hill, that overlooks a valley full of ancient olive trees, a few kilometres from the sea.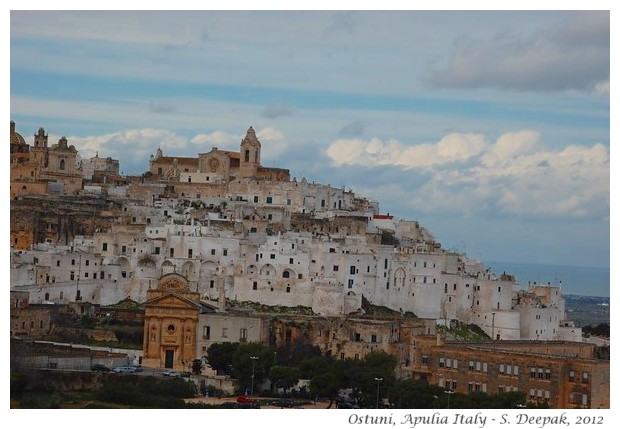 Old and gnarled Olive trees have an almost sacred status in Mediterranean region and are supposed to live for hundreds or even a few thousand years. In Athens I had heard of Plato's olive groove, where olive trees were supposed to be 2400 years old. The olive grooves around Ostuni are wonderful.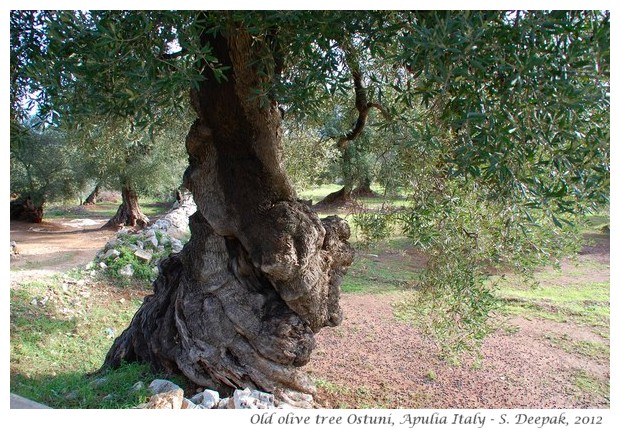 Near the centre of Ostuni, I was at an apartment that belongs to Antonio and Caterina. The two hundred years old house on the first floor has very high ceilings with beautiful designs on the roof. It is affordable and convenient (in the peak season it costs more). The kitchen has a window that leads to steps and to another independent apartment one floor above. You can rent only the lower part or if you are in a bigger group, you can also rent the upper bedroom that is beautiful (in the picture below). I also loved the terrace from where you can see the sea and the roofs of the houses of Ostuni.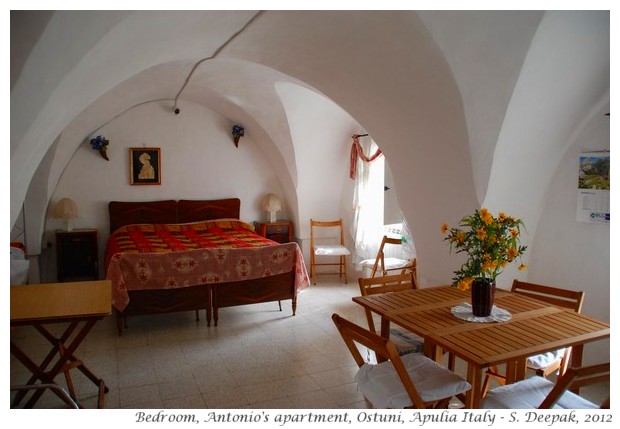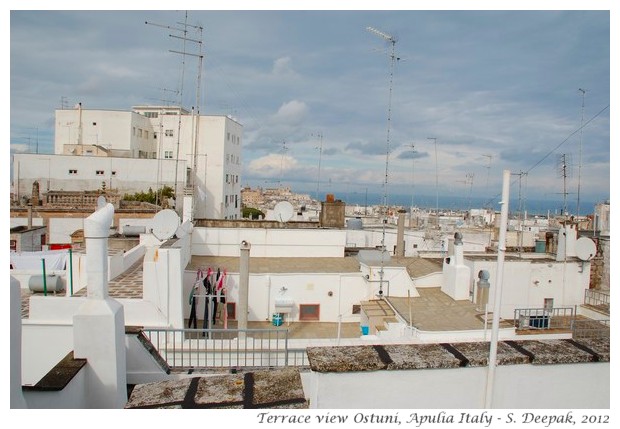 Antonio Marzio
is a retired nurse from the Italian air force and the couple is very hospitable and affable. "We grew up in two parallel streets, see that house there, it is just 20 metres from here, I grew up there", Antonio explained to me on the terrace, "but I didn't meet her till I was thirty." They have two sons, both are studying at university in north Italy.
This house belonged to Caterina. Now both of them live in another apartment and rent out this one to tourists. If you are planning a visit to Ostuni and are looking for an apartment in the old part of the town, you can write to Antonio at: marzio.antonio_1953(at)libero.it
***
On my last day in Apulia, I had a free morning. Antonio and Caterina accompanied me to
Alberobello
in their car. The journey took about 45 minutes. Without their help it would have been impossible for me to visit Alberobello because the there are no direct trains or buses from Ostuni or Brindisi to Alberobello, and thus, one way journey by public transport needs three hours.
The
old part of Alberobello
with the characteristic trulli houses along winding streets on a hill is increadibly beautiful. Some trulli have small shops with beautiful local handicrafts and friendly women running them. At the top of the hill is a trulli-church dedicated to St Anthony.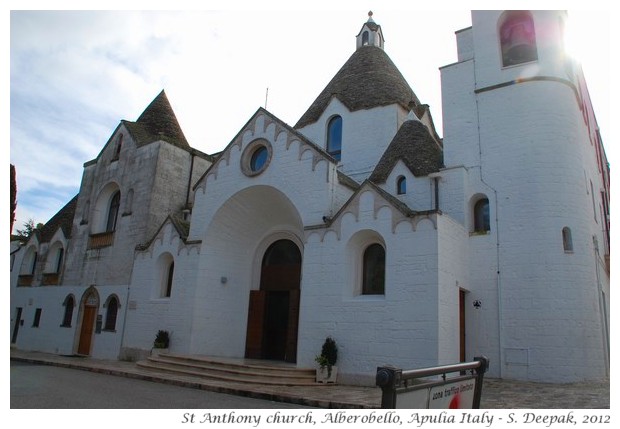 In front of one of the old houses we met Sebastiano. He looked to be in his eighties. He was friendly and welcomed us in his trulli home. The conical roofs of trulli are made of tufa stone that is placed one above another in such a way that without using any cement or mortar, it is stable and waterproof. An alcove separated by a curtain had his bed and a small corridor led to a kitchen. He had made a wooden platform beneath the conical roof, that he used as a store room.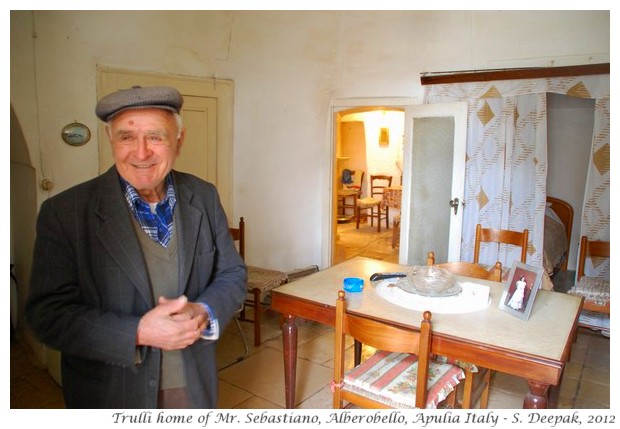 Along the street we also met an old lady sitting in the sun on the pavement in front of her house, who was knitting a sweater, which is increasingly a rare sight today as nowadays almost all wollens are made in factories. Antonio asked her about her age and she smiled and shook her head saying, "You never ask a woman her age!"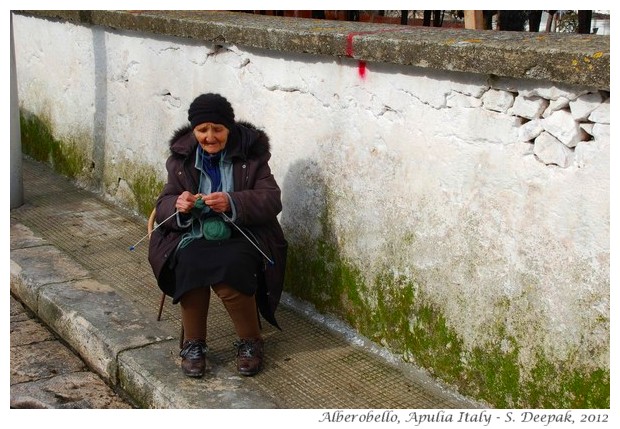 I bought some fried beans and typical ring like bread called taralli from a shop.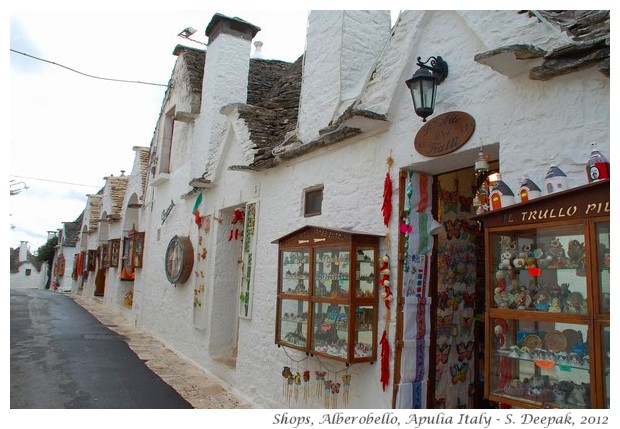 In another shop of incredibly colourful terracotta statues, whistles and art-works, I met feisty and talkative
Maria Caporaso
. She told us that after she separated from her husband, she wanted to see the world so she has travelled in so many countries including China and India. From her India travel she remembered the chaos outside the Delhi airport and seemed a little disappointed when I told her about the new airport that does not have much chaos.
It seems that her handicrafts are very famous in Japan where she has been many times to exhibitions and TV shows. She showed us some news cuttings from Japanese newspapers and magazines. She herself does traditional embroidery work while the terracotta handicrafts in her shop are by other local artists.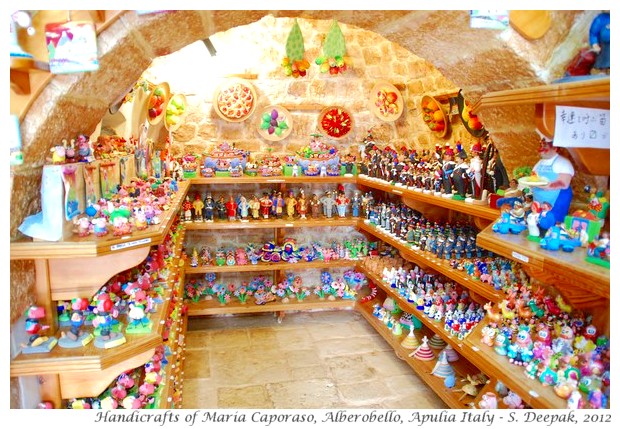 On our way back from Alberobello we stopped shortly at another small town called
Cisternina
to admire the beautiful and verdant
Itria valley
dotted here and there with some trulli houses amidist more modern houses.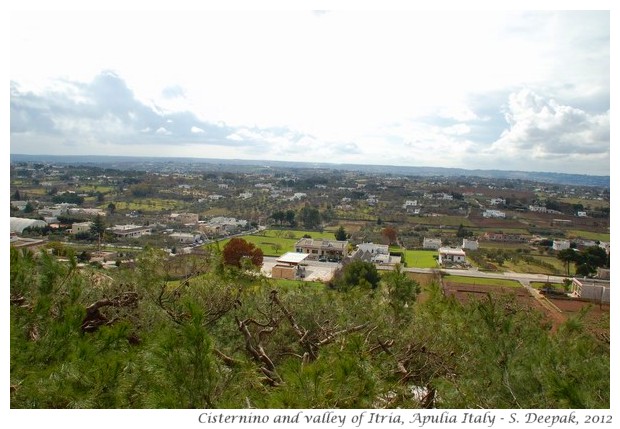 It was a beautiful and unfortgetable visit to Pulia. The highlight of the visit for me was Alberobello.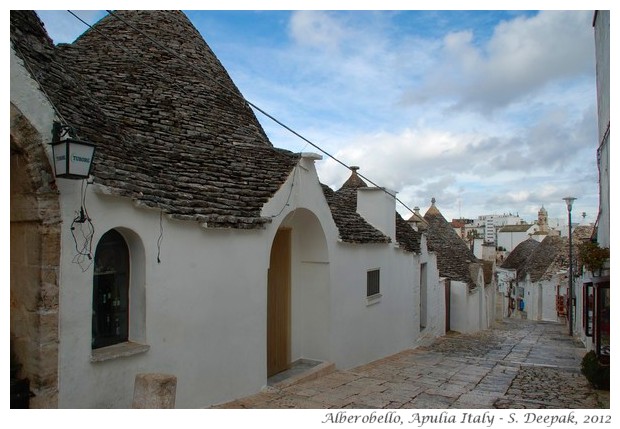 After the visit to Alberobello, Antonio and Caterina accompanied me to the airport in Brindisi in time for my flight.
***
Back in Bologna it is still snowing almost nonstop. Looking out of the window at the falling snowflakes, I think of the goblin-houses of the trulliland in Alberobello. It seems like a dream.
***
This post was originally written in 2012